Labor exports and $10 billion worth of overseas remittances
The average annual income of overseas Vietnamese workers is VND200 million and guest workers send $10 billion a year to relatives in Vietnam. However, labor quality remains problematic.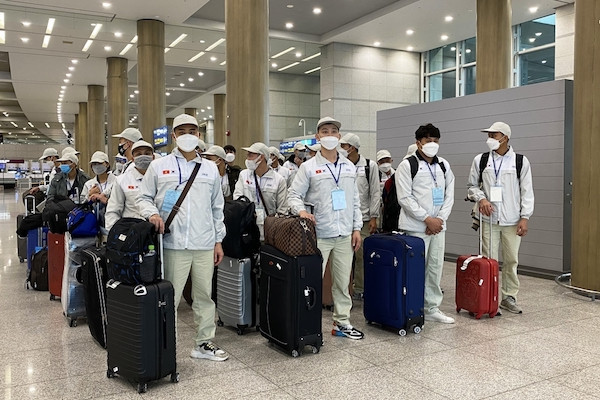 A recent interview with former Israeli Prime Minister Ehud Barak left deep impressions on me. When asked what he would advise Vietnam to do to develop rapidly and sustainably, he said his only advice would be paying high attention to developing education.
He said that having aspiration is just a necessary condition, but Vietnam needs both necessary and sufficient conditions to develop and needs to take action. The labor quality is the most important factor.
I cannot disagree with his advice.
Low labor quality is a 'chorus' of a song
For a long time, the quality of human resources has been defined as one of the bottlenecks that have hindered the development of the country. In the context of deep integration, free labor movement, and the 4.0 industry revolution, a high quality workforce has become need for the whole society, and all branches and organizations.
That is not to mention the high quality of human resources the state apparatus needs to have to better create and implement policies to meet the development needs of people and businesses.
Minister of Labor, War Invalids and Social Affairs Dao Ngoc Dung at a conference, reviewing the implementation of Directive No 16 dated May 8, 2012 on sending Vietnamese workers and specialists abroad to work, reported that the number of markets accepting foreign workers in the last 10 years has increased to 25.
More than 1 million workers and specialists have left to work abroad, an increase of 40 percent, thus creating jobs for 7-10% of the additional labor force every year.
The average income of overseas Vietnamese workers is VND200 million per head per annum, higher than incomes they can expect if working in Vietnam. The workers and specialists remit $10 billion a year to their relatives in Vietnam.
The minister said that the figures are impressive, which show that labor export policy brings great benefits.
However, he pointed out that labor quality is not high, the percentage of skilled workers remains low, and the number of specialists remains modest.
That is the key point that I want to mention.
Manual laborers and stunted incomes
Why do most Vietnamese overseas workers have low skills? In other words, Vietnamese overseas mostly work as home help, construction workers and factory workers instead of engineers, financial experts or business administrators.
However, even manual labor can bring incomes much higher than in Vietnam. Reports show that the average income in 2021 in Vietnam was just VND4.2 million per person per month and the average income of workers in urban areas was VND5.4 million a month, or 1.5 times higher than in rural areas (VND3.5 million), according to the General Statistics Office (GSO).
There is a big gap in income between overseas and domestic workers. The question is why Vietnamese workers have to go abroad to obtain high income and why Vietnamese workers in Vietnam have such low incomes.
The average monthly salary paid to ministers is VND15 million, while new graduates receive only VND3 million.
The number of trained workers who have degrees and certificates just account for 25 percent, and the figure has remained unchanged over many years. In labor intensive industries, workers just do assembly, which means the simplest work of production chains.
According to the World Bank (WB), Vietnam's human potential still is not used effectively. Its Vietnam Human Capital Index (HCI) has fallen significantly from 0.69 to 0.37 percent, which shows that the number of high-quality jobs is still limited and the country's human capital potential is not being used effectively. Most of the jobs just require low and medium skills.
Also, according to the World Bank, in 2021, only 9 percent of occupations in Vietnam required high skills.
Meanwhile, occupations requiring high quality in the UK accounted for more than 50 percent and 65 percent in Singapore.
To become a high-income country, Vietnam needs to shift to more productive, knowledge-intensive and higher added-value jobs. These require high-level skills, such as being able to solve complex issues and make decisions, and having a higher level of creativity.
When commenting about the use of the labor force, I remember the story related by the Israeli Former Prime Minister about how to find and develop talent.
He stressed that in Israel, criticism is encouraged. Students can respond to teachers, and young soldiers can respond to generals.
"We have a culture that encourages creativity and innovation and respects people with higher competence and more brilliant minds," he said.
Lan Anh