Lai Chau ginseng: a hidden national treasure
Ethnic people in Lai Chau province have long used locally-grown ginseng to improve their health.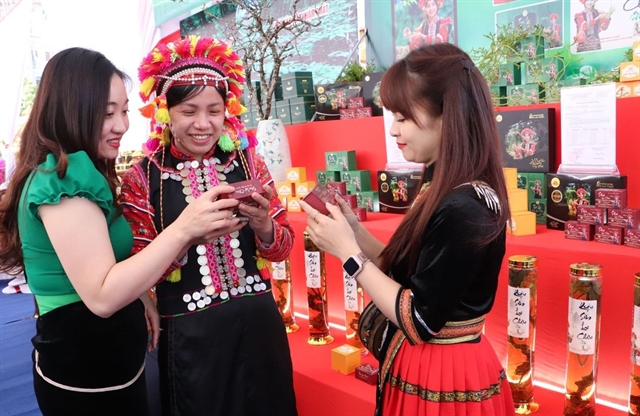 Lai Châu ginseng-based products on display at the Lai Châu Ginseng Fair in November 2022. — Photo nongnghiep.vn
With more than 57 per cent of natural forest areas, Lai Châu is using this advantage to attract businesses to collaborate with people to invest in forestry. One of the industries aiming for a billion-dollar market is ginseng.
Lai Châu ginseng is an indigenous and rare plant of Lai Châu province that grows in high mountain areas. The potential planting area for ginseng is about 40,000 hectares. This is a precious opportunity for Lai Châu to develop ginseng and its related products by promoting their quintessential values given by nature.
Ethnic people in Lai Châu province have long used locally-grown ginseng to improve their health.
In recent years, Lai Châu province has directed research and preserved the precious genetic resources of Lai Châu ginseng, creating favourable conditions for the conservation, investment and development of ginseng, creating opportunities for households to grow ginseng.
Culturing techniques and sources for seeds have been exchanged and shared to help ethnic minorities and border people of Lai Chau province and other neighbouring provinces grow ginseng and other medicinal plants. These plants are their hope in getting out of poverty and making a fortune.
At the Lai Châu Ginseng Fair held in November, President Nguyễn Xuân Phúc praised the favourable conditions of Lai Châu to grow ginseng.
Lai Châu has a neutral and temperate climate range, with six out of ten of the highest mountains in Việt Nam. Lai Châu also has many sub-climates, specific type of soils and extremely rich vegetation where natural forest coverage is nearly 52 per cent.
The President is hopeful that "Lai Châu ginseng, Ngọc Linh ginseng and several other precious ginsengs are worthy of the name 'Quốc Bảo' (National Treasure) of Việt Nam and their role must be significantly focused to ensure the people's livelihood".
To achieve this vision and goal, a lot of work needs to be done soon, so localities don't feel left out. Stronger, more comprehensive support from the Government, ministries and sectors is needed.
The President asked government agencies, especially the Ministry of Agriculture and Rural Development, to pay attention to the conservation and development of ginseng plants, including Lai Châu ginseng, Ngọc Linh ginseng and several other ginseng plants in some localities.
According to Trần Tiến Dũng, Chairman of Lai Châu Provincial People's Committee, many directives, resolutions and projects on socio-economic development and poverty reduction issued by the Provincial Party Committee, the People's Council and the Provincial People's Committee have been issued, especially those focusing on agricultural development. In villages with their own local advantages, developing indigenous tree species with high economic value is paid great attention to.
Since then, many efforts have been made to research and conserve medicinal herbs through national and provincial science and technology tasks.
Research has shown that Lai Châu ginseng - a particularly rare plant for Việt Nam and the world, is endemic to Lai Châu Province. All plant parts have medicinal properties.
Lai Châu Ginseng belongs to the ginseng family of the ginseng genus (Panax), which is an endemic species distributed in the Pu Si Lung mountain range and neighbouring Muong Tè district; Pu Sam Cap mountain range is located between Sìn Hồ and Tam Dương districts. Lai Châu ginseng is distributed at an altitude of 1,400m-2,200m above sea level, with a cool and foggy climate.
This climate has great potential to help expand large-scale cultivation. Initial research results show that Lai Châu ginseng has a very high total saponin content, up to 21.34 per cent.
Kim Suk Bum, Director of BRIDIA Company in HMC City, said that Lai Châu ginseng contains strong medicinal qualities.
Unlike Korean ginseng, Lai Châu ginseng contains ocotillo-type ginsenosides such as majornoside R1 (MR1), R2 (MR2) and vina-ginsenoside R2 (VR2), which account for more than 50 per cent of the total content.
The Lai Châu Ginseng Fair drew in a significant number of businesses to the field, with the province looking to promote the development of ginseng growing areas and establish a processing plant to diversify products and focus on sustainable concentrated commodity production, providing livelihoods for residents. Memorandums of understanding were also signed between Lai Châu and various units and businesses.
Ahạm Đình Huỳnh, Chairman of the Board of Directors of Đại Nam Sơn Group, announced that following the memorandum of understanding between the People's Committee of Lai Châu Province and Đại Nam Sơn Group, the company would be working with the province to cultivate ginseng and other medicinal plants such as tea trees as part of the development plan for Vietnamese medicinal plants. This partnership is crucial in establishing a strong brand for Lai Châu ginseng and Vietnamese medicinal herbs.
Vũ Văn Mạnh, Director of Dai Viet Import-Export Co., Ltd., said that Lai Châu Ginseng Fair is a bridge connecting the central government's investment promotion policies with businesses.
"With the advantage of exporting agricultural products and medicinal plants, we see this as a great opportunity to proactively diversify the company's core products. The company has now signed an investment commitment to plant 20 hectares of Lai Chau ginseng in Mường Khoa commune, Tân Uyên district, and build a factory to process products from Lai Chau ginseng with a scale of 2 tonnes per year," Mạnh said. — VNS