Loud cheers from the crowd accompany the joyous music, coupled with brilliant fireworks simulating the war of the gods.
This is the highlight of the Lang Pagoda Festival held at Lang Pagoda in Lang Thuong Ward, Dong Da District, Hanoi, on April 26, attracting thousands of people.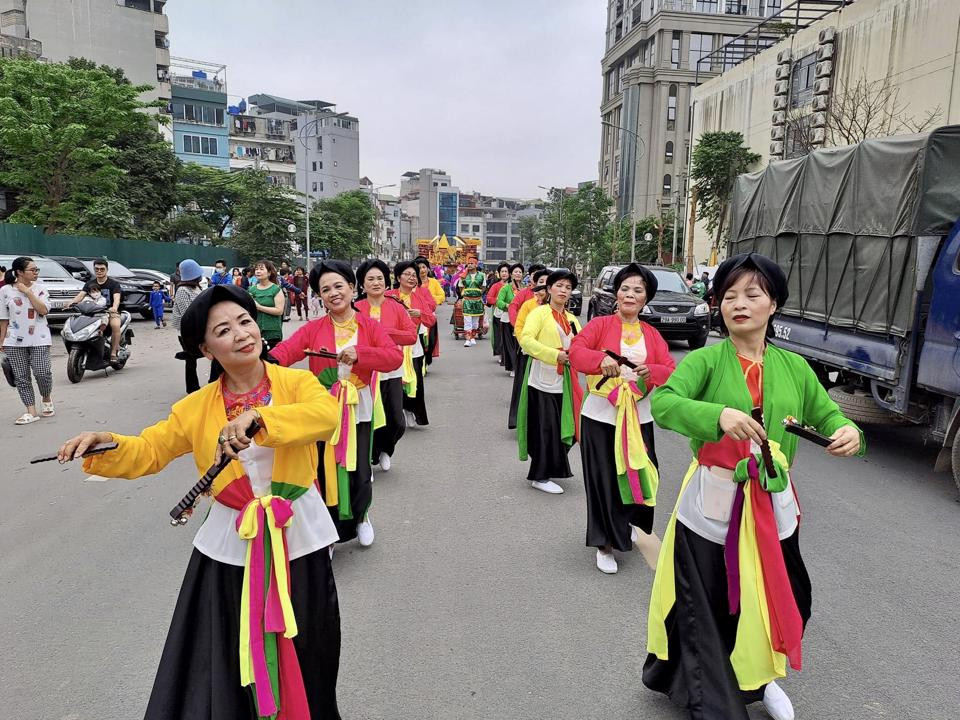 Middle-aged women dance in the procession.

Photo: Minh An/The Hanoi Times
Lang Pagoda (Chieu Thien Tu) was recognized by the State as a National Historical Cultural Relic in 1962. It is one of 12 typical relics and landscapes of Hanoi inscribed in the first recognized list of iconic relics of the country.
The pagoda has a quiet and solemn landscape thanks to old trees. The pagoda is home to a complex of architectural structures known as Outer Triple Arch Gates and Inner Triple Arch Gates, a courtyard, an octagonal house, and two parallel residences. Tien Duong (front chamber), Phuong Dinh (Pavilion), Trung Duong (middle chamber), Thieu Huong (incense burner) and Thuong Dien (upper chamber) make up the main structures of the pagoda.
On either side of the upper chamber are two corridors behind the houses of the big bell and chime, the worship area for the mother goddesses and the ancestors, and the tower garden at the back of the pagoda. Nearly 200 statues, cult objects, 12 ordinations of kings of the Le, Tay Son and Nguyen dynasties, and 15 stone steles with sculptural styles of the Le and Nguyen dynasties have been preserved.
The pagoda was built by King Ly Anh Tong (1136-1175) to worship Buddha, his father - King Ly Than Tong and Zen Master Tu Dao Hanh - a very famous monk in the history of Vietnamese Buddhism, predecessor of King Ly Than Tong.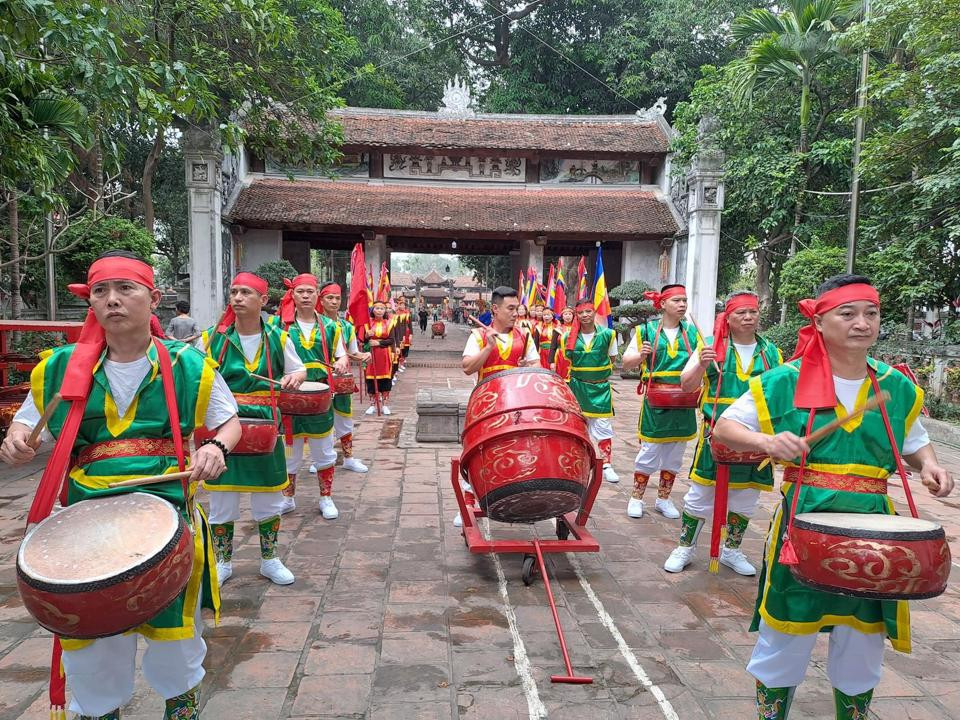 Drummers prepare for the procession. Photo: Minh An/The Hanoi Times
On the occasion of the festival, along with traditional rituals, local people carry the palanquin in a procession from Lang Pagoda to pagodas in neighboring villages.
The festival's highlight is a firework display that reenacts the battle between Tu Dao Hanh and his enemy to avenge his father.
With these values, the Lang Pagoda Festival was recognized as a national intangible cultural heritage by the Ministry of Culture, Sports and Tourism in 2019. The festival takes place every year, but the traditional ritual celebration has been interrupted for some time for many reasons.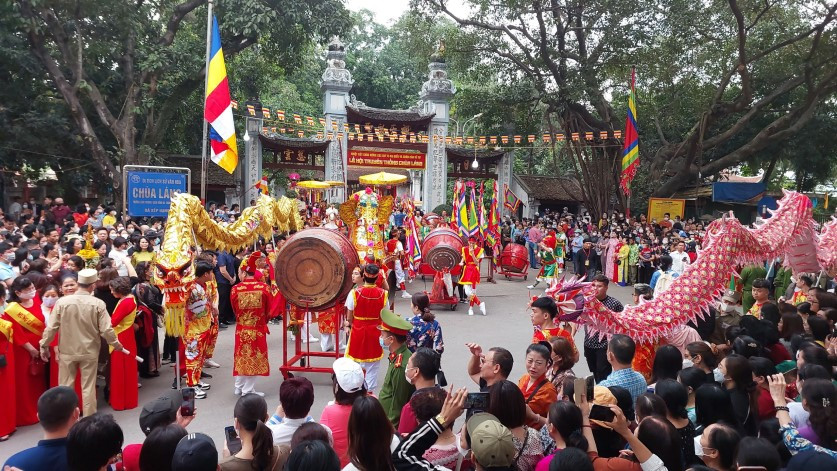 The festival attracts thousands of people. Photo: Ngo Minh/The Hanoi Times
"For the first time in 70 years, the Lang Pagoda Festival is restoring all the folk rituals that made the ancient Spring Festival in the Lang area unique. The restoration aims to preserve and promote the value of the national intangible cultural heritage of the Lang Pagoda Festival and to meet the religious needs of the people and visitors," said Pham Thi Hong Hai, Chairwoman of Lang Thuong Ward People's Committee.
On the occasion, nine mango trees and three longan trees in the Lang Pagoda garden were recognized as Vietnam Heritage Trees.
Source: Hanoitimes