Le Pho masterpiece fetches record price at Christie's Hong Kong painting auction

An oil-on-canvas painting featuring a nude woman by master painter Lê Phổ (1907-2001) was sold at nearly US$ 1.4 million (HK$10,925,000) at an auction sale at Christie's Hong Kong on May 26.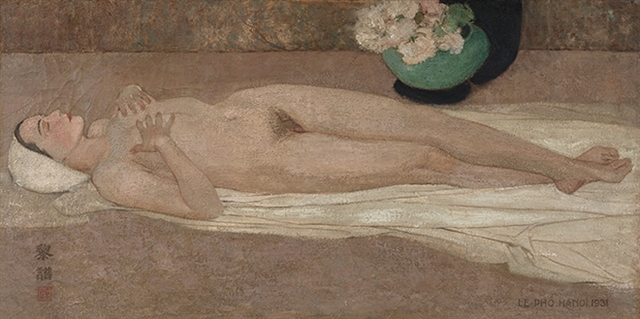 Khỏa Thân (Naked Woman) (90.5cm x 180.5cm, 1931) by Lê Phổ.
It was a record for paintings by contemporary Vietnamese artists.
Khỏa Thân (Naked Woman), a 90.5cm x 180.5cm work done in 1931, had been expected to fetch HK$4-6 million.
Another painting by Phổ also featuring naked women titled Tắm Biển (Swimming in the Sea, 1938), a silk on cardboard work, was sold at $505,000.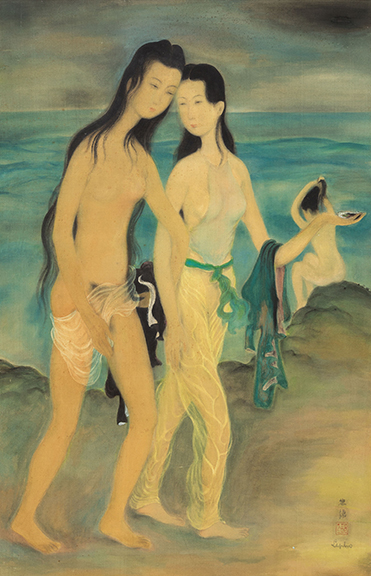 Tắm Biển by Lê Phổ
Both works are considered masterpieces and milestones in Vietnamese painting history.
During Phổ's time, most male models for painters at Hà Nội's Indochina Fine Arts College were prisoners who were sent to work as models for few hours. Female models were hard to find while painting naked women attracted criticism in a conservative society.
At the same auction, Vỡ Mộng (Disillusionment, 1932), a work on silk by Tô Ngọc Vân (1906-1954) was sold for $1.1 million.
At the auction, Pham H. Tuan, an overseas Vietnamese entrepreneur from the US, sold 17 works he had in his collection. He had bought a painting by Phổ in the US in the late 1990s and thought it was by a Chinese painter since it had Chinese characters.
"They are not my paintings. They should continue to find their own level in the collections of more professional collectors. My journey with the paintings is finished. It is time to let others start their journey with the paintings." — VNS