Leaders urged to kick on with disbursement
Slow implementation of the national fiscal and monetary initiative is expected to dent economic growth, with legislators urging the government to soon review the policy to provide further assistance for enterprises and people.
It was back in January when, at the first extraordinary session of the 15th National Assembly (NA), nearly 500 deputies of the country's legislature had high hope when adopting Resolution No.43/2022/QH15 on a fiscal and monetary policy worth $15 billion to support the country's Programme on Socioeconomic Recovery and Development (PSRD) for 2022-2023.
The policy, on the back of a tough 2021 for all, was expected to enable the economy to achieve a higher level of growth – at 6.5-7 per cent in the 2021-2025 period, and 8-8.5 per cent in 2022.
"This was considered a lifebuoy for the economy to resurge, creating big confidence in the business community and people," said Ta Minh Tam representing the Mekong Delta province of Tien Giang.
However, though it has been more than four months since the policy was launched, the implementation leaves a lot to be desired, with money unable to be disbursed and failing to benefit many companies and individuals. "Many initiatives in the policy and the PSRD are just at the stage of preparation or drafting, while many enterprises and people are longing for support from them, and we don't know when they can be effectively implemented."
Echoing this view, deputy Ta Thi Yen representing the northern province of Dien Bien also lamented that Resolution 43 had been discussed and passed very quickly because of its imperativeness for the economy, with no delay allowed.
"However, the resolution is now being implemented at a snail's pace and we are not sure about how it can benefit anybody," Yen said.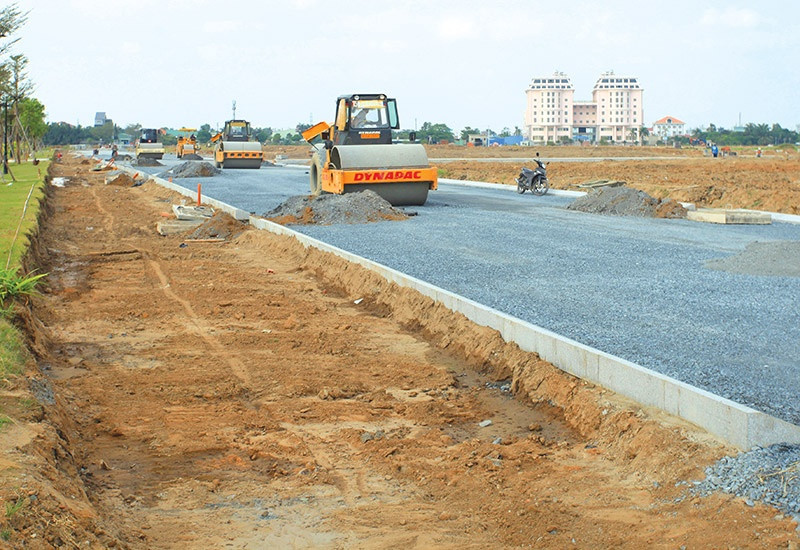 Leaders urged to kick on with disbursement, illustration photo
According to a report from the National Assembly Economic Committee (NAEC), all national target programmes and tasks to carry out Resolution 43 "are being deployed slowly", and "important policies are now just in the stage of drafting guidance and have yet to be put in practice, such as the lending rate support policies for enterprises, and the large-scale programme on providing computers for pupils, among many others.
The government has so far submitted a scheme for supplementing $797.78 million for approved projects listed in the country's middle-term public investment plan, and this sum is equal to only 16 per cent of the needed capital. This will cause great pressure on public investment disbursement and increase the budget deficit in 2023.
Moreover, the government has yet to submit the NAEC a shortlist of projects funded by the PSRD. "This is too slow, remarkably reducing the effectiveness and significance of the PSRD," said the report.
For example, the Ministry of Finance is now seeking comment from relevant ministries and agencies on a draft decree on extending the time for paying corporate income tax, special consumption tax (SCT), and land rental within 2022.
The government last week reported to the NA that the $15 billion policy includes $2 billion used for purchasing vaccines and medical equipment. The remaining $13 billion consists of two packages, with one worth $5.43 billion and the other valued at $7.65 billion.
The $5.43 billion embraces four sums, including $2.78 billion worth of a 2 per cent reduction of VAT for enterprises, from 10 per cent, which has been implemented; $1.67 billion as a credit policy implemented via Vietnam Bank for Social Policies – about one-third of this initiative's value has been already been disbursed.
Meanwhile, $260.87 million as an extension of tax payment and reduction of SCT for automobiles and some other types of taxes will be fully complete at the year's end, and $286.95 million as assistance for labourers to hire houses has seen only $87,000 disbursed thus far.
The $7.65 billion involves public investment, including $1.82 billion as lending rate support of 2 per cent for enterprises through commercial banks and Vietnam Bank for Social Policies as of January 1; and the remaining $5.83 billion for infrastructure development including $4.48 billion for road and highway construction – however, this sum is slow for disbursement due to incomplete procedures.
"So far, over $956,500 out of the said $7.65 billion has been disbursed, laying an important foundation for us to keep our confidence that this fiscal and monetary policy will be effectively implemented in the coming time," Deputy Prime Minister Le Minh Khai told the legislature.
NA deputies urged the government to take drastic actions to bring the policy into practice as soon as possible, which will help the economy grow higher and facilitate enterprises and people to perform better.
"It is recommended that the NA and the government review and reconsider programmes and policies on socioeconomic recovery and development in the existing conditions, in which unnecessary policies need to be removed and all focal sectors with spillover effects needing more assistance," said deputy Tam from Tien Giang province. "All projects in the shortlist funded by the $15 billion fiscal and monetary policy must be reconsidered."
Echoing this view, deputy Nguyen Minh Tam representing the central province of Quang Binh, said that during her meetings with constituents, they felt happy, expecting that Resolution 43 and the PSRD will act as a new strong impetus and lifebuoy for them to ride out the storm.
"However, such expectation is gradually subduing due to difficulties in implementation of the policies while many of them are bogged down in difficulties," Tam said.
According to the General Statistics Office, last year, the coronavirus pandemic drove many labourers in Vietnam into great difficulties, with an unemployment rate of 3.22 per cent, equivalent to 3.15 million people. Over 2.2 million labourers left their companies due to staff cut-backs for their localities including 524,000 people in Ho Chi Minh City and 447,000 people in Hanoi.
In the first five months of 2022, though such a rate was not reported, the economy saw about 71,800 enterprises halt operations, await to conduct bankruptcy procedures, and already disband – up 20 per cent on-year. On average, if each enterprise employs 20 labourers, the total number of unemployed labourers is over 1.43 million people.
Le Minh Khai, Deputy Prime Minister
The government, prime minister, and ministers have promulgated 11 documents needed to implement the programme on socioeconomic recovery and development. These documents include seven decrees, one resolution, three governmental decisions, and a guiding document from the minister of natural resources and the environment. Many of them have been enacted early, but some have been released slowly.
The key reasons are that the programme is very complicated needing concerted actions from many ministries and sectors.
Because in the past, some policies were released with low quality, and so ministries, sectors, and the government have taken great caution in enacting new policies in order to shun mistakes, as the programme has a very big value.
Moreover, the programme is a brand new task, not listed earlier as a long-term plan, because of the pandemic's serious impacts on socioeconomic development. It is not a common task, so it has led to many types of work done unexpectedly by ministries and sectors.
Three major guiding documents are being drafted for the implementation of the programme. The first is about guiding process on implementing bidding packages enjoying special incentives within the North-South expressway project.
The other two are circulars guiding the usage of the National Fund for Scientific and Technological Development and the Fund for Public Communications Support.
Nguyen Chi Dung, Minister of Planning and Investment
Over many years, the Party, the NA, and the government have enacted many mechanisms, policies, and relevant regulations to improve the efficiency and effectiveness in the management and use of public investment. We have also conducted decentralisation in public investment closely linked with the power and responsibility of each level.
There are many reasons behind slow disbursement. However, it is governed by not only the Law on Public Investment, but also many other ones, including the laws on construction, land, bidding, and minerals. We have to, at the same time, obey the implementation of all of these laws, and all stages in a process have to be carried out in succession, which takes time.
Thus the most effective solution is to review all regulations in the Law on Public Investment and in other relevant laws.
The government has been making all efforts to raise public investment disbursement. Hopefully, we will be able to reap bigger results in the coming time. It is also suggested that NA deputies increase supervision in ministries, sectors, and localities so that the disbursement can be improved.
Ma Thi Thuy, National Assembly deputy Tuyen Quang province
It is necessary for the government to drastically implement the PSRD for 2022-2023. So far, capital for some projects funded within the PSRD is very slow in disbursement, greatly affecting the economic recovery.
It is suggested that the NA and the government soon allocate investment capital for these projects so that localities can carry out them, in line with the plans of the legislature and the government on focussing on boosting disbursement in 2022 and 2023.
It is also proposed that the government empower localities more strongly to implement the projects so that the projects can be completed as soon as possible. The capital used for employment support at Vietnam Bank for Social Policies should be increased to generate more employment.
In addition, it is necessary to accelerate the public investment capital as assigned by the government, with great efforts to be made to focus on the construction of the North-South expressway for the 2021-2025 period already adopted by the NA, and other expressways in order to boost socioeconomic development of localities run through by these projects.
Source: VIR