Legal framework for 'Made-in-Vietnam' products to curb trade fraud

Vietnam has recently found cases of foreign enterprises falsely labelling their products as originating in Vietnam to illegally benefit from the free trade agreements (FTAs) the country is a member of and avoid trade defence mechanisms.
Deputy Minister of Industry and Trade Tran Quoc Khanh spoke with Vietnam News Agency about measures to curb origin fraud and protect 'made-in-Vietnam' products.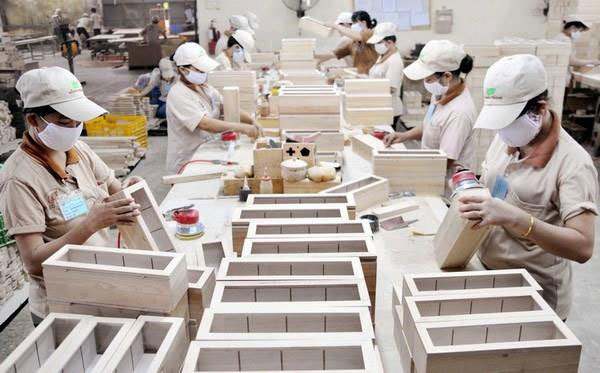 Wood products are manufactured for export. — VNA/VNS Photo
Prime Minister Nguyen Xuan Phuc has issued a plan to strengthen management and prevention of trade remedies evasion and origin fraud. Could you please tell about the plan?
The Government's Decision No. 824 on strengthening management and prevention of trade remedies evasion and origin fraud was approved in July.
It requires ministries and sectors to further improve the efficiency of the international economic integration process, especially joining new generation FTAs, and to ensure the strict implementation of commitments under the World Trade Organisation framework and FTAs.
In addition, the ministries and sectors must prevent acts of origin fraud to enjoy illegal preferences or evade foreign trade remedies and help to sustainably develop export activities. The plan requires the ministries and sectors to protect Vietnam's rights and interests in international trade, including the rights and interests of Vietnamese businesses.
It is a fact that the more FTAs the country signs, the more cases of origin fraud involving Vietnamese goods are reported. What do you think about this issue?
It's not true that participation in FTAs leads to more origin fraud.
Vietnam has been involved in FTAs with ASEAN countries for more than 20 years and with Japan, South Korea and many other countries for more than 10 years, but no cases of origin fraud involving Vietnamese products have been reported.
In my opinion, origin fraud occurs when the illicit benefits are high. For example, the origin fraud of goods originating in Vietnam and goods from other countries will allow enterprises to enjoy low import tax.
Based on that, we easily identify high-risk markets and commodities and have accurate and effective measures to tackle the problem.
Some commodities have gained unusual export growth since the start of US-China trade tensions, including wood. The wood import turnover has increased sharply in the first eight months of this year. China is the largest market for Vietnam, with 21.1 per cent of the market share. This has raised concerns over origin fraud. What do you think of this?
Unusual export growth is the first important sign of origin fraud. However, sudden increase in exports may occur for a variety of reasons, such as increases in production capacity.
Therefore, we should not only look at the sudden growth in exports and claim it is due to fraud. Let the authorised agencies to do their job.
Decision No. 824 mainly focuses on combating fraud of export goods. However, origin fraud also occurs with domestically-made goods. What measures will the ministry implement to protect the interests of businesses and consumers?
After getting permission from the Prime Minister and discussing the issue with ministries and sectors, the Ministry of Industry and Trade has released a draft regulation on labelling criteria for domestically-consumed goods.
The ministry has been collecting public opinions. If approved, it will be a tool to help identify "made-in-Vietnam' products.
In fact, the ministry has issued many legal documents on the origin of Vietnamese products. However, these regulations only aim to help Vietnamese goods enjoy tax incentives in foreign markets or to serve foreign trade management.
For domestically-manufactured goods, the marking of origin should comply with the Government's Decree No. 43/2017 on goods' labels. This is under the management of the Ministry of Science and Technology.
However, due to some inadequacies, the ministry has proposed the Prime Minister to study a legal document on 'made-in-Vietnam' products.
After discussing with the ministries and sectors, the Government has agreed to assign the ministry to do this job.
What solutions will the ministry do to effectively implement the plan?
The ministry has worked with relevant units to discuss a specific action plan.
The ministry will coordinate with other concerned ministries and sectors to set up an interdisciplinary group on prevention of trade remedies evasion and origin fraud.
The ministry has created a list of early warnings on 13 commodities exported to three markets of the United States, EU and Canada, and sent it to the ministries, sectors and localities, especially the Ministry of Finance and the business community, for better prevention and handling of origin fraud.
The main task of the ministry is to establish a coordination mechanism, which clearly defines tasks and responsibilities of the ministries, sectors and units to ensure the effective implementation of the plan.
On that basis, the ministry, together with other ministries, localities and business associations, will conduct supervision on commodities prone to origin fraud.
The ministry will discuss with the United States and the EU on measures to effectively detect origin fraud of export goods.
VNS