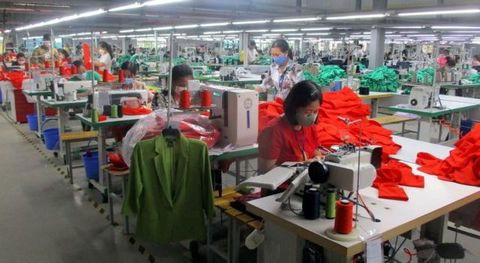 Workers making garment products at a factory in Bim Son District, Thanh Hoa Province. — VNA/VNS Photo
Many textile companies are struggling as they have to reduce employees due to shrinking revenues.
The slowdown of global economic growth has affected manufacturing activities across industries, including textiles.
In the first quarter of the year, Vietnamese textile and garment exports decreased nearly 18 per cent on-year to more than US$7 billion, according to General Department of Vietnam Customs statistics.
The April data continued to show not very positive signs, with an export value of $2.5 billion, down nearly 20 per cent over last year.
The industry continues to face challenges shortly due to a sharp decrease in purchasing power from major markets such as the US and European Union (EU), the recent textile industry report of KIS Vietnam Securities showed.
Many businesses have not had orders for the rest of the second quarter.
Inventories at major foreign retailers, like Nike and Adidas, have increased since the second half of 2022, while weaker consumption results in reduced orders. Both the problems are unlikely to be solved just in the second quarter.
The securities firm also said that the reopening of China is another obstacle for garment companies as they have to compete with the country's garment exporters.
However, this is a good sign for yarn companies with a large export market share in China. Besides, according to the Vietnam Cotton and Spinning Association (VCOSA), the price of imported cotton is forecasted to decrease, which will help improve the gross profit margin of yarn companies in the second quarter.
Amid the difficulties, most textile and garment enterprises have cautiously planned for 2023 with negative growth rates.
In particular, Vietnam National Textile and Garment Group (Vinatex) said that the textile and garment industry would face many challenges from the Russia-Ukraine conflict, persistent inflation, and falling global demand. Therefore, the enterprise plans to reduce its profit before tax in 2023 by half over last year to only VND610 billion ($26 million).
In the first quarter, the company posted declines in both consolidated net revenue and profit after tax, down 16.2 per cent and 255.3 per cent on-year, respectively.
Even more cautiously, the General Meeting of Shareholders of Binh Thanh Import - Export Production & Trade JSC (Gilimex) approved the 2023 business results, with targeted revenue down more than half to VND1.5 trillion and profit after tax set to fall by 71 per cent year-on-year to nearly VND104 billion.
Gilimex also reported poor performance in the first quarter, with the consolidated revenue down from VND1.4 trillion in 2022 to nearly VND156 billion. And profit after tax suffered a loss of VND39 billion while in the same period last year, it gained VND107 billion.
On the other hand, Song Hong Garment JSC also plans double-digit negative growth. The company's Annual General Meeting of Shareholders has agreed that the profit before tax in 2023 will reduce by 20 per cent to VND350 billion.
The company said that the global apparel supply chain is moving adversely with weaker demand, so the plan is somewhat modest.
It also reported negative results in the first quarter.
Similarly, Phong Phu Corporation set an optimistic plan with the target of profit after tax reduced by 17 per cent over the same period to VND397 billion.
Thanh Cong Textile and Garment Investment Trading Joint Stock Company also set a target of negative growth in 2023 after experiencing outstanding achievements last year with record revenue and profit.
Textile orders are lower, making the situation difficult for businesses. Amid the tough period, many enterprises have to reduce jobs, up to thousands, to cut costs.
For example, Garmex Saigon announced a drastically cut in employees. In the first quarter of 2023 alone, the number of employees plummeted by 1,797.
In addition, Gilimex and Century Yarn also slightly cut 70 and 11 employees, respectively, in the first quarter of 2023.
As well as listed companies, another well-known enterprise specialising in manufacturing and exporting sports shoes, Pouyuen Vietnam, a subsidiary of Taiwan's Pou Chen Group (China), has continuously cut jobs. — VNS