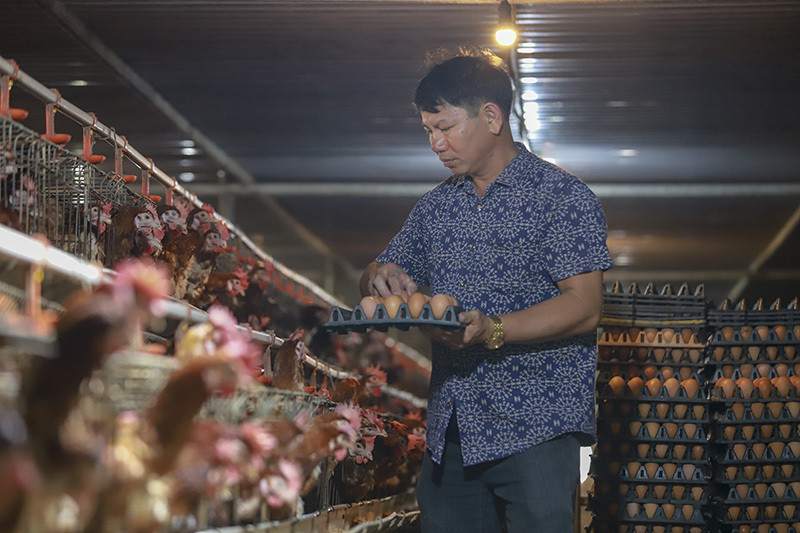 "The bran price has decreased by VND400 per kilogram," Phan Van Tuan, the owner of a pig farm with 5,000 heads in Mai Son in Son La province, told VietNamNet.
VND400 per kilogram is a modest decrease, but it is enough to excite Tuan and millions of farming households. From late 2020, farmers had been reeling in the 'price storm', seeing bran prices increasing 17 times to a record high and pork prices decreasing continuously, causing big losses.
Tuan's farm has incurred a loss of VND3 billion since the beginning of the year.
But now he has every reason to believe that the situation will get better. The downward trend in animal feed prices will help reduce production costs.
Tuan estimates that with the price decrease, he can save millions of dong a day for bran. Meanwhile, the live pork price has begun recovering.
"If this continues, I won't have to sell pigs below production costs anymore," Tuan said.
Tran Van Manh, the owner of a farm with 30,000 chickens raised for eggs in Hai Duong, said he has been informed about a drop of VND200 per kilogram of feed price.
"This is the first time since late 2020 that I have heard about a feed price reduction. Prior to that, I had only heard about price rises," he said.
Currently, eggs sell at VND1,600. Manh sells 30,000 eggs a day, which means he incurs a loss of VND3 million. Saving VND600,000 a day thanks to the bran price decrease is a significant amount of money for him.
The live pork price has surged to VND60,000 per kilogram. The chicken price in the north is a maximum VND27,000 per kilogram and hovers around VND20,000 per kilogram in Dong Nai and BInh Phuoc in the south.
Nguyen Kim Doan, deputy chair of the Dong Nai Livestock Association, confirmed that the chicken price has moved up over the last two weeks, while the price of live pork has been increasing. A kilogram of live pork is selling at VND60,000 per kilogram, though farmers still incur loss if the loss rate is high.
Doan is optimistic about bran prices in the future. The animal feed prices are cooling down in the world market, while shipping fees to Vietnam are also decreasing to levels seen before the pandemic. The prices are expected to be gradually decreasing.
However, he said it is difficult to predict chicken and live pork prices.
Tam An