Low pay, high stress lead teachers to question their careers
Nhat Tien, a teacher at a primary school for autistic children in HCM City's District 3, has been thinking about quitting her job for many times.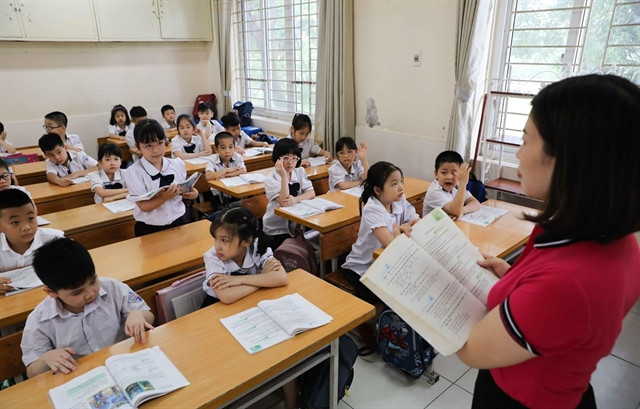 A teacher guides students to study languages of art at Nghĩa Tân Primary School in Hà Nội's Cầu Giấy District. — VNA/VNS Photo
Tiên has been teaching kids with autism for ten years. Although Tiên succeeded in her teaching methods for special kids and helped autistic students make progress and be able to integrate into society, she is still struggling to maintain the simple life she wishes for.
Low pay is her biggest barrier. In order to stick with the teaching profession, Tiên has to earn extra money from different jobs.
"My salary as a senior helps me a little, but I still have to take extra jobs to afford life in a big city," she said.
High pressure at work is another problem.
"Teaching an autistic child is as hard as teaching ten healthy children. Each autistic child must have a unique teaching method," she said. "Our pressure is a child's progress. If the child does not make progress, his/her family will be discouraged and disappointed."
N.T.H, a teacher at a primary school in Thủ Đức District, shared the same opinion.
"The responsibilities and demands of society on teachers are too much, while salaries are very low. The current salary is not enough for us to feel secure and devote ourselves, so we have to do all kinds of jobs to make a living after school," she said.
"Young teachers who have just graduated from school only receive about VNĐ3 million per month. How can they afford to live in a big city?"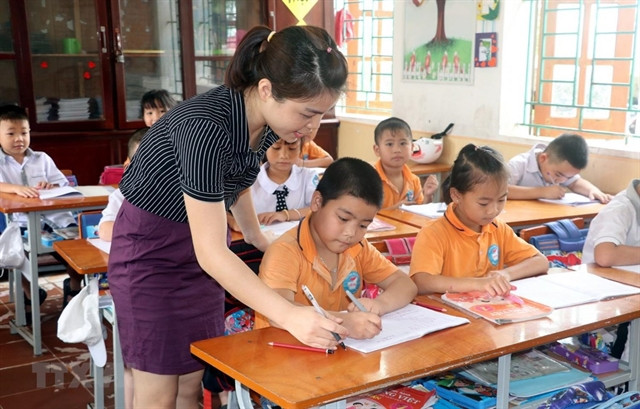 Low pay and high working pressure are the main reasons for teachers leaving the profession. — VNA/VNS Photo
Figures from the Ministry of Education and Training showed that roughly 16,000 teachers have quit their job since early this year, causing a serious impact on the quality of education.
Low pay and high working pressure are the main reasons for the mass resignations.
Võ Thị Vinh, a teacher with 19 years of working experience in Thủ Đức City, said many teachers are discouraged because of too much work pressure.
After school, teachers have to do a lot of non-professional work. Their expertise is not as valued as it should be.
Vinh cited teachers who mentor interns only get one emulation point while those who donate blood could get three points. Therefore, many choose to donate blood instead of sharing their expertise.
"Donating blood is noble, but teachers are tired after donating, affecting teaching quality," she said.
As a teacher engaged in teaching in both public and private schools, Phan Thế Hoài, a teacher at Bình Hưng Hoà High School, said private school teachers face a lot more pressure than those at public schools.
Private school teachers can earn double or triple the salary of public school teachers, but they have a heavy workload. They must be professional, have good classroom management skills, and have the trust of management, parents and students. They can be fired at any time if they fail to meet those requirements, he said.
According to Tiên, it is necessary to create more sources of income for teachers.
"They can only be dedicated and committed to their work when they feel secure about their income," she said.
Hoài agreed, saying that digitising academic records and files and letting teachers focus on their expertise would help solve the problem.
Huỳnh Thanh Phú, Principal of Nguyễn Du High School, said that the principal must be flexible and assign the appropriate workload to teachers based on their capacity, so that teachers can have more time to do part-time jobs to improve their income.
The schools must put the interests of teachers first. Teachers should be treated well, so the teaching quality can be improved, he added.
Chairman of HCM City's People's Committee Phan Văn Mãi said no matter how advanced and modern education becomes, the role of the teacher will always be decisive.
Therefore, attracting good, enthusiastic people to the teaching profession and taking care of teachers is an important task so they can have faith and motivation to keep doing their job.
He said the department has requested the city's Department of Education and Training calculate payroll to ensure enough teachers and study a mechanism to improve their incomes. — VNS