Make in Vietnam drives ICT firms into international markets
Global expansion has become a trend in domestic ICT enterprises in recent years.
Make in Vietnam, an initiative by the Ministry of Information and Communications in 2019, has become a driving force for domestic information and communication technology (ICT) enterprises to assume the role of turning the digital technology industry into the pillar of the economy, leading the national digital transformation process and conquering the global market.
Local insiders have said that the Make in Vietnam has brought great changes to information communications and technology enterprises as well as Vietnam's digital economy.
Since the National Forum on Vietnamese Digital Enterprise Development was first held four years ago, the action program under the slogan "Make in Vietnam" has catalyzed the shift from assembly and processing to creation and design.
The year 2022 saw a strong growth in the value of Make in Vietnam services and products in the ICT industry revenue.
The localization rate of the industry's revenue reached 27%, an increase of 2.35% compared to 2021. Already about 60% of outsourcing enterprises have shifted their focus from processing to manufacturing. All solutions and products are made with high value, according to the Ministry of Information and Communications.
In 2019, the total revenue of the ICT industry was over $112 billion generated by more than 45,000 digital enterprises. In 2022, despite the challenges posed by the Covid-19 pandemic, the figure increased to $148 billion, up from over $136 billion in 2021. More than 70,000 digital technology enterprises have been registered in 2022.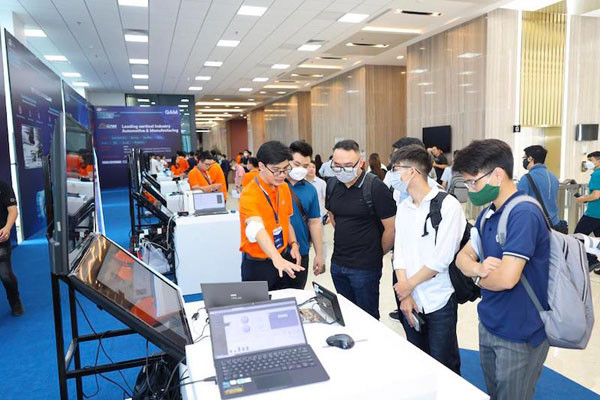 Minister of Information and Communications Nguyen Manh Hung said that Make in Vietnam has brought about a landmark change.
"ICT companies have gradually shifted from outsourcing to mastering technology, thus helping to solve major problems in the country, typically under the digital transformation process in line with Make in Vietnam digital platforms," he stressed.
In 2022, FPT Semiconductor, a subsidiary of Vietnamese tech giant FPT, became the first Vietnamese company to launch a line of integrated circuits used in Internet of Things (IoT) products for the medical field.
By 2023, the company plans to supply 25 million chips globally to meet diverse needs in telecommunications, IoT, automotive technology, energy, electronics, and others.
The chipmaker plans to supply Make in Vietnam chips to domestic companies to complete the supply chain of manufacturing equipment for users in Vietnam between 2023 and 2025.
Viettel, the Vietnamese mobile operator with revenues of more than VND163 trillion ($6.94 billion), will supply and deploy 5G equipment in India. As for automobile production, Vingroup's subsidiary VinFast is producing electric vehicles for export to the US and other countries.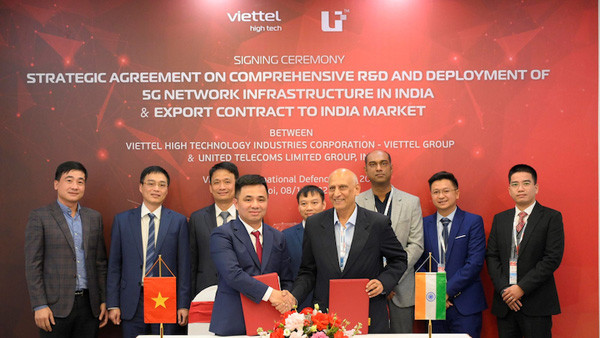 As for social media platforms, Zalo is a Vietnamese instant messaging app with the highest usage in Vietnam.
"These companies are examples to inspire confidence that Vietnamese people can do great things," the minister affirmed.
Conquer the international market
The "Make in Vietnam" movement among Vietnamese digital companies not only has the role of solving Vietnam's problems with digital technology, but also a broader mission of conquering the international market, which is expected to help ICT companies to grow rapidly, making Vietnam a developed country through absorbing practical experiences from the world.
In fact, in recent years, global expansion has also become a common trend for domestic ICT companies. It is estimated that 1,400 of the more than 70,000 digital technology companies have commercialized their products in the international market.
After 23 years of international adventures, 2022 marked the first year that FPT reached the important milestone of $1 billion in revenue earned in the international marketplace.
Viettel, for the first time in 2022 was successful in foreign markets, with revenues reaching nearly US$3 billion. As telecommunications is the group's main source of revenue, it currently ranks first in Laos, Cambodia, Myanmar, East Timor, and Burundi. In addition, Viettel is also a leading Vietnamese company providing digital transformation solutions to countries such as Haiti and Laos.
FPT CEO Nguyen Van Khoa told a conference in December that, thanks to the strong rise of enterprises, Vietnam is now second only to software powerhouse India on the digital map in terms of revenue.
The global digital transformation market is expected to grow to US$1 trillion by 2025, from $469.8 billion in 2020. "Vietnamese enterprises need to thoroughly grasp market trends and prepare human resources when operating in foreign markets".
Source: Hanoi Times