As the last-born in a four-children family with two brothers and one sister in Quang Ngai, 21-year-old Phan Gia Cuong never had to worry about cooking or planting vegetables for daily meals as he had his loving mother to do all of those chores.
Truong Sa archipelago peaceful daily life
Truong Sa Archipelago: Full of life and beauty
New life in Truong Sa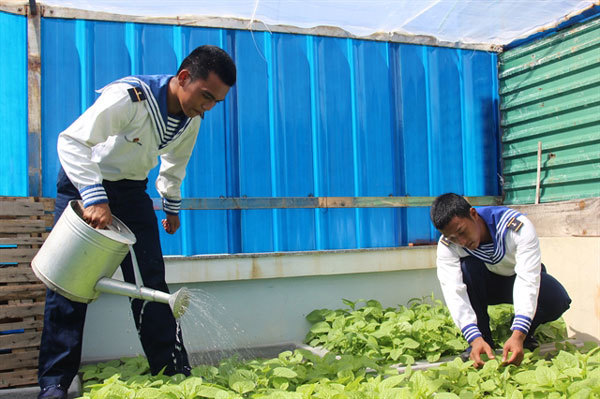 A navy soldier waters vegetables while the other picks old leaves on Len Đao (Lansdowne) Reef, a coral rock in Truong Sa (Spratly) Islands. VNS Photo Hong Minh
But the young man soon realised the importance of self-sufficiency and learned how to cultivate vegetables after joining the navy soldier troop on Đá Thị (Petley) Reef, a coral rock 322 nautical miles from Cam Ranh Peninsula, which is part of Vietnam's Spratly Islands.
"Planting vegetables here on the reef does not only provide me and my fellows with healthy food, which are an important part of daily Vietnamese meals, but also entertains me during leisure time and eases feelings of homesickness," Cuong said.
Every day, Cuong and his fellow soldiers take care of the vegetables planted in plastic containers and foam boxes. On the island, only certain types of vegetables will grow, including Vietnamese rau muống (morning glory), rau cải (mustard spinach), mồng tơi (malabar spinach), rau đay (jute), rau dền (red amaranth), rau ngót (sweet leaves) and some herbs which are suited to harsh weather conditions like lemongrass, ginger, chillies, basil, and green onions. Cuong takes his turn to cook for the whole island every ten days and has a choice of vegetables from his garden.
After more than a year living on the nearly 2-square-kilometre reef, Cuong understands that there are three things on the Spratly Islands that are precious compared to the mainland – soil, water and green vegetables.
On some of the larger islands of Vietnam such as Trường Sa Lớn (Spratly) and Song Tử Tây (Southwest Cay), fresh water wells can be dug. But on some other large islands like Phan Vinh (Pearson), An Bang (Amboyna), Trường Sa Đông (Central London) reefs and submerged islands such as Đá Thị, Tiên Nữ (Tennent), Đá Lớn (Discovery Great) and Tốc Tan (Alison) reefs, rainwater must be collected or purified from sea water.
Although water is literally everywhere, fresh water for daily life and watering vegetables is scarce and must be saved.
"Wasting fresh water is like a crime. It is vital for green vegetables," Cuong said, explaining that they sometimes save the water from their showers to use in the garden.
"We can get other food which can be supplied from the mainland. But growing vegetables here is very difficult as we need not only seeds but also soil," he said.
The ground on the small islands consists mostly of coral or sand which is very poor in nutrition. To grow vegetables, soil and other cultivation materials are transported from the mainland. The soil has to be used sparingly, with a thin layer on the surface while coral sand is also mixed at the bottom. In order to have sources of nutrition, the soldiers also make full use of organic waste. Old leaves and organic waste from daily life are used as fertilisers.
In contrast to Cuong, Truong Quang Nghia, 19, who is based on Tiên Nữ (Tennent) Reef, actually had experience in growing vegetables on land before.
"But I found that planting vegetables on the island was completely different to doing it at home. On land, we can use growth supplements and fertilisers while here we can only focus on watering, trimming the plants and keeping the bugs away," Nghia said.
Nghia also said vegetables on the island grew slower.
On the Spratly's, there are two seasons a year – the dry season from January to May and the rainy season for the rest of the year. Growing vegetables on submerged coral islands depends heavily on the weather. In the dry season, fresh water is mainly sourced from the rain or purified sea water.
Work gets a lot harder in the rainy season. Waves, strong winds and heavy rain are the main threats to the leafy vegetables.
Phan Quang Hao, commander of Tốc Tan (Alison) Reef, said that in the first half of the year, in the dry season, the gardens on his island could supply enough vegetables for the officers and soldiers.
"But in the last six months of the year, in the rainy season, waves and winds mean that salty sea waters is splashed onto the vegetable gardens, killing all the plants," Hao said.
"Normally in the dry season, we have all kinds of vegetables to eat, but in the rainy season, we rely on rau muống (morning glory) and mồng tơi (malabar spinach)," he added.
Hao said that the only way to protect the vegetables was to build fences and covers for the gardens against the strong sunlight in the dry season and waves, wind and rain in the rainy season.
"Sometimes when it rains hard at night, everyone on the island has to wake up and evacuate the vegetable boxes to keep them from being destroyed," he said.
The commander said that people on the island understood the importance of having vegetables so everyone, both officers and soldiers, joined in to protect their cultivations.
All outposts of Tốc Tan Reef have gardens for vegetables, which are grown everywhere they can.
"Like on Tốc Tan A Island, we have about 60 square metres of vegetables in 80 boxes," Hao said proudly.
"The vegetables we grow ensure supplies for vegetable soup at all meals while boiled and stirred vegetables (which are very popular in Vietnamese people's dishes) account for 30 per cent of the two main meals a day," he said.
Nghia on Tien Nu Reef has been tending vegetables on the island for four months. And he gets great satisfaction eating food that he has grown himself. "Before doing this, every meal seemed pretty normal to me," he said, "But now after growing vegetables on the island, I feel so happy eating the vegetables I grew with my own hands". VNS
Hong Minh