VietNamNet Bridge – Girls who get married before 18 years old are much more likely to drop out of school and face a much higher risk of family violence, experts warned in a seminar on child marriage prevention.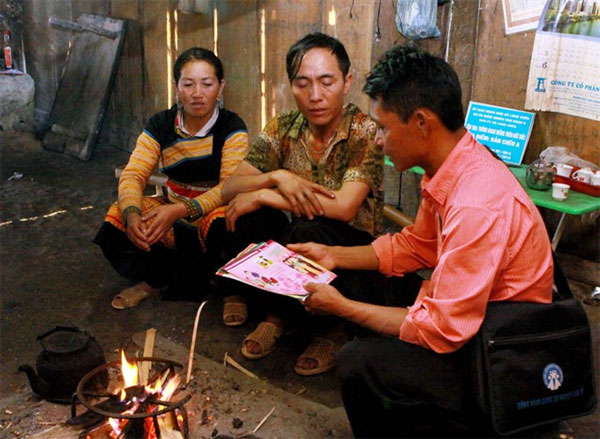 A family planning worker talks to an ethnic couple in Son La Province about child marriage.—VNA/VNS Photo Duong Ngoc
In addition, children born to too-young mothers face high risks of dying in wombs or dying in the first months of their lives, they said.
According to statistics released at the event on Tuesday, this year more than 60 million ten-year-old girls around the world will enter adolescence, but millions of those will be forced to get married to adults regardless of whether they agree or not.
Specifically, every day around the world, nearly 48,000 girls are forced to get married and about 20,000 women under 18 give birth.
According to Viet Nam's Multiple Indicator Cluster Survey (MICS) 2014, 10.3 percent of Vietnamese women aged 15-19 are married.
Married at 14 and parents to a 2-year-old child, Ly Thi Dau and Vang A Minh in Ban Giang Commune of Tam Duong District in the northern mountainous Lai Chau Province has been fighting each other everyday.
It is because they are indeed themselves children.
After getting married, they moved out of their parents' home. Now, the wife works all day in the rice field, does housework, and takes care of the baby without her husband's help. Because her husband is still a boy, he spent most of time his friends.
The difficulties of life causes them to fight with each other every day.
"If I had known getting married would turn my life in such way, I would have refused and continued going to school", the wife- Dau sadly told the Tin Tuc (News) Newspaper.
Unfortunately, the couple is not a special case, especially among ethic minority communities.
In the Huoi Uc Hamlet of Ky Anh District of Nghe An Province, there are 36 households of H'mong ethnic people. Here, most children get married and become parents when they are 13 or 14 years old, the News reported.
Reports show that many people really do not want to let their children to get married early, but they cannot prevent the situation because it is a part of traditional customs.
Va Xin Mua, a H'mong ethnic, told the paper that his 12-year-old daughter got married last year, when she was a 6th grade student.
"I sent her to a boarding school in Muong Xen Township where she met her husband", said Mua.
"One day she came back home saying she wanted to get married. And then she dropped out of school", he said.
As a head of the hamlet, Mua knew that child marriage was a marriage law violation, but he could not stop his daughter because the H'mong custom regulates that if any family whose daughter was asked to marry a man refuses the proposal, the whole clan will suffer.
So Mua has surrendered the rule and now his daughter dropped out of school, working hard every day but still living in poverty.
Child marriage is not just an issue in ethnic minority communities, however. It is also quite prevalent in the Northern Mountainous Region, the Mekong Delta and Central Highlands.
According to statistics conducted among 53 ethnic minorities last year, the northern mountainous and Tay Nguyen (Central Highlands) regions had the highest rate of child mariage in the country.
Provinces of Lai Chau, Ha Giang, Dien Bien, Son La, Lao Cai, Yen Bai, Cao Bang, Bac Kan, Kon Tum and Gia Lai were reported to have the highest rate of child marriage nationwide.
In some communes, the child marriage rate even exceeds 50 per cent. Among ethnic minority communities, the H's Mông people have the highest child marriage rate—up to 33 per cent, followed by the Thai with a rate of 23 per cent.
Risk of pregnancy
Studies show that many children with incomplete anatomical, physiological and psychological functions have been forced to become parents, Deputy Minister of Health Nguyen Viet Tien warned in the meeting.
According to the minister, child marriage impairs the quantity and quality of the population. Stature and average life expectancy for ethnic minorities are also lower. In regions where child marriage is prevalent, the average life expectancy is approximately 45 years old.
In addition, maternal mortality in the 15-19 aged range was higher than that in adult mothers. Also, hundreds of children were illiterate or living in poverty and debt after their weddings, the expert said.
Couples who get married too early might not fully understand their mates, which could easily give rise to domestic violence, stress and depression following mental trauma. Girls after these marriages are often isolated and abandoned by their peers.
Do Van Chien, Minister-Chairman of the Commitee for Ethnic Affairs, said the Government has carried out years of policies to stop the situation, but the rate is still high.
Child marriage might stem from the influence of customs and practices that force children into early marriage, sexual abuse, lack of understanding of laws relating to the prohibition of child marriage, limited access to reproductive healthcare and economic difficulties.
Astrid Bant, Country Representative of the UN Population Fund in Vietnam, said that with support from families, communities and the State, girls needed to be fully given their rights and favourable conditions for their comprehensive development.
VNS