Mekong Delta faces challenge to reducing greenhouse gas emissions in rice farming
Rice production is one of the largest sources of greenhouse gas emissions in agriculture, and how to reduce the emissions while still ensuring food security and raising farmers' income 
in the Mekong Delta is now a hard nut to crack to many.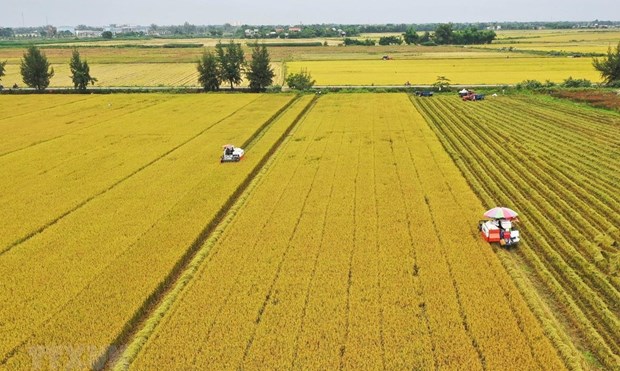 Rice cultivation emits the most greenhouse gas in agriculture at present.
The key rice farming zone of Vietnam has about 3.9 - 4 million ha under rice and produces 23.8 - 24 million tonnes of the unhusked grain each year, accounting for over half of the total rice farming area and output in the country.
Current farming techniques can help increase productivity and output but also result in more greenhouse gas emissions.
Chairman of the Ho Chi Minh City High Technology Association Dao Ha Trung said the Mekong Delta is tasked with helping guarantee food security, but rice cultivation emits the most greenhouse gas in agriculture.
Le Thanh Tung, Deputy Director of the Crop Production Department at the Ministry of Agriculture and Rural Development, said Vietnam has committed to reducing greenhouse gas emissions to the international community, but there remain obstacles and challenges to the realisation of that pledge.
Localities have been focusing on boosting rice productivity and output to achieve fast GDP growth, other economic targets, and guarantee national food security. Given this, they haven't managed to combine food security, economic development, and social security targets with emission reduction ones. In addition, low-carbon rice production remains costly, making farmers reluctant to adopt the practice, he noted.
Trung held that apart from increasing communications about climate change impacts, State agencies need to change policies and measures for cutting emissions such as applying technology to production and management, instead of merely providing financial support for climate change response.
Fighting climate change and reducing greenhouse gas emissions are an essential task that must centre on people, he said, adding that without concrete benefits, it is hard to persuade farmers to join hands in low-carbon production.
Therefore, it is necessary to raise income for rice farmers who practice low-carbon cultivation by adopting production chain management so as to control every step in the chain, Trung went on.
Nguyen Van Toan from the research institute for agricultural and rural planning said to reduce about 10 percent of greenhouse gas emissions by 2030, it is essential to boost communications to raise farmers' awareness of the issue. Besides, as farmers are direct producer of the grain, they need to grasp measures for cutting emissions such as turning rice straw into a resource instead of burning it.
About 42 - 45 million tonnes of rice straw is there to be treated in the country every year. If straw is used for different purposes in value chains, it will help reduce greenhouse gas emissions. For example, straw mixed with certain substances will become fertiliser, which will save 3.5 trillion VND (over 152 million USD) - a considerable profit for farmers, according to him./.
Source: VNA