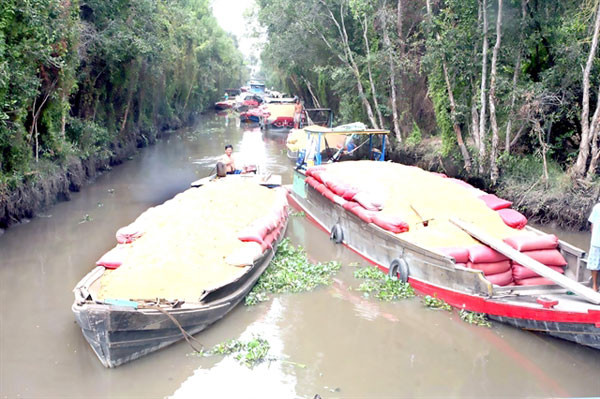 Therefore, it is necessary to have policies to invest more in the delta region's seaports and logistics services, which will promote the export of agricultural products and develop the region's economy.
When agricultural products are exported directly from seaports in the delta, transportation costs will be reduced, and the products can improve their competitiveness.
As the country's main rice bowl and the source of seafood and fruits, the delta has a river system about 28,000km long, so waterway transport plays a key role in the region.
However, the region's inland waterway transport has not yet fully exploited its potential because of the current poor transportation infrastructure and the lack of investment in inland waterways.
Many localities in the region and seaport companies have complained that the Quan Chanh Bo and Cho Gao canals are showing signs of serious deterioration.
Ho Thi Thu Hoa, director of the Vietnam Logistics Research and Development Institute, said the ports in the delta can be easily connected to the Philippines and Indonesia, but the proportion of the region's exports through these ports is only 10-20 per cent, while local ports such as Cai Cui Port in Can Tho City only handle about 60-70 per cent of their designed capacity.
Container ships have an average deadweight tonnage of 20,000 tonnes or more, but the Quan Chanh Bo Canal can only serve ships of 5,000 tonnes due to the sedimentation phenomenon, she said.
Inland waterway transport plays a key role but lacks serious investment.
"The delta is just a place for gathering and collecting goods on a very limited scale, though it has many advantages and great potential for developing waterway transport," she said.
Vo Quoc Thang, chairman of the Board of Directors of Dong Tam Group which manufactures and trades construction materials and interior decoration products, said the delta's road traffic system is overloaded.
Products in the region are transported to HCM City and major deep-water ports mostly by road, resulting in high logistics costs, increased prices of commodities, and low competitiveness of domestic products.
The region also lacks a smooth traffic connection among industrial zones and clusters, factories and ports, so that businesses often suffer high logistics costs. Consequently, agricultural products for export are forced to be transported via the seaports in HCM City.
Truong Thi Kim Lien, director of Gemadept Joint Stock Company in Can Tho City, said about 70-75 per cent of the region's agricultural products for export must be transported to the ports in HCM City or Cai Mep-Thi Vai port cluster in Ba Ria-Vung Tau Province
"That wastes a lot of time and cost, affecting the country's competitiveness in the global market," she said.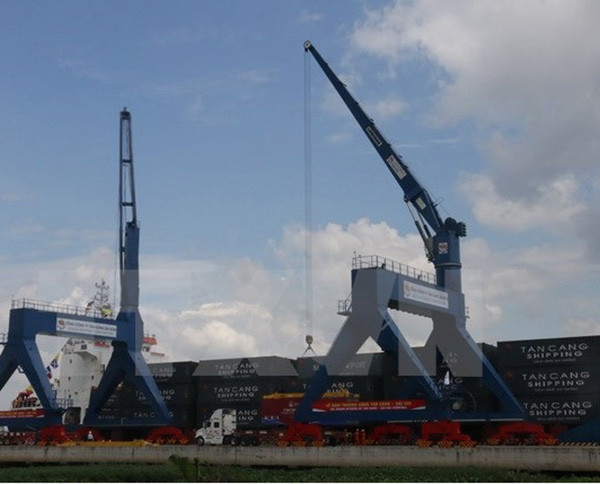 Vo Thanh Phong, general director of Hau Giang Maritime Service Limited Liability Company, said the delta now has seven seaports, 34 berths, 57 inland waterway ports, and nearly 4,000 wharves.
It has many favorable conditions for logistics development because it produces more than 70 percent of fruits and 65 percent of seafood, and exports more than six million tonnes of rice annually.
With the large scale of production and rapid growth, there is increasing demand for logistics services to serve production and export needs.
"It needs to quickly upgrade the degraded canals which can receive large vessels," Phong said.
According to the Ministry of Industry and Trade, logistics costs in the delta account for 30 percent of production costs.
In addition, the delta lacks a well-connected logistics network and deep-water ports for container ships, according to logistics experts.
The Ministry of Transport said it has invested in the construction of a large shipping channel in the Quan Chanh Bo Canal with a length of 18.6km and total investment of VND2.6 trillion (US$108.4 million).
It has also spent more than VND1.3 trillion ($54.2 million) to upgrade the Cho Gao Canal's second phase with a length of 28.6km and a width of 55m.
The two works are expected to be completed in 2023.
Can Tho City and Hau Giang Province are identified as the two localities in the delta to build logistics centres.
Hau Giang Province's People's Committee has issued a plan to implement a provincial logistics and industry development programme for the 2021-25 period.
Accordingly, the province will build three major logistics centres worth more than VND113 trillion ($4.7 billion), including Mekong logistics, Hau Giang logistics and Hau Giang agro-export logistics.
Source: Vietnam News