VietNamNet Bridge – Cuu Long (Mekong) Delta provinces are experiencing a shortage of skilled workers, forcing many enterprises to reduce their operations.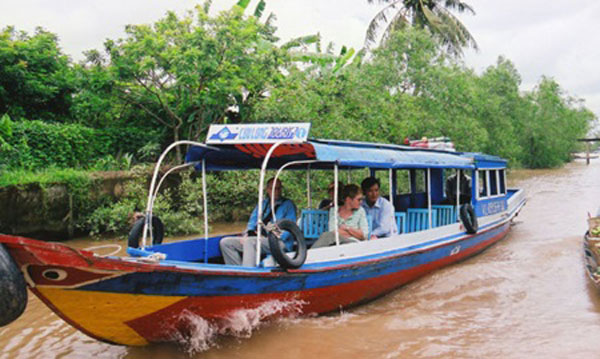 A tour guide (first, right) takes foreign tourists to visit fruit gardens in the Mekong Delta's Tien Giang Province. The delta has faced a shortage of skilled tourism workers.
The region has more than 10.3 million people of working age, about 57.8 per cent of its population. However, the number of trained workers available is only about 10 per cent of the workforce compared to nearly 18 per cent for the rest of country.
The southern province of An Giang receives millions of visitors a year, but many hotel and tourist spots lack professional staff.
"Workers trained in tourism sector often decline to return to the province," Luong Thanh Loi, director of Van Huong Mai Tourism Spot in Chau Phu District, told Tuoi Tre (Youth) Newspaper.
Huynh Thi Nhu Lam, from An Giang Province's Culture, Sports and Tourism Department, said most students who studied tourism in HCM City wanted to stay and work there.
Some localities had sent staff to attend training course on tourism management, but many joined other companies that paid more, Lam said.
The situation is similar in other Mekong Delta provinces, including Kien Giang and Can Tho.
The shortage of skilled workers has been a problem in the tourism sector, especially on Phu Quoc Island, since 2013.
It is estimated that at least 7,000 workers will be needed by the end of the year to handle 3,300 rooms on the southern island.
However, the island has so far only recruited and trained about 2,000.
Phung Xuan Mai, managing director of Sai Gon-Phu Quoc Resort, said his enterprise had become the supplier of personnel for other resorts and hotels.
As many as 18 mid or high-level managers from the resort moved to other enterprises, he said.
"Whenever a new hotel or resort opens, I lose some staff. It doesn't matter much if ordinary staff leave, but it it's a big loss if they are senior employees," he said.
The manager of a four-star hotel in Can Tho City said he couldn't find enough personnel to meet his needs after several months, so he had to import staff from HCM City.
"It's a situational solution, but we really want to give priority to local workers", he said.
Nguyen Quoc Vung, director of the Can Tho City's Youth Employment Service Centre, said colleges and universities could not keep up with demands for skilled workers.
For instance, the Victoria Hotel had asked the centre to find tour guides and receptionists, yet not a single worker had been recruited, Vung said.
He said about 90 per cent of graduates lacked skills such as planning, supervising and communications.
Vung also blamed the shortage on parents and students. "They want to get a diploma, but they don't think carefully about how or where to use it," he said.
Mekong Delta cities have tried several ways of addressing the problem, including co-operating with enterprises in training workers.
The Labour, Invalids and Social Affairs Department in Bac Lieu Province's Vinh Loi District has co-ordinated with Pinetree ltd, a South Korean company to open classes to train workers.
The company is building a garment factory and needs up to 1,000 skilled workers.
In An Giang, many tra-fish exporters have had to close or reduce their capacity due to the difficulties.
Thai Thi Bach Lan, from An Giang Province's labour department, said the department had opened six classes for seafood workers and 15 classes for industrial-garment workers. A total of 730 trainees are involved.
The Mekong Delta covers about 40,000 square kilometres, has a population of 18 million, and is a major aquaculture region and the largest rice production hub in Viet Nam.
VNS