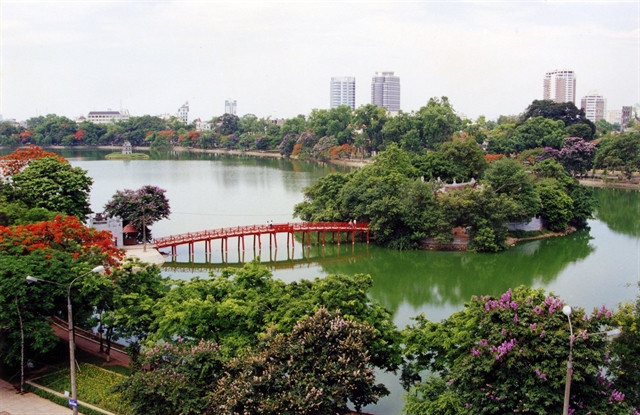 Hoàn Kiếm (Returned Sword) Lake, often called the heart of Hà Nội. — VNA/VNS Photo
Hoàn Kiếm District, named after the myth of King Lê Thái Tổ (Lê Lợi) who returned a mythical sword to the turtle deity that lives under Hoàn Kiếm Lake, is perhaps one of Hà Nội's most historical areas.
The district is at the heart of the ancient Thăng Long citadel and is the home to many landmarks, such as the Ngọc Sơn Temple, Hà Nội Opera House, and most notably the Old Quarter.
Despite its historical significance, the existence of Hoàn Kiếm District itself is recently being reconsidered.
Hoàn Kiếm, along with 176 wards in Hà Nội, might be rearranged within the next two years, according to Trần Sỹ Thanh, Chairman of the Hà Nội People's Committee at a conference on the implementation of rearranging administrative units held on July 31.
For Hoàn Kiếm, "rearranging" would mean a merger with nearby districts, which includes Ba Đình, Hai Bà Trưng, Đống Đa, or even Long Biên across the Red River, and could possibly mean that the historical name will be lost.
The reasoning behind the possible merger is simple: the district is too small compared to the minimum requirements for a district, which were stated in Clause 7 of Resolution No.1211/2016/UBTVQH13 issued by the National Assembly Standing Committee.
The clause stated that a district-level administrative unit must be as large as 35 sq.km, have a population of 150,000 people or more, and house at least 12 ward-level administrative units.
Hoàn Kiếm currently qualified for two out of three criteria, but the district is only 5.29 sq.km large, which is seven times under the requirements of Clause 7.
Within the next two years, administrative units that did not meet the requirements must be merged.
After the information surfaced, many experts voiced their opinion on the matter, with most of them against the merger.
"This is a matter that needs careful consideration because to form a district, it must meet 5 criteria: Population; area; number of administrative units; economic structure; and infrastructure. Among these criteria, Hoàn Kiếm District falls short in only one aspect, which is the area. However, it excels in all the other criteria, especially in terms of economic structure and well-integrated infrastructure," said architect Đào Ngọc Nghiêm, Deputy Chairman of Việt Nam Urban Planning and Development Association (VUPDA).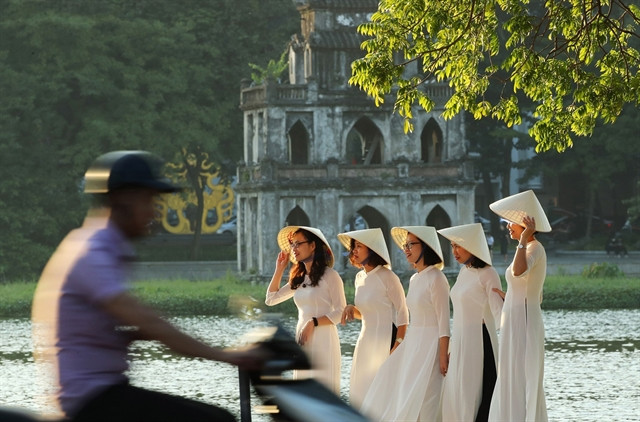 Students taking pictures in Áo Dài near Tháp Rùa (Turtle Tower) in Hoàn Kiếm. — VNA/VNS Photo Lâm Khánh
Hoàn Kiếm is the central district of the capital city, bearing significant historical and cultural values that have been developed over many centuries. Therefore, despite falling short in the area criterion, it should not be used as a decisive factor, Nghiêm emphasised.
"With its cultural and historical traditions and the development process of the central district of the capital city, we need to consider carefully and should not let a single criterion or administrative decision diminish its cultural values and historical imprints," Nghiêm stated.
According to Nghiêm, all regulations are made by human beings, so their application must be reasonable, feasible, flexible and above all, respect history.
The merger must also take into account the opinions of the people. The Deputy Chairman of VUPDA expressed his hope that the city would not merge Hoàn Kiếm with any other district.
'More of a loss'
Nghiêm's colleague, Trần Ngọc Chính, Chairman of VUPDA, also voiced his reasons against the merger of Hoàn Kiếm District.
According to Chính, although the policy of administrative unit merger is reasonable, any merger of administrative units requires evaluation and consideration from various perspectives, especially when it comes to Hoàn Kiếm District, where the merger option needs to be approached with utmost caution.
"Hoàn Kiếm is the central district, bearing many special values in terms of history, culture, and even spirituality. The merger of Hoàn Kiếm with any other district is not suitable," Chính stated, adding that Hoàn Kiếm cannot be merged with Long Biên or Gia Lâm as they are separated by the Red River.
For the neighbouring core districts of Ba Đình, Đống Đa, or Hai Bà Trưng, Chính is concerned that the merger could cause significant disruptions. For instance, after the merger, the need to change the district's name would diminish the distinctive cultural and historical values of these districts that contribute to the identity of Hà Nội.
Chính pointed out that Hoàn Kiếm District boasts 36 Old Quarter streets with a history of thousands of years, containing numerous significant landmarks such as the Hà Nội Opera House and St. Joseph's Cathedral.
Hoàn Kiếm is also home to a cultural complex including Thê Húc Bridge, Ngọc Sơn Temple, and the statue of King Lý Thái Tổ. All of these are iconic cultural and historical symbols of the capital city.
"These historical values alone are enough to recognise how special Hoàn Kiếm is. Should we risk losing these historical and cultural values just for the sake of the merger?" Chính questioned, emphasising that the loss from the merger might outweigh any potential gains. Moreover, he believes that such a move could lead to anxiety and uncertainty among the local residents.
According to Chính, there are many other important tasks to be addressed in Hà Nội, such as properly planning the capital, preparing the necessary infrastructure for the construction of the Capital Beltway 4, effectively planning both sides of the Red River, and building more parks and schools. Therefore, considering the merger of a significant district like Hoàn Kiếm at this time or in the foreseeable future is not reasonable.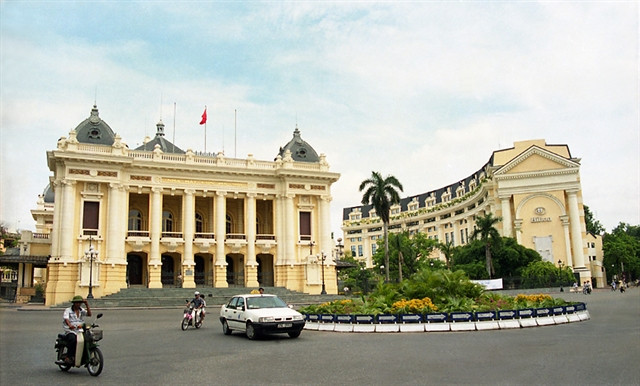 Hà Nội Opera House. — VNA/VNS File Photo
Plan not in place
According to Nguyễn Hữu Thành, Deputy Director of the Local Government Office, Ministry of Home Affairs, the information presented by Chairman Sỹ Thanh is just research data, and not a specific plan.
Thành added that Hà Nội must build a master plan for the merger of municipalities. When the plan is ratified, only then is it given the green light. At the moment, Hà Nội is only reporting data, and has not made a decision.
According to Resolution No. 35 of the National Assembly Standing Committee on the rearrangement of administrative units at the district and commune levels during the 2023-2030 period, the districts and communes that fall under the rearrangement category are not mandatory if they have any specific characteristics as prescribed.
Specifically, the administrative units at the district and commune levels with stable territorial boundaries that have not undergone any changes or adjustments since 1945 are not required to be merged.
Similarly, the administrative units that hold significant positions in terms of national defence and security or possess distinctive characteristics in terms of historical, cultural, ethnic, religious, belief, customs, and traditions, and if merging with adjacent administrative units would lead to instability in national defence, security, public order, and social safety, are also exempted from the mandatory merger.
However, it's essential to note that this is only the review report submitted by Hà Nội regarding policy matters, and it has not been officially decided yet. Hoàn Kiếm District is currently being assessed based only on the criteria of population size and natural area.
'A good heart doesn't need to be big'
Many long-time residents of Hoàn Kiếm have shared their thoughts, and hope that authorities carefully explore and weigh in the pros and cons before making a decision on the merger.
"Since I heard the news about the possible merger of the district, I've had many concerns," said Lê Thị Thúy Nga, 62.
"In my opinion, Hoàn Kiếm District should be kept as it is because it has many unique characteristics. We shouldn't rely solely on the area to rearrange administrative units. Let's maintain the four core districts of Hà Nội: Hoàn Kiếm, Ba Đình, Đống Đa, and Hai Bà Trưng."
Nguyễn Văn Hiệp, another long-time resident, wants authorities to closely and carefully consider all aspects because the merger of Hoàn Kiếm is significant. He also wants the voice of the people to be heard regarding the matter.
"If Hà Nội is the heart of Việt Nam, Hoàn Kiếm is like the heart of Hà Nội, and a good heart does not need to be big," said Hiệp. — VNS