VietNamNet Bridge - The dairy market has steadily expanded, while the competition is getting fiercer, heating up the milk market.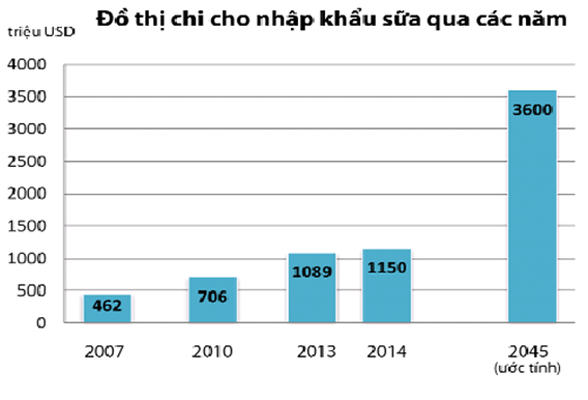 Vietnam spends more and more money on milk imports
Though he does not own a milk factory, Doan Nguyen Duc, chair of Hoang Anh Gia Lai Group, a real estate developer, decided to breed milk cows as a business in 2014.
The milk from Hoang Anh Gia Lai's farms is provided to Nutifood which has a processing factory under a material supply contract.
In a recent statement, Duc said Hoang Anh Gia Lai only sells fresh milk to Nutifood, not to any other. However, if Nutifood does not take the responsibility of collecting Hoang Anh Gia Lai's milk, Duc can easily find other buyers.
Duc might have to think carefully before deciding to spend money to develop milk cow farms though he does not have milk processing factories. He could see the great potential of the husbandry industry in the context of the increasingly high demand for dairy products.
A report of BIDV Bank's Research Center showed that Vietnam's dairy market has grown rapidly from $1.6 billion in 2010 to $2.9 billion in 2013, while the market value is expected to reach $4 billion in 2015, which means 21 percent annual growth rate in 2010-2015.
While the demand for dairy products has been increasing rapidly, the milk material supply remains short. There are about 240,000 milk cows being bred at domestic farms, which can only satisfy 30 percent of the fresh milk material demand. The remaining 70 percent of the demand must be taken by imports, mostly milk powder.
The report also showed that Vietnam is one of the 20 biggest milk importers in the world with the year-on-year imports increase of 15 percent. It is predicted to spend $1.1 billion in 2015 to import 1.5 million tons of milk of different kinds.
The short domestic supply caused fresh milk prices to increase steadily by 12 percent since 2003. The Ministry of Agriculture and Rural Development (MARD) predicted that Vietnam would lack milk materials for at least 10 more years.
Duc Long Gia Lai Group last year also announced a project on breeding 8,000 milk cows in the Central Highlands. The group has signed a contract on providing fresh milk to Vinamilk, the nation's leading dairy producer.
TH, which owns TH True Milk brand, is well known as a big dairy producer which makes heavy investments to develop material areas. Analysts believe that it is TH, which has forced other dairy producers to focus making dairy products from domestic fresh milk instead of imported milk powder.
TH plans to invest $1.2 billion in the project on developing a milk cow farm and processing factory in Nghe An province.
NCDT