Minimum wage 'not enough' to survive on
VietNamNet Bridge – The smell and sound of snuffling pigs fills the 7sq.m room of worker Ninh Thi Kieu in Yen Phong Industrial Zone.
VietNamNet Bridge – The smell and sound of snuffling pigs fills the 7sq.m room of worker Ninh Thi Kieu in Yen Phong Industrial Zone.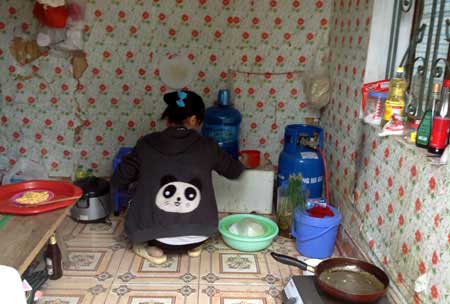 A female worker cooks in her rented room at the Yen Phong Industrial Park, Bac Ninh Province. Millions of labourers nationwide are not surviving on the minimum wage that covers only about 60 per cent of a worker's basic living costs.
Kieu, 20, lives next to pig cages in a room with a bed and gas cooker that costs her VND700,000 (US$33) a month, one-fifth of her basic wage. All other appliances are on or under the bed or hung on the walls.
Kieu says she left for northern Bac Ninh Province two years ago for a job in a mobile phone factory after her mother was hospitalised.
"I had no idea of the job in an assembly line but hoped that I could lead my own life and save for my mother's treatment."
However, on a wage of VND3.5 million ($167) per month she only has enough to live, though she's luckier than others whose basic wages are equal to the State minimum of VND1.65-2.35 million ($78.5-$111) for enterprises.
Kieu is among more than 15 million workers working in enterprises around the country who are suffering on the minimum wage.
Le Xuan Thanh, deputy director of the Labour and Wage Department under the Ministry of Labour, Invalids and Social Affairs, said minimum wages are set to meet workers' minimum living demands, and set a legal base for enterprises and workers to negotiate with each other before signing the labour contract.
However, the minimum wage which took effect from January this year covers only 62-69 per cent of a worker's minimum living costs, he says.
In fact, statistics of the Institute of Workers and Trade Union released last Friday showed the minimum wage meets only 50 per cent of minimum living costs of workers.
Institute director Dang Quang Dieu says the country should not be proud of its low cost of labour which he said was exploitative.
Thanh and Dieu said many enterprises took advantage of the absence of regulations on adjusting the minimum wage and a negotiation mechanism to set workers' basic wages as low as the minimum ones.
This was despite the workers' high productivity and increasing consumption, prices and profits.
Most workers had to work overtime to raise their incomes.
Kieu said she worked 12 hours a day and seven days a week to earn the total income of VND5.5 million ($262), instead of the basic wage of VND3.5 milion ($167).
"Working extra hours burns all of our energy. It is exhausting and overloading.
"But most are forced to do it because they can't live on the basic wage."
Dieu said more than 94 per cent of 2,000 surveyed workers worked overtime, which made up more than 20 per cent of their total income.
With overtime, the total average income of the surveyed workers reached VND3.623 million ($172.50), just meeting the minimum living costs estimated at VND3.3-3.7 million per month, Dieu said.
No additional costs could be paid and no savings could be made, he said.
A recent survey by the Fair Labour Association, an international organisation to protect workers' rights, showed 40 per cent of nearly 3,600 workers said their salaries failed to cover daily living costs if they worked under 60 hours a week.
Kieu said: "My daily routine revolves around working, eating and sleeping. I have no idea of anything else except for the factory and my room.
"We joke with each other that work makes it impossible to update the names of State leaders or events. We just sleep to have enough health to work."
Kieu said workers are not allowed to take time off even when they become sick.
"The leader will have his salary deducted if there are not enough workers in the line."
Nevertheless, enterprises still tried to find loopholes to cut pay for their workers.
Kieu said when workers of each line failed to meet a deadline allocated by the factory, they had to work extra hours. The money for these extra hours would be deducted from their bonus for failure to meet the deadline.
In most cases, it was not the workers' fault but a problem with material or machines, she said.
Deduction
"By the end of the month, workers receive a deduction from their pay but no details are listed," Kieu said.
Dang Thi Hai Ha, an expert of the Fair Labour Association, said nearly 55 per cent of workers had no idea of negotiation mechanisms between workers and employers.
Working hard but living as modestly as possible was a worker's target to savings.
Kieu spent VND1.2 million on rental and water and power bills and VND2 million on food and other necessities. "Two meals at the company thanks to extra-working hours makes me not have to go to the market."
An egg and a little of vegetables were enough for a meal. The rest of the money is sent to the countryside for parents, she said.
Nguyen Thi Hoa, another worker, said she saves every spare dong to have money to call her family in the countryside of Nghe An.
Hoa's one and a half year-old child is being taken care of by her aunt. However, she saw him once last year. She said she has 80 extra-working hours per month, and gets VND3.5 million ($167) for her total income.
She must save about VND1.5 million ($71) per month to send to the countryside to feed their baby, she said.
Dieu said these workers in their 20s spend all their energy working without getting enough nutrition and having any relaxing time. Several years down the track their strength is eroded.
According to experts, when workers have to work extra hours to lead a normal life and have no savings, minimum wages are improperly designed.
Ha said there should be an effective negotiation mechanism between the employers and labourers.
In case the negotiation mechanism does not take effect, it would be necessary for wages to be paid based on working efficiency and labour productivity, she said.
Thanh said the Government planned to raise the minimum wages to meet the minimum living demand by the year 2015.
However, the difficulties of production last year had already delayed this process and the minimum wage in enterprises was raised by 16-18 per cent, instead of 35-37 per cent as scheduled.
The ministry proposed to delay the schedule till 2016 or 2017 to meet the minimum living demands.
While experts are struggling to find a solution for raising the minimum wages, Kieu and Hoa are having dinner with just a little fish sauce and a bowl of rice with the smell of pigs' dung in the nostrils. It's 5pm and they are going to have to work a night shift.
Kieu said in her low voice: "Living here, looking at the sky, I just see the colour of grey. I wish to go back to my countryside to see the blue sky and breathe the fresh air."
"Earning money holds me back."
Source: VNS