VietNamNet Bridge - For the first time, the Ministry of Trade and Industry made public the salary of 120 high-ranking officials at 11 state-owned corporations in 2013.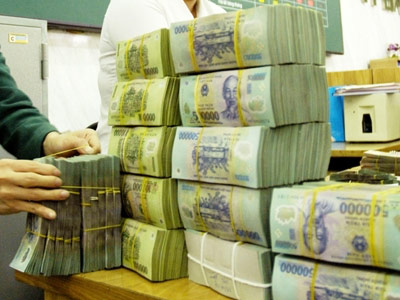 In this report, the Ministry disclosed the income of top officials of big groups like the Electricity of Vietnam (EVN), Vietnam National Petroleum Corporation (Petrolimex), Vietnam Coal - Mineral Industries Group (Vinacomin), Vietnam Oil and Gas Group (PetroVietnam), Vietnam Textile and Garment Group (Vinatex), Vietnam Vegetable Oil Corporation (Vocarimex), Vietnam Paper Corporation and the Vietnam Tobacco Corporation (VINATABA).
According to the report, Do Ngoc Khai, chair and CEO of the Vietnam Vegetable Oil Corporation, earned the highest salary last year, with VND74.72 million/month ($3,700). Other officials at this corporation were also paid relatively highly, with VND59.79 million to VND63.44 million/person/month for other Vice Directors.
After Vocarimex, only the leaders of EVN and PetroVietnam were paid with over VND60 million per month. PetroVietnam's Chair Mr. Phung Dinh Thuc earned VND65.81 million/month ($3,200); PetroVietnam's CEO Do Van Hau, VND64.35 million/month; and EVN's Chair Hoang Quoc Vuong, VND61.32 million/month.
Leaders at other corporations were paid from VND38 million to VND57 million/month, Nguyen Anh Dung, Chair of the Vietnam Chemical Corporation, VND57.13 million; Pham Le Thanh, General Director of EVN, with VND53.43 million; Bui Ngoc Bao, Chair of Petrolimex, with VND54 million; Tran Van Thinh, General Director of Petrolimex, 52.5 million; Vu Duc Giang, Chair of Vietnam Textile and Garment Corp, VND52.47 million; and Vu Van Cuong, Chair of Vietnam Tobacco Corporation, VND47.41 million.
Thanh Tung