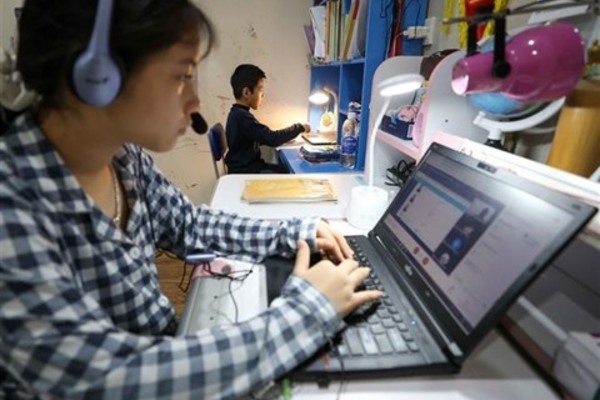 When students have to stay at home during the pandemic, learning online and via TV is an important solution that helps students maintain the study routine and observe the principle of "stopped going to school, but not stopped learning".
MOET admitted that a lot of problems arose during the first days of nationwide online teaching deployment because managerial officers and teachers were not trained for online teaching, and students were not ready, while the technical infrastructure was not good enough.
However, the situation has become better as teachers and students have more experience.
MOET on March 30 released Circular 09 setting regulations on the management and organization of online teaching in general education and continuation education establishments, creating a legal framework for online teaching.
2.2 million students need support for devices
MOET, after instructing localities to compile the number of students who lack devices for online learning, received a request for computers from 56 out of 63 provinces and cities. Over 2 million students from families with difficult living conditions need support.
To help students learn online and via TV, MOET has joined forces with MIC to launch the program 'Internet and computers for students', calling for donations of online learning facilities for students in difficult conditions.
As of October 30, telecom carriers had created 283 additional base transceiver stations (BTS) in localities hit by the pandemic.
Institutions have committed to donate more than 1 million computers. Vietnam Posts and Telecommunications Group (VNPT) plans to hand over the first set of 10,000 computers in November out of the total 37,000 computers it has committed to give.
Computers will be allocated to four provinces in Mekong Delta that were hit heavily from the pandemic, namely Soc Trang, Hau Giang, Vinh Long and Long An.
Other donors have committed to hand over computers to MOET by late 2021 and early 2022.
As of October 25, the education sector had mobilized VND142 billion, 28,477 tablets, 28,545 smartphones and other 79,425 devices supporting online learning.
Prioritizing lesson plans for first, second graders
MOET has organized the selection of high-quality lesson plans for teaching online and via TV for every subject and every education level, so that education establishments can organize teaching in accordance with local teaching plans.
Schools have to adjust the teaching content to be sure that all lessons are provided but with streamlined content.
It is cooperating with national television (VTV1, VTV2 and VTV7) and Nhan Dan (People's) TV to organize the production of lesson plans for broadcast. The priority will be given to broadcasting lesson plans for first and second graders, who are believed to have the biggest difficulties in online learning.
For the first and second grades, teaching via TV is done for with three subjects – Vietnamese language, Mathematics and English.
For sixth grade, the first 15 videos of lesson plans in accordance with the new general education program have been completed. Provincial and local TV channels can relay or rebroadcast the programs at reasonable times.
MOET has created a section on supporting online teaching on the ministry's information portal to connect digital courseware, e-learning and lesson plans on TV, providing information on how to choose software for online teaching, and information about broadcasting schedules of all local televisions nationwide.
Fixing infrastructure problems, accelerating computer allocation
Regarding difficulties in online teaching, MOET's report pointed out that since education establishments were using free software, the teaching quality has not been that good. The unstable quality of Internet transmission has also affected teaching quality. Learning online is more difficult for first and second graders, who are not used to this method.
Meanwhile, the electronic lesson plans designed under the new general education program are still lacking. Most lectures available are for ninth and 12th graders, and most are lectures for major subjects.
The number of computers mobilized so far can satisfy only 46.1 percent of total demand.
As of October 30, 23 cities/provinces had organized in-person classes, 15 cities/provinces had organized blending teaching (in-person, online, via TV), and 25 cities/provinces had organized online and TV teaching. 
Phuong Mai

The use of different teaching modes, including online teaching and teaching via TV, is putting pressure on teachers. Parents also have concerns about teaching quality and their children's health.

Online teaching and studying via the Internet and television were being carried out in 40 centrally-run cities and provinces nationwide as of October 8 due to impacts of the COVID-19 pandemic.