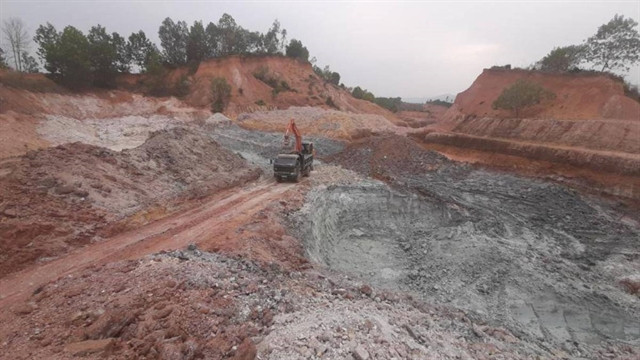 Việt Nam has the second-largest reserve of rare earth elements in the world, accounting for about 18 per cent. Photo thesaigontimes.vn
Experts have highlighted the need for cooperation between state management agencies, scientists and businesses on measures to develop the rare earth industry in Việt Nam, a country with the second-largest reserves.
Phạm Quang Minh, Director of the Institute for Technology of Radioactive and Rare Elements under the Vietnam Atomic Energy Institute, said it would be important to strive toward mass production of products made from rare-earth elements.
Rare-earth elements (REEs) are used as components in high technology devices, including smartphones, digital cameras, computer hard disks, fluorescent and light-emitting-diode (LED) lights, flat-screen televisions, computer monitors, and electronic displays.
Speaking at a recent seminar on research and development of rare earth elements in Việt Nam, Minh said the applications for rare-earth element products had developed strongly in recent decades, especially in the field of agriculture in which they are used to create clean, safe, and effective agricultural products. The applications for rare-earth elements developed strongly in countries including China, the US and those in Europe.
The conference, held last week, shared the research results and applications achieved as well as difficulties and problems in the process of researching REEs, and research directions for the future.
The event aims to introduce, promote and learn about cooperation and technology transfer opportunities with domestic and foreign enterprises and research units including partners in India, South Korea and Japan.
According to Minh, in Việt Nam, the research, development and application of rare-earth elements have made progress.
Việt Nam is considered to have the second-largest reserve of REEs in the world, accounting for about 18 per cent.
Rare earth mines are concentrated in the northern region of Việt Nam, but so far no factory has been built to process these resources, he said.
In the current context, the issue of technology and material security is a top priority. Rare earth raw materials are considered to be one of the necessary raw materials for high industries, especially energy and national defence.
Therefore it is necessary to promote cooperation between the state, scientists and businesses to develop the rare-earth element industry in Việt Nam.
Rare earth elements are used in different industries, including food technology, medical, glass polishing, ceramics, computers, colour television screens, lighting, eco-friendly automobiles, magnets, batteries, petrochemical refining catalysts, rockets, and radar.
About 26 per cent of rare-earth elements are used worldwide as catalysts in the oil and gas industry and in catalytic converters for cars with internal combustion engines. About 20-23 per cent are used in the production of permanent magnets for electric motors.
In agriculture, they are added to fertilisers to increase yield and resist pests and diseases for plants, and there have been a number of trials to add them to animal feed.
The Institute for Technology of Radioactive and Rare Elements has built and perfected end-to-end technologies for many rare earth ore objects.
Within the framework of the seminar, the Institute for Technology of Radioactive and Rare Earth and the Institute for Research and Development of New Technologies signed a cooperation agreement on the application of REEs.
Boosting rare earth mine production
Việt Nam has boosted its mining of rare earth materials as companies worldwide look to divest from Chinese materials, according to the United States Geological Survey (USGS).
Việt Nam has the world's second-largest estimated deposits of rare earth elements, a group of 17 elements that are crucial for making a range of electronic products, from magnets, glass screens and speakers to trains, mobile phones and missile guidance systems.
The country's rare earth mine production jumped to 4,300 tonnes in 2022 from 400 tonnes in 2021.
However, its output is a tiny fraction of the amount top producers mined in 2022. China, the world's biggest producer, mined 210,000 tonnes in 2022, the United States 43,000 tonnes and Australia 18,000 tonnes.
Việt Nam's estimated reserves of 22 million tonnes are half of China's and larger than any other country, according to USGS. Its output growth last year turned it into the world's sixth-biggest producer - up from 10th in 2021 - and may signal a turning point in the exploitation of its resources.
In the past, attempts to build up Việt Nam's rare earth industry have stuttered due to falling prices and regulatory hurdles, but growing sales of electric vehicles (EVs) and firms' efforts to diversify their suppliers have revived interest in the country, according to the organisation. — VNS