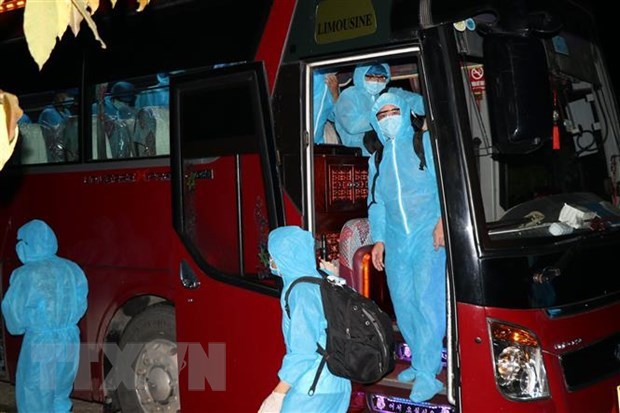 More flights to be launched to bring overseas Vietnamese home.
The organisation of the flights will be based on the latest COVID-19 situation and quarantine capacity at home, spokesperson Le Thi Thu Hang said at a regular press conference held by the ministry on January 20.
The flights are part of efforts to boost socio-economic recovery and development, enhance international integration in the new context, facilitate trade between Vietnam and other countries and territories, and meet the demand for returning home of overseas Vietnamese.
Since the pandemic broke out, the foreign ministry has followed the Government's guidelines on "putting people at the centre" and "leaving no one behind", and has coordinated with competent agencies at home and abroad, Vietnamese representative offices in foreign countries and foreign air carriers to bring Vietnamese expats home.
Over the past two years, Vietnam has conducted around 800 repatriation flights for nearly 200,000 Vietnamese from more than 60 countries and territories, who were in extremely difficult circumstances and wished to return home.
Hang said from January 1, 2022, Vietnam has resumed regular international commercial flights to eight countries and territories.
The Civil Aviation Authority of Vietnam (CAAV) has negotiated with partners to reopen more routes to Australia and Europe, she said, suggesting Vietnamese there can make plans to fly home.
After consulting the Ministry of Foreign Affairs and the Ministry of Public Security, the Government on January 18 allowed Vietnamese expats and their relatives to enter the country only with valid visa exemption certificates, including those issued before the emergence of the COVID-19 pandemic.
"I think that it is a sound policy to create the best possible conditions for overseas Vietnamese to return home," she said.
Hang advised returnees to follow guidelines of the Ministry of Health, including requirements on vaccination, testing, health declaration and monitoring.
According to the spokesperson, the Ministry of Health on December 23 issued Vietnam's vaccine passport template which was then introduced to Vietnamese representative agencies abroad.
Vietnam's vaccine passport has been so far recognised by 10 partners, namely Japan, the US, the UK, Australia, India, Belarus, Cambodia, the Philippines, Palestine and Maldives.
Meanwhile, Vietnam has recognised vaccine passports or temporary vaccination certificates of 79 countries and territories.
The recognition will help to shorten the quarantine period for arrivals from those 79 countries and territories to only three days, as well as the quarantine time for fully vaccinated or recovered people, Hang said.
Source: VNA