VietNamNet Bridge - Many students have decided not to follow university education even after passing entrance exams, while many master's degree graduates have enrolled in vocational schools.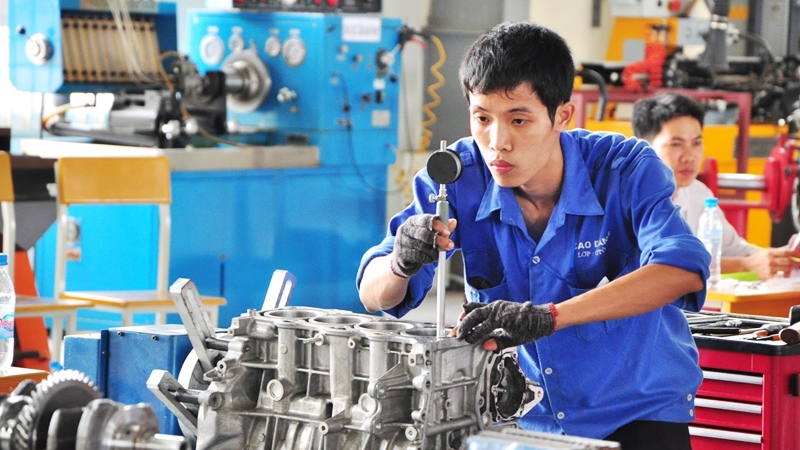 Nguyen Van Khoa from Luc Nam district in Bac Giang province got a 21.55 score at the 2016 national high-school finals. Counting the bonus marks, he had 23 score, high enough to enroll in the Automation Faculty of the Hanoi Industry University.
Khoa submitted the certificate on high-school final results to register to study at the Hanoi Industry University. However, he changed his mind, applying for studying at the Hanoi Mechanical Engineering Junior College.
Khoa has reasons to make such a decision. "Many relatives and friends of mine have to put their bachelor's degree into mothballs and take jobs in other majors," he said.
"They told me that it is very difficult to find jobs with bachelor's degrees nowadays," he added.
Khoa's teacher also told him that if he did not enroll in top-tier universities, it would be better to go to vocational schools than to less prestigious universities, because it will take less time to study at vocational schools.
It would be easier to find jobs with practical knowledge received from vocational schools rather than theoretical knowledge from universities.
Similarly, Nguyen Van That from Hai Hau district of Nam Dinh province has also turned down the opportunity to enroll in some faculties of the Hanoi University of Technology.
That said he had two choices – either study in the nuclear engineering faculty of the prestigious technology school, or go to vocational school. And he finally decided to go to vocational school.
That read in newspapers that hundreds of thousands of bachelor's degree graduates were redundant, while the country lacks workers with good practical skills. Therefore, he chose a vocational school rather than a university.
One of the reasons That chose the Hanoi Electromechanical College to study was the school's promise that graduates can find jobs immediately after they finish school at monthly income of VND5 million a month at minimum.
According to Dong Van Ngoc, principal of the college, about 100 students who got a 16 score and higher on the national high-school finals have applied at his school so far.
It is a growing tendency in Vietnam to go to vocational schools instead of university. A report of the Ministry of Labor, War Invalids and Social Affairs (MOLISA) showed that in the first quarter of the year, 190,900 workers with bachelor's, master's degrees and doctorates did not have jobs. The Q2 report showed that the figure rose to 191,300.
Le Van