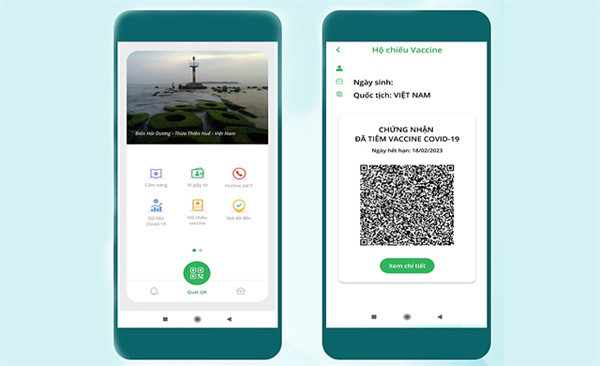 The passport is now available on the national COVID-19 app PC COVID-19 (available on both iOS and Android systems) or Digital Health (Sổ sức khỏe điện tử) apps.
The vaccine passports have 11 fields of information: name, date of birth, nationality, the targeted disease, doses of vaccines received, date of vaccination, lot number of the vaccine batch, type of vaccine, vaccine product received, the vaccine manufacturer, and a code for the certification.
Data has been encoded into a QR code. The code will expire after 12 months. Following their expiry, people will be notified, and a new QR code will be created.
According to Nguyen Ba Hung, deputy director of the ministry's Medical Data Centre many people still think that vaccine passports are paper-made, like other passports.
In fact, they are digital passports with QR codes, which display all vaccine data in both Vietnamese and English.
The ministry has urged relevant authorities and subordinate units to complete update of information on 34 more million doses before June 1 to facilitate the issuance of COVID-19 vaccine passports, he said.
Nguyen Truong Nam, deputy director of the ministry's Department of Information Technology said the ministry had urged localities to implement vaccine information clarification many times. Medical staff and police officers in localities would be in charge of the process.
As regulated, immunisation facilities must check and verify information on vaccination data. Inaccurate information would be sent to local police officers to fix and then send back to the Department of Preventive Medicine for digital signature.
The data with a digital signature would be sent to the management system for the issuance of a vaccine passport.
Nam said the process was quite clear but slow, due to a shortage of staff.
Hung added that many vaccination facilities across the country were providing booster vaccinations for people and medical staff were also being infected with COVID-19, so the clarification of vaccine data remained slow.
He warned that subordinate units must strengthen their job to meet the schedule set out by the ministry.
In reply to questions that many people are still waiting for their vaccine passport although their data is accurate, Nam explained that the cause was that the data had not received a digital signature from the Department of Preventive Medicine.
Vaccine passports are issued free of charge to all citizens, according to officials. People do not need to perform any further procedures except to check that personal data is correct and complete.
In case the information is not correct or not available, people should send feedback on the vaccination portal system.
Vaccine passports were rolled out on a trial basis in late March for those vaccinated against COVID-19 at Hanoi's three major hospitals: E, K and Bach Mai.
Vietnam has so far reached mutual recognition of vaccine passports with 27 EU country members and 54 nations and territories.
Source: Vietnam News