National Assembly (NA) candidates on May 13 ended their first week meeting with voters to listen to what the residents hope their representatives in the government can do in the next NA.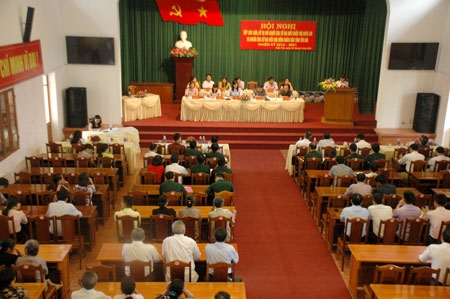 National Assembly (NA) candidates meets with voters inYênBái Province to listen to what the residents hope their representatives in the government can do in the next NA. – Photo baoyenbai.vn
NA candidates of the four provinces of YênBái, TâyNinh, HảiDương and PhúThọ held talks with voters throughout this week, in which their action plans, if they are to become a new NA member, were presented to the locals in order to win their ballots.
While residents in the mountainous YênBái Province, where more than half the population are ethnic minority people, asked their candidates to focus more on the province's economic development and basic infrastructure like roads, schools and health station networks. Residents from the other provinces urged for more voices on some of the biggest issues in Việt Nam right now.
More effective measures to tackle environmental pollution and food safety as well as an iron fist against corruption and graft for a more transparent government topped the demands the citizens expected the NA could pull off in the next term.
Despite repeated promises by the Government to handle those issues for years, news about environmental pollution, with the latest incident of a massive fish death on a four-province scale, and food contamination cases constantly put the residents on edge. There is growing pressure on the Government for stronger action, but few results have been seen so far.
Early election
Officers and soldiers in 51 army units in 10 provinces nationwide will cast their ballots for deputies to the 14th National Assembly and all-level People's Councils earlier than the Election Day slated for May 22, as approved by the National Election Council.
Campaigns about the election process have been carried out promptly while the conduct of a vote of confidence on candidates, establishment of electoral groups and the posting of candidate lists have been done in line with legal regulations.
By the end of yesterday, 913 electoral groups were set up in army units nationwide, with 1,300 military officers standing for the election to the People's Councils at all levels.
Early voting was held for 100 officers and soldiers from the Việt Nam Maritime Police Region 3 and Naval Squadron 129.
Since the beginning of April, the military units have made meticulous preparations to ensure safety during the elections.
According to statistics from the Ministry of Home Affairs, 63 provincial election committees, 712 district election committees and 11,162 communal election committees have been formed nationwide.
There are 184 constituencies for the NA elections and 87,805 constituencies for People's Council elections at all levels.
Several remote, border and island areas are allowed to organise voting earlier than the official election day.
VNS