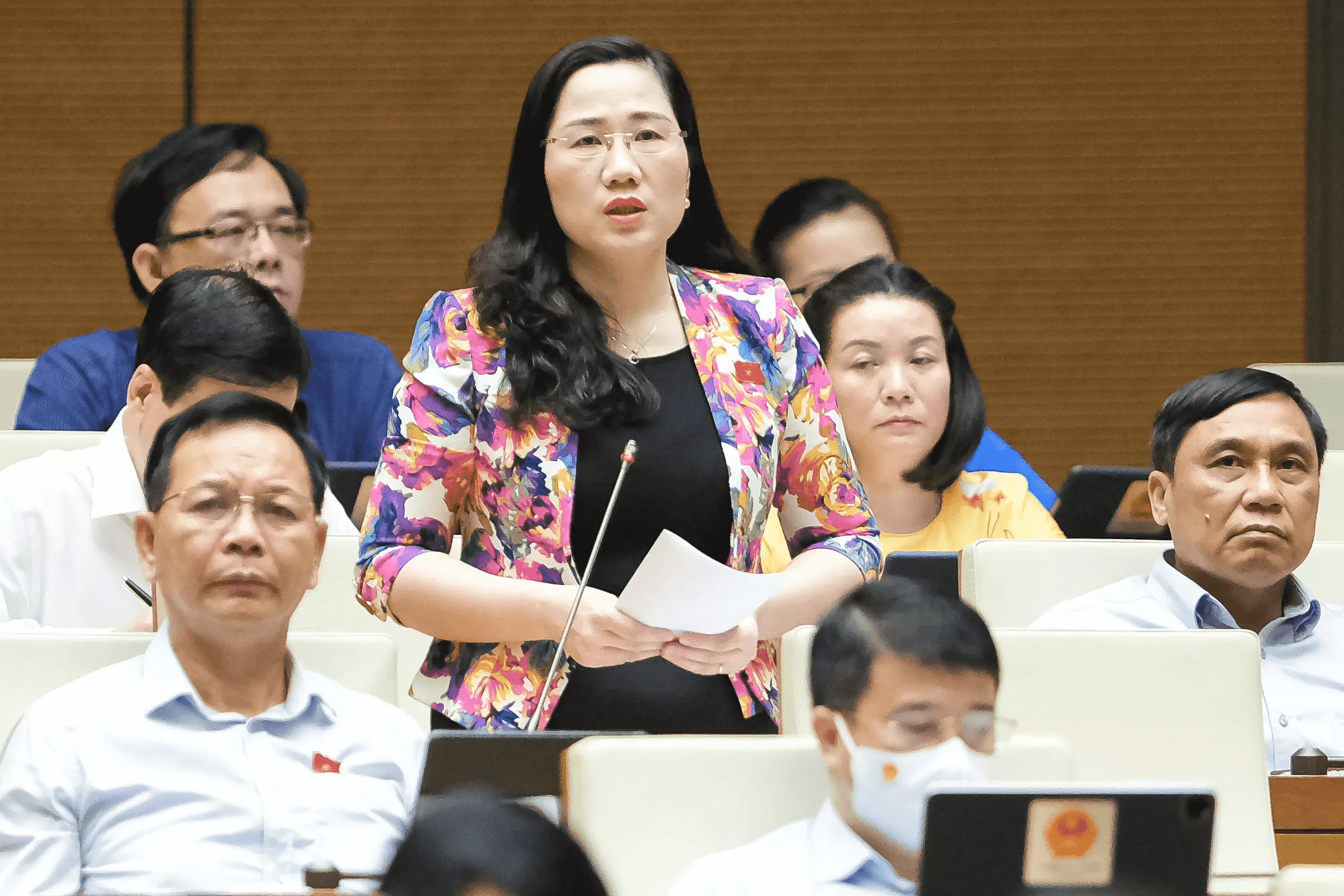 The National Assembly spent the morning of June 13 to discuss the draft Law on Medical Examination and Treatment (amended).
Deputy Nguyen Thi Thuy from Bac Kan affirmed that the policy on mobilizing all resources in society was the right policy, which helped make up the deficit of the budget for the healthcare sector.
The policy has brought positive results, improving medical examination and treatment. However, there have been many problems, including abuse of testing and hi-tech service orders, which has increased healthcare service costs. Because of a lack of planning, an imbalance exists in resource mobilization.
She added that privatization, joint venture and affiliation activities are mostly carried out in large cities, not in disadvantaged areas which need private sources. The price gouging not only occurs in the procurement of medical equipment through bidding, but also in joint venture, private and affiliation projects at some public hospitals.
Bach Mai Hospital, for example, signed a contract with a partner to use a robot with the price shown in the contract five times higher than the real value (VND39 billion vs VND7.4 billion), which brought profits to a group of people, but losses to 600 patients.
According to Thuy, this was due to the incomplete and inadequate legal framework with a lot of loopholes, which made it difficult for hospitals and private units to implement private projects, while making it easier for groups of people to collude with each other to cause detriments to patients and the state.
In order to clear the problems, it is necessary to amend many articles in legal documents, including the Law on Medical Examination and Treatment.
She said that in the draft law, only Article 90 stipulates private sources. "The State diversifies the types of medical examination and treatment, encourages the mobilization of resources in society and creates favorable conditions for organizations and individuals to participate in the construction of medical examination and treatment establishments, carry out joint venture and affiliation activities in medical examination and treatment establishments in accordance with the laws on state property management," she said.
She said the general stipulation is not enough, if noting that problems in joint venture and affiliation activities, due to unclear regulations, have existed for many years, and have become more serious.
She said that procurement of medical equipment to improve the quality of healthcare services has become frozen. Meanwhile, the demand for healthcare services is increasing, and hospitals and managers are looking forward to specific amendments of legal documents, including the Law on Medical Examination and Treatment.
Thuy proposed specific regulations on private sources in the healthcare sector, and regulations on a mechanism that prevents distortion and interest groups. It is also necessary to set up mechanisms that encourage privatization in difficult areas.
Deputy Tran Khanh Thu from Thai Binh, agreed with the state's policies shown in the draft law which says the State plays a leading role in the development of healthcare establishments, but thinks that the provisions in the draft law still cannot fully institutionalize the policies on mobilizing all social resources for healthcare services.
He also pointed out problems in the self-determination mechanism. Medical establishments applying the mechanism still cannot determine service fees themselves, while the economic and technical norms promulgated in 2012 are no longer suitable in current conditions.
Tran Thuong - Thu Hang