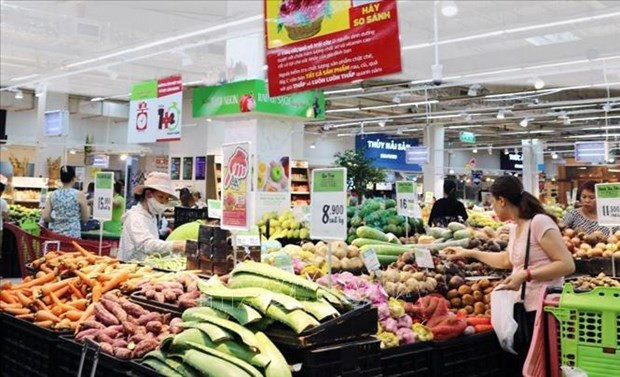 The national consumer price index (CPI) in July grew by 0.45% month-on-month due to higher prices of food, foodstuff and electricity. (Photo: VNA)
This figure represents an increase of 2.06% compared to the same period last year. The July core inflation increased 0.36% from last month and 4.11% from the same period last year.
Among the 11 groups of goods and services used to calculate the CPI, ten had higher prices than in the previous month, with the group of other goods and services reporting the highest rise of 2.84%.
Housing and construction materials rose by 0.51% month on month while transportation went up 0.11%. Post and telecommunications is the only group with prices dropping in the month, falling 0.12%.

The average CPI in the first seven months of 2023 rose by 3.12% against last year's corresponding period while core inflation was up by 4.65%.
The GSO attributed the seven-month CPI hike to the prices of educational services which increased by 7.61% compared to the same period last year because some localities have increased school fees from September 2022 after exempting or reducing the fees in the 2021-2022 academic year.
Another contributor to the CPI hike was the prices of housing and construction materials which went up 6.58% year-on-year due to the increase in cement, iron, steel and sand prices in line with the price of input materials and high housing rents. The group of other goods and services rose by 3.71% over the same period last year, mainly because health insurance services increased following a hike in basic salary from July 2023.
The prices of culture, entertainment and tourism groups up by 3.45% as the COVID-19 pandemic was put under control resulting in an increase in people's demand for entertainment and tourism.
In August, the gold price index fell by 0.03% against the previous month, while the US dollar index rose 0.53%./. VNA