The advent of new domestic carriers has posed headaches to the industry's executives due to shortage of qualified pilots, technicians and flight attendants, according to Dau Tu newspaper.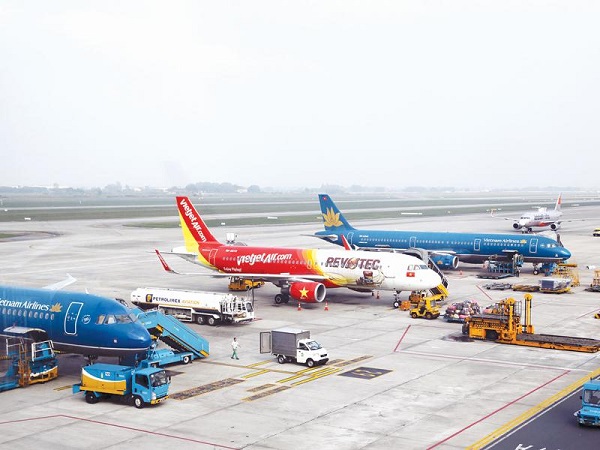 The rapid growth in Vietnam's aviation market leads to a shortage of qualified manpower. 
Waiting for green lights

Two months after the foiled joint venture plan with Malaysia's low cost carrier Air Asia, Thien Minh Group has established Thien Minh Aviation Joint Stock Company with charter capital of VND1 trillion (US$43 million), besides running Hai Au Aviation Joint Stock Company, which is operating four light Cessna seaplanes.
The new aviation company, which had its business registration in Hoi An City,  the central province of Quang Nam, plans to own a commercial fleet of 30 aircraft to ensure its steady revenues and profits.
The business registration is just an initial step in a thorny road for Thien Minh Aviation to take off given the labyrinth of procedures the business owner, Tran Trong Kien, has to take on to get authorization. He has to file applications to Quang Nam province authorities and the Civil Aviation Authority of Vietnam (CAAV).
Thien Minh is not the only one waiting for an aviation license. Another aspirant, Vietstar Airlines, is also applying for a license though it was established three years ago with charter capital of VND300 billion (US$12.9 million).
Vietravel Group has recently made the first moves to found its own airline with charter capital of VND1 trillion (US$43 million) by filing application dossiers on establishing Viettravel Airline to the government of the central province of Thua Thien-Hue.
Saturated market
CAAV's statistics showed that as of mid-June 2019, Vietnam's aviation market has five operating airlines including Vietnam Airlines, Vietjet Air, Jetstar, VASCO and the newcomer Bamboo Airways.
Although the number of carriers in Vietnam is just one third that of Thailand, the domestic aviation market is seeing cutthroat competition.
Particularly, the capacity of the aviation industry in 2019 will increase significantly with a batch of 50 737MAX airplanes starting to join in VietJet's fleet.
Meanwhile Vietnam Airlines has added another eight aircraft to its fleet, most of which are long haul wide-body jets, including three Boeing787-10 and two Airbus350.
Statistics from CAAV also showed that domestic aviation sector is stepping into the saturated period.
From May 16 to June 15, the total volume of domestic air travellers reached 4.77 million, up 5.7%, but the number of domestic passengers only recorded at 3.35 million, up 1.4% year on year.
This is the lowest growth rate in the last 10 years.
The saturated market has brought about race to the bottom price war, driving the profits of the core business of some domestic carriers down to nearly zero unless they can earn profits from international flights, selling and renting aircraft operations or side businesses.
At the end of 2016, CAAV identified that the civil aviation industry has developed at a fast pace but some carriers have not been well prepared in terms of resources and manpower, leading to a shortage of qualified labor forces including pilots and aircraft technicians.
Additionally, the agency is only able to control 256 aircraft registered under Vietnamese nationality (including helicopters and general aviation aircraft) due to scarcity in aviation safety supervisors.
According to an aviation expert, the domestic aviation market should not admit new entrants for the time being to avoid unfair competition among carriers, ensure sustainable growth in the market as well as stay away from security and aviation safety risks. Hanoitimes
Ha An

Bamboo Airways, a subsidiary of real estate developer FLC Group, will begin the construction of an aviation training centre this month, said its CEO Dang Tat Thang.  

Businesses say that the air transportation market is becoming saturated and growth has slowed down. The era when air carriers obtained growth with an increased number of passengers appears to be over.

The aviation sector of Vietnam must solve the problem of hi-tech personnel shortage if it wants to achieve sustainable development in the years ahead.