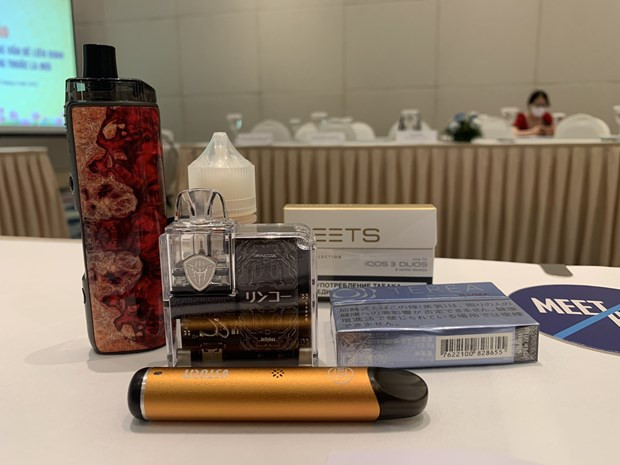 Some new-generation tobacco products (Source: suckhoedoisong.vn)
Deputy Minister of Health Tran Van Thuan told a seminar in Hanoi on April 27 that the emergence of new-generation cigarettes has created more choices for both non-smokers and users of regular cigarettes. E-cigarettes and heated tobacco products are boosting the rate of smoking.
According to a study of student health in Hanoi conducted by the ministry's Health Strategy and Policy Institute in 2020, 8.35% of 8th - 12th graders used e-cigarettes, and the rate stood at 12.6% among 10th - 12th graders.
The study also showed that the rate of e-cigarette use in 34 surveyed provinces and cities was only about 0.2% in 2015 but surged 18-fold to some 3.6% in 2020. Up to 8% of women and girls vaped while only 1.2% of them used regular cigarettes, Thuan went on.
A survey of e-cigarette users indicated clear links between vaping and social evils such as using drugs and other addictive substances. Some persons have even been hospitalised due to vaping illicit drugs as recorded at the Poison Control Centre of the Hanoi-based Bach Mai Hospital.
The Deputy Minister cited the World Health Organisation (WHO) as saying that all tobacco products are harmful and there is increasing evidence that e-cigarettes are as harmful to community health as regular ones.
However, as the characteristics of new-generation cigarettes are different from regular tobacco products, the 2012 Law on Prevention and Control of Tobacco Harms has yet to be applied to new-generation cigarettes, he pointed out.
At the seminar, participants discussed the trading and use of e-cigarettes and heated tobacco products, other countries' experience in controlling new-generation cigarettes, and some legal issues needing attention./. VNA