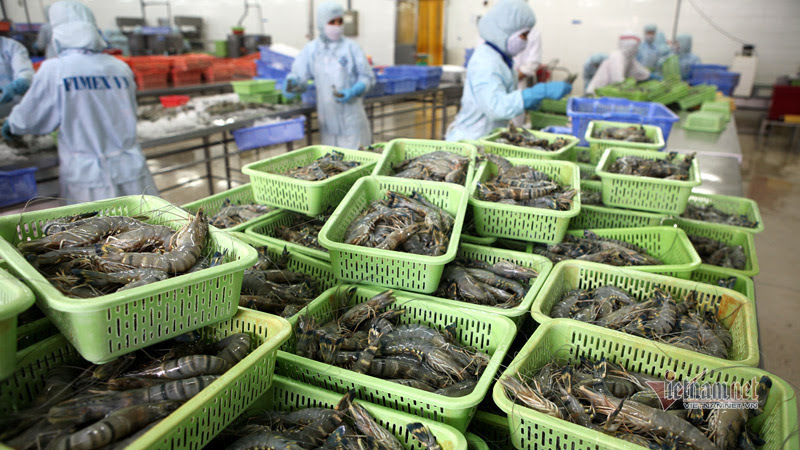 A report from National Agro-Forestry-Fisheries Quality Assurance Department (NAFIQAD) presented at a recent conference discussing solutions to recover agricultural production in the south showed that farm produce processing for exports has been seriously hurt after two months of social distancing.
Many enterprises have had to close the doors because positive cases were discovered in their companies and because they could not satisfy the requirements to organize the 'three on-the-spot', or 'one route, two destinations' production. Some others have had to suspend production or cut capacity because of the lack of workers and input materials.
As of early September, 176 out of 449 seafood processing workshops had stopped production. Factories are running at just 30-40 percent of capacity, resulting in the sharp fall of 36 percent in exports in the second half of July and August compared with the same periods last year.
Also according to NAFIQAD, the enterprises following the 'three on-the-spot' production model are bearing financial pressure as production costs have soared, while capacity is low because of the lack of materials and workers. Moreover, export markets have installed more technical barriers to farm imports.
Le Minh Quang, general director of Minh Phu Seafood, said the shrimp value chain has nearly broken down because of the pandemic. Enterprises cannot deliver products to clients as promised and dare not sign new contracts.
According to Quang, even if farmers began farming shrimp now, they won't be able to harvest shrimp by the end of the year. This means that seafood processing companies will lack materials to implement orders.
Nguyen Hoai Nam, deputy secretary General of the Vietnam Association of Seafood Exporters and Producers (VASEP), cited a report of the association as saying that only 30-40 percent of enterprises are capable of restoring production soon after the social distancing ends, while other enterprises will need a long time to do so.
It will take 3-6 months on average to restore 50 percent of capacity, 9-12 months to restore 70 percent of capacity, and 1.5-2 years to regain 100 percent of capacity.
Nam said that production has slowed down because of material supply disruption, while businesses have lost customers because of the social distancing time, which has made it impossible to ensure delivery schedules.
Reform
Affirming that 'living together with the pandemic' is the only choice, Nam said the Ministry of Agriculture and Rural Development (MARD) needs to help enterprises organize production when social distancing is loosened. Vaccinating workers and allowing workers who have one vaccination shot to participate in production activities, and adjusting the 'three on-the-site' mechanism, should be done immediately.
Nam has also asked MARD to work with local authorities to create an open mechanism to ensure connections among provinces where there are processing factories and growing areas, facilitating travel.
As for the shrimp and catfish industry, it would be better to allow workers to go to Covid-19 testing sites and gather at certain points (by car or boat) to participate in catfish and shrimp harvesting. Groups of important workers should be tested instead of asking them to stay under quarantine for 14 days.
The Vietnam Fruit and Vegetables Association has asked to create an open mechanism to facilitate transport of farm produce and materials for production in order to avoid congestion. Also, it's necessary to apply measures to attract workers to material production areas and EPZs (export processing zones) to restore production.
Nam proposed that local agriculture departments set up market management units to direct production and connect producers and consumers.
Hoan noted that pandemic developments are unpredictable and enterprises have complained a lot about difficulties. But if they change their way of thinking and working, the situation wil improve. Enterprises need to cooperate with local authorities to discuss and find solutions.
Agricultural enterprises and agricultural production chains are different from other sectors, because they are intertwined with many units involved. One catfish breeder production unit, for example, involves seven provinces. Merchants from go from one province to another to collect rice. That is why one truck getting stuck at a checkpoint can affect the entire chain.
The 13 provinces in Mekong Delta should be seen as economic entities closely connected in a production chain, not 13 separate administrative areas. 
Tam An

Farmers across the south and Central Highlands are struggling to sell their harvests due to COVID-19 restrictions on travelling and business...
Agricultural by-products are called the "gold mine" of the Vietnam agricultural industry with up to 156 million tons per year. But these lucrative sources have been neglected for many years.