New policies needed to boost Vietnamese private sector
While foreign-invested enterprises (FIEs) have been growing and prospering, Vietnamese enterprises have been developing inadequately because they lack favorable conditions to thrive.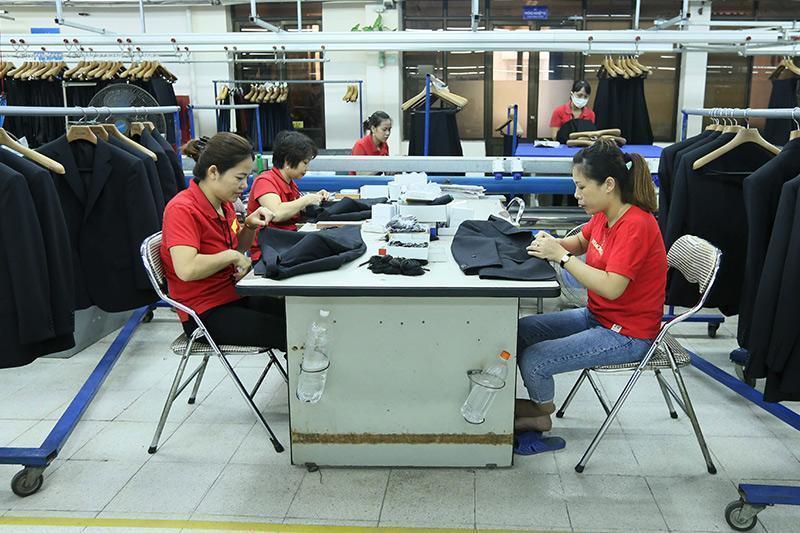 High export turnover has been one of the mainstays of the national economy at a time when Vietnam is being hit hard by Covid-19. However, most of the export turnover is created by FIEs.
In the first quarter of 2021, FIEs exported $59 billion worth of products, including crude oil, an increase of 28.5 percent over the same period last year, which accounted for 76 percent of total export turnover of the country.
FIEs also made up most of the export turnover in the fields of phone and phone components (99 percent), electronics, computer and computer components (98 percent), equipment and machines (93 percent), footwear (82 percent) and textiles and garments (63 percent).
In fact, the dominance of FIEs can be shown in many reports. The General Statistics Office (GSO), for example, in August 2020, reported that Vietnam's export turnover reached $26.5 billion, up by 6.5 percent over the previous month, mostly thanks to Samsung's exports of its Note 20 device.
Not only Samsung, but other FIEs were mentioned in the agency's reports in recent years as the "growth engine" of the economy.
For many years, the foreign invested sector has made up 70 percent of total export turnover, 50 percent of industrial production value, and 20 percent of GDP (gross domestic product) .
According to the 2019 White Book on Vietnamese Businesses, the state-owned sector created VND200.9 trillion worth of profit, accounting for 22.9 percent, while the non-state owned sector created VND291.6 trillion, or 33.3 percent.
The foreign invested sector created VND384.1 trillion, or 43.8 percent in 2017 compared with 2016.
A report from Fulbright University released in 2013 said of the four driving forces, state-owned enterprises, private enterprises, farm produce business households and FIEs, only FIEs have thrived.
FIEs have risen strongly to become dominant in the economy.

Vietnam needs to improve the quantity, quality, efficiency and sustainability of the private sector so as to turn it into an important driving force for national economic growth.
Vietnam attracted over $28.5 billion of foreign direct investment (FDI) in 2020, equivalent to 75 percent of the amount of the year before.
Vietnamese enterprises
A wooden furniture enterprise told VietNamNet that Vietnamese enterprises bear discriminatory treatment in comparison with FIEs. They have to pay a lot of unofficial fees and under-the-table fees.
The official expenditures they have to pay are higher than FIEs, including land rent and corporate income tax. They also are subject to regular inspection tours, which leads to higher production and business costs. Their lending interest rates are the highest in the region, they say.
In the first quarter of the year, a GSO  report showed that, of Vietnamese exports, coffee exports decreased by 11 percent, cashew nuts 6 percent, and rice 17 percent. However, vegetables and fruits increased by 6.1 percent, rubber 117 percent and cassava 53 percent.
Meanwhile, only 29,300 Vietnamese businesses were set up in the first quarter, while 40,323 businesses left the market.
A Vietnam Chamber of Commerce and Industry (VCCI) report found that 87 percent of businesses had suffered a 'big' or 'completely negative impact' from Covid-19.
Vietnam has 800,000 private businesses, but most of them are small.
Self-reliance needed
Experts all point out that no country can be prosperous if it lacks powerful enterprises.
Resolution No 10 clearly shows the direction for private Vietnamese enterprise development. The 13th Party Congress Report also emphasizes the need to develop the private sector.
In a bid to accelerate economic restructuring, it is a must to restructure the system of enterprises in the economy, develop the Vietnamese business community, and boost the link between FIEs and domestic enterprises.
Vietnam needs to improve the quantity, quality, efficiency and sustainability of the private sector so as to turn it into an important driving force for national economic growth.
It is necessary to create favorable conditions for private economic development, and support the private sector to innovate and modernize technology, develop human resources, and improve labor productivity.
Vietnam has encouraged the formation of large private economic groups with strong potential and capable of competing equally with foreign corporations in the region and the world.
It is expected that by 2030, Vietnam would have at least 2 million enterprises, with the Vietnamese private sector's contribution to GDP reaching 60-65 percent. 
Tu Giang

While many developed countries have been struggling with the pandemic, Vietnam has maintained a trade surplus of nearly $1.29 billion in the first two months of 2021.

The Ministry of Finance (MOF), after analyzing the 2019 finance reports of foreign invested enterprises (FIEs), has found a contrast in the business performance of the enterprises.