VietNamNet Bridge - While the Ministry of Finance (MOF) believes that the tentative policy on reducing the tariff conditionally on car part imports will help boost the domestic automobile industry, automobile joint ventures believe the policy will encourage them to import CBU cars instead of assembling cars domestically.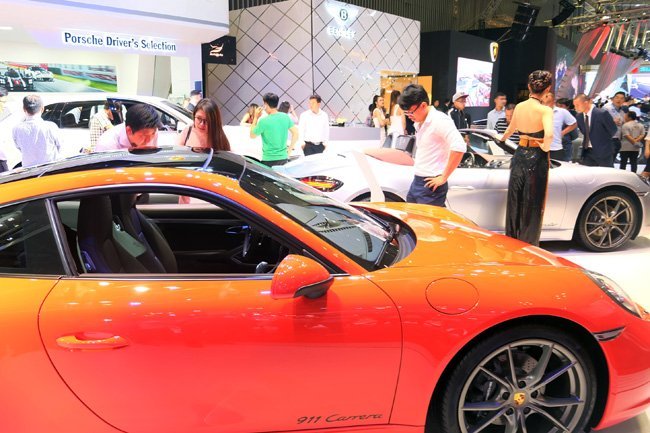 Arguments were raised after MOF asked the government to slash the tariff on car part imports to zero percent in a move to protect domestic automobile production.
Explaining the proposal, the ministry said the tariff cut would help automobile manufacturers cut production costs, thus helping reduce car prices and improve the competitiveness of domestically assembled cars in comparison with imported cars, which will become cheaper from 2018.
However, the zero percent tariff will only be applied to imported car parts which cannot be made in Vietnam. In addition, manufacturers must have annual output of 34,000 products at minimum by 2018 and 60,000 products by 2022.
The conditions are expected to make it nearly impossible for manufacturers to enjoy the zero percent tariff. Even Toyota, which holds a large market share, will not be able to satisfy the requirement because the capacity of its factory in Vietnam is 50,000 products a year only.
Only when the market capacity increases to 1 million cars a year will support industries develop.
Toru Kinoshita, Toyota Vietnam General Director and Chair of VAMA (the Vietnam Automobile Manufacturers' Association) , said VAMA disagrees with the policy from MOF.
VAMA has proposed slashing the import tariff to zero percent, commencing from early 2018, to be applied to all CKD car part imports and all materials and half-finished products to be imported by car part manufacturers. In other words, VAMA wants the zero percent tariff unconditionally.
He said that the zero import tariff on CKD imports will only create equality between the import tax on domestically made cars and imported cars, while it won't be the preference for domestic production.
However, MOF believes that it is necessary to slash import tariff conditionally, or Vietnam won't have an automobile industry.
It said if all import car parts bear a zero percent tariff, no one would make investments to develop automobile support industries.
"Preferential tariffs should be given only to those who try to make more car parts in Vietnam and increase their localization ratio," an official of the ministry said.
Analysts commented that the MOF's proposal would be reasonable if it was made 20 years ago, when Vietnam still had the right to set import tariffs on CBU imports from ASEAN.
It is market capacity and output which will determine the development of the automobile industry. At this moment, only 300,000 cars are bought every year.
Only when the market capacity increases to 1 million cars a year will support industries develop.
RELATED NEWS
Car dealers warned of bad business performance in second half of year
Small, affordable cars to be sold in Vietnam after 2018
Thanh Lich