New Zealand to provide Vietnam with weather intelligence

Two countries announce closer ties to boost timely and accurate weather forecasts.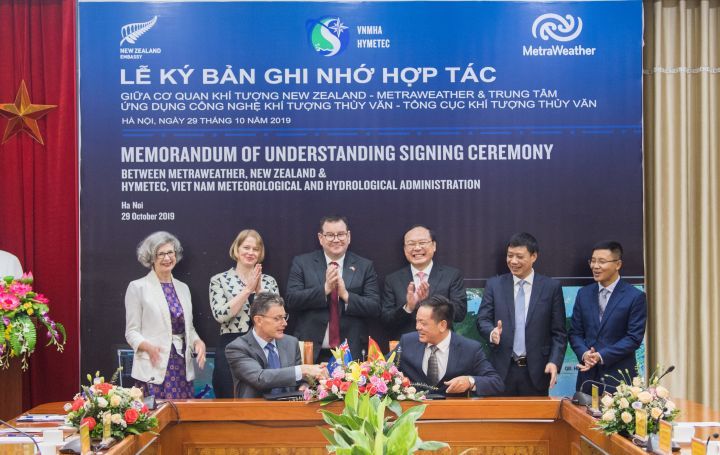 Deputy Minister of Natural Resources and Environment of Vietnam Le Cong Thanh joined Minister Robertson at the ceremony.
New Zealand Minister of Finance and Minister of Sport and Recreation, Mr. Grant Robertson, witnessed the signing of an MoU on October 29 between the Meteorological Service of New Zealand (MetService, trading as MetraWeather) and HYMETEC (the Center for Hydro-Meteorological Technology Applications) of the Vietnam Meteorological and Hydrological Administration (VNMHA).
The MoU provides a foundation for both sides to work more closely on providing timely weather-related information for broadcast and online applications in Vietnam, ensuring rapid updates and timely warnings.
The partnership will bring MetraWeather's state-of-the-art Weatherscape XT solution to local broadcasters in Vietnam and provide more accurate forecasting and severe weather warning information.
"MetraWeather has always recognized the importance of the accurate and timely presentation of weather and environmental information," said Mr. Thomas Sutherland, General Manager Asia of MetraWeather. "This is at the heart of our philosophy and we feel privileged to have been selected by VNMHA to contribute to the realization of this vision."
"This partnership is a great example of the practical application of New Zealand's growing and dynamic high-tech sector," said New Zealand Ambassador to Vietnam H.E. Wendy Matthews. "I look forward to seeing the benefits that New Zealand's innovative weather information technology will provide to key sectors in Vietnam, including the agriculture, marine, and aviation sectors."
"New Zealanders have a long tradition of mixing creative innovation with practical solutions," Ambassador Matthews went on. "I am pleased that advanced high-tech products and services are now playing a constructive role in the deepening of the New Zealand - Vietnam bilateral relationship. Technology is now New Zealand's third-largest export sector, growing by 11 per cent to more than $700 million in 2018."
Vietnam - New Zealand trade has grown strongly in recent years, with bilateral trade more than tripling since 2009, when the ASEAN Australia New Zealand Free Trade Agreement (AANZFTA) was signed.
New Zealand Trade Enterprise (NZTE) is New Zealand's international business development agency. Its role is to help New Zealand businesses build strategic alliances and develop commercial relationships internationally.
MetraWeather is the international commercial brand of the Meteorological Service of New Zealand. It provides comprehensive weather information services and weather products that give a competitive edge to businesses worldwide in the energy, media, transport, resources, industry, infrastructure, and retail sectors. VN Economic Times
Hong Nhung