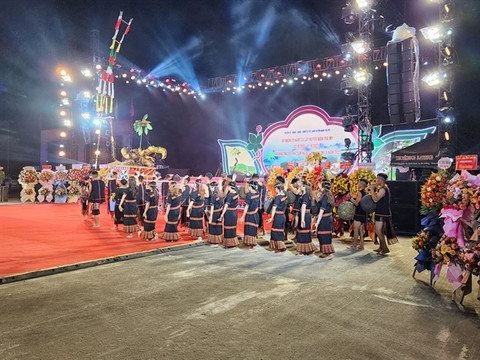 Members of the festival procession march with a satue of ginseng deity in front. — VNA/VNS Photo Lê Việt Dũng
Ngọc Linh ginseng has always been a cash crop for ethnic minorities to improve their livelihood and shake off poverty thanks to its high market prices.
That was the remark made yesterday by Phan Việt Cường, Secretary of Quảng Nam Province's Party Committee, at the fifth Ngọc Linh Ginseng Festival and the 20th anniversary of the refounding of Nam Trà My District.
He said Nam Trà My had been home to Ngọc Linh ginseng for generations. The plant, owing to its rarity and unique properties, stands as a "national treasure" that has helped locals out of poverty and contributed greatly to the municipal economic growth.
There are about three million ginseng plants in the district to date, covering a farming area of 810ha. In June, Prime Minister approved the Plan for the Development of Vietnamese Ginseng until 2030, based on which the province has taken measures to help the ginseng gain grounds commercially.
"The fifth Ngọc Linh Ginseng Festival would help bring its values to visitors all over the world and act as a catalyst for the establishment of a herbal hub in the district," said Sơn.
Nam Trà My is one of the six mountainous districts in Quảng Nam Province. It was re-established on August 1, 2003, through the division of Trà My District into two new ones, with the other being Bắc Trà My.
The district has an average annual growth rate of 10 per cent over the past 20 years. Its income per capita has reached 35 million (US$1477) per year, nearly eleven-fold higher than that in 2003. — VNS