Nguyen Trong Hieu's music video in finals of German Eurovision Song Contest
In a landmark moment for Vietnamese music, Nguyen Trong Hieu, winner of Vietnam Idol 2015, has announced that his latest music video has made it to the final eight in the German Eurovision Song Contest (ESC).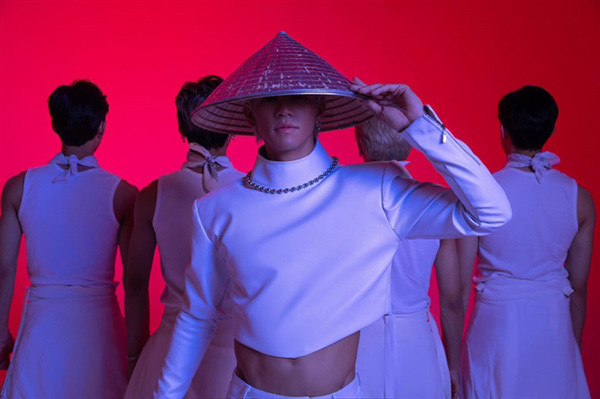 In his Facebook post, Hieu spoke of the impact of his song, Dare to Be Different, on the global stage. The video showcases the fusion of traditional Vietnamese culture with modern fashion, as well as blending folk music with contemporary beats.
The music video opens with a nod to Vietnam's folk tunes, as Hieu, 31, appears in a crop top inspired by the traditional áo dài dress and conical hat, a look he has embraced in recent years. Throughout the video, which is set in a modern context and performed in English, Vietnamese elements are creatively incorporated into the music and choreography.
The lyrics of Dare to Be Different serve as an inspiring message from Hieu, encouraging viewers to embrace their true selves with confidence.
"When I heard that I had reached the final of the German Eurovision Song Contest, my emotions were like a roller coaster. But I was happy with all those feelings," he wrote on his Facebook.
Hieu is preparing for a historic performance at the German Finals of the 2023 Eurovision Song Contest (ESC) on March 3 to showcase Vietnamese culture through his music and visuals. The singer has also revealed plans to invite international artists to join him on stage for this highly-anticipated performance.
If Hieu wins the German Finals, he will advance to the ESC finals in Liverpool in May. This momentous occasion marks the realisation of Hieu's dream, the fruits of his hard work and determination, having registered for the contest in 2014 and persevering through five failed submissions over eight years.
Hieu, a Vietnamese expatriate in Germany, rose to fame in 2015 after winning the Vietnam Idol singing contest.
He made history as the first Vietnamese artist to open the show at the Videodays event in Cologne, performing in front of 17,000 spectators in 2017.
In 2019, he was the only Vietnamese artist to attend the Billboard Music Awards in Las Vegas and in 2020, he brought 17 international artists together for his own production, Under The Same Sky, which was selected as the theme song for the UNICEF Vietnam Blue Heart campaign for the protection of children and women against violence.
The 31-year-old singer has consistently demonstrated his love for Vietnamese culture through his music and images and has represented Vietnam at the Asia Song Festival in 2021.
Hieu is proof that anything is possible with focus, perseverance, and self-belief. He continues to inspire audiences worldwide with his love for his homeland and the beauty of Vietnamese culture.
Source: Vietnam News