Music videos celebrating spring by local composers and singers have seen millions of hits on YouTube.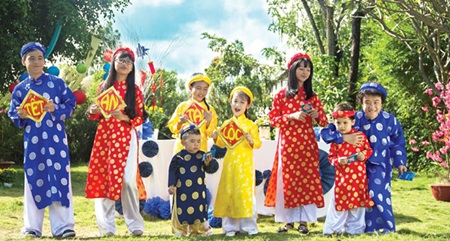 A scene in the music video Bung Toa Huong Xuan (Spring Fragrance) features nine young singers and performers. It has attracted more than 6.3 million views on YouTube.
Composer Nguyen Van Chung's Me Mang Xuan Ve (Mother Brings Spring to the Home) video is a gift to all Vietnamese women to celebrate the upcoming Tet (Lunar New Year) holiday.
"I want to show gratitude to all mothers who bring us a happy life," said Chung, who is from HCM City.
Chung is popular for his song Nhat Ky Cua Me (Mom's Diary) about a mother's feelings and thoughts during her child's growth.
Me Mang Xuan Ve is performed by veteran singer Ly Hai and young singer Ngoc Thanh Thao.
The song has a joyful melody and simple lyrics which describe a family's feelings as they clean the house during preparations for Tet.
Its video features the acting of both singers and Hai's wife and three children.
"After watching video, I miss my mother so much. She has worked so hard to bring a happy and comfortable life for me and my family," said Tran Cam Tien, a native of Dong Nai Province who is studying at the HCM City Medical and Pharmaceutical College.
"The video sends a message to people to think more about their families during the Tet holiday, and work together to bring Tet to the home," the 33-year-old songwriter said.
Chung began composing songs when he was in university.
He has written nearly 200 songs, including top hits such as Vang Trang Khoc (Tears of Moon) and Chiec Khan Gio Am (Beautiful Scarf). He released two albums with songs for children in 2013 and 2015.
Three weeks after being released, his music video Me Mang Xuan Ve attracted more than 6.3 million viewers on YouTube.
Another music video called Bung Toa Huong Xuan (Spring Fragrance) has also had about 6.3 million views since it was released on YouTube in early December.
The HCM City-based composer Hoai An wrote the song's lyrics praising spring based on the melody of a famous folk song for children, Tap Tam Vong, by veteran composer Le Cao Phan.
"Tap Tam Vong is familiar to both adults and children. The song is easy to listen to and remember," said An, who has released dozens of hits and won several music prizes at nationwide competions in the 1990s and 2000s.
Nine cute singers and performers aged four to 14 appear in the video.
They include Phuong My Chi, Phuc Nguyen, Hoang Anh Doraemon and Ruby Bao An, all of whom are popular from television singing competitions for children, Voice Kid Vietnam and Do Re Mi.
Young competitors in other television reality entertainment shows for children, including Ku Tin, Bao Ngoc, Jason and Leica, also appear in the video.
Lam Thanh My, who plays a leading role in Vietnamese-American Victor Vu's Toi Thay Hoa Vang Tren Co Xanh (Yellow Flowers on the Green Grass) film, is also in the video.
"All nine young artists show their sweet and clear voices as well as natural acting." the 39-year-old An said.
Nguyen Kim Yen, a mother of two daughters in District 2, said her kids loved the video and watched it again and again.
"We were excited about the upcoming Tet after seeing the images of children in ao dai in the spring flower market," Yen said.
Three young singers Dong Nhi, Trong Hieu and Uyen Linh contributed their voices in the music video Khai Xuan Don Loc (Waiting for Spring Buds), gaining more than 1.5 million viewers on YouTube.
The video features three famous songs about spring, Chau Dang Khoa's Nhu Hoa Mua Xuan (Spring Flowers), Minh Ky's Xuan Da Ve (Spring Comes), and Tu Huy's Ngay Tet Que Em (Spring in the Homeland).
"We hope the video brings joy to people during Tet, and helps them realise that life is beautiful," Dong Nhi said.
VNS