Striker Nguyen Van Quyet named best player of 2022 V.League 1
Striker Nguyen Van Quyet received a statue for the most valuable player of the 2022 V.League 1 season at a V.League Awards ceremony organised on December 1 in Hanoi.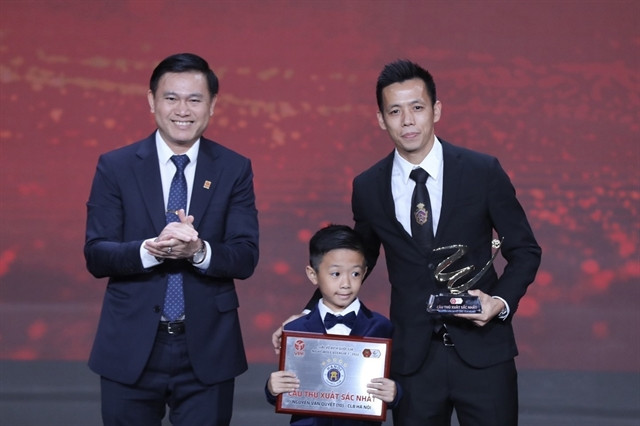 VPF Chairman Trần Anh Tú poses with striker Nguyễn Văn Quyết (right) and his son after Quyết receives a statue for the most valuable player of the 2022 V.League 1 season on December 1 in Hà Nội. VNA/VNS Photo
It was his third time winning the title as he was named MVP in 2018 and 2020.
Hà Nội FC captain Quyết had an amazing season, playing in 18 out of 24 matches for the club. He scored six goals and assisted five times.
He played a key role in Hà Nội's V.League 1 and National Cup titles this year.
"I am happy that my effort and contribution have been recognised. But I couldn't have won this award without the support of my teammates and supporters. I will work hard to remain at my peak and contribute to both the club and the national team," said Quyết, who also earned a slot in the 2022 season's best XI.
The organisers also presented the best scorer award to Jamaican striker Rimario Gordon of Hải Phòng. He netted 17 goals, helping Hải Phòng finished second in the national premier league.
Young striker Phạm Tuấn Hải, who was the best local scorer with 10 goals, received an award for best goal of the year. He scored in Hà Nội's 3-2 defeat to Hải Phòng on October 23.
The best young player title went to Nguyễn Phi Hoàng of SHB Đà Nẵng.
Chu Đình Nghiêm of Hải Phòng was named best coach.
Nguyễn Đình Thái was the best referee of 2022 and brought home his first Golden Whistle statue.
After one year canceled by the COVID-19 pandemic, the V.League 1 returned in 2022 as players scored 380 goals in 156 matches.
Hà Nội won the title with one match to go in the season. Hải Phòng and Topenland Bình Định were second and third, respectively.
Sài Gòn FC were relegated to V.League 2.
The Public Security team, which are now Hà Nội Police, won the V.League 2 trophy and first runner-up Khánh Hòa earned a slot in V.League 1 next season.
The 2023 season will be kicked of by a Super National Cup match on January 29, 2023.
The V.League 1 will begin on February 3 and end on August 20.
The V.League 2 will play on February 4 to August 19.
The National Cup will be from March 18 to August 27. - VNS