No one is "free" as Vietnamese farmers are
VietNamNet Bridge – Changing crops very offent and being disorganized is a vicious cycle that erodes the strength and capital of farmer families, said Prof. Vo Tong Xuan.
VietNamNet Bridge – Changing crops very offent and being disorganized is a vicious cycle that erodes the strength and capital of farmer families, said Prof. Vo Tong Xuan.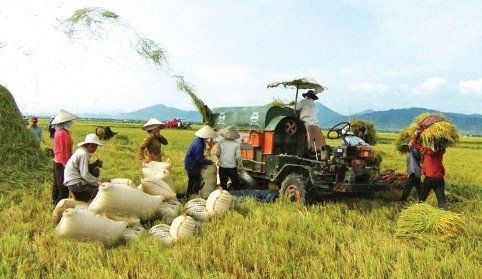 Prof. Xuan remarked: "nowhere in this world are farmers are "free" as in Vietnam. It is good to be free but freedom does not mean unorganized so the freedom of Vietnamese farmers is in negative aspect."
In this world there is no industries that can develope without planning, or in the way of "every man for himself," except for the luck in some moment.
Two years ago I went to the southern province of Tay Ninh and saw vast sugarcane fields. Last year I went back there and I did not see sugarcane trees anymore since they were replaced by cassava, custard or rubber. In the central province of Binh Thuan, I saw rice fields replaced by pitaya trees.
Generally, changing crop varieties is a vicious circle that causes countless damage for Vietnamese workers. Whenever farmers themselves find depreciation of their current crops, they immediately chop them down to replace with other trees.
The selection of new plants has absolutely no advice and market information from the authorities so the crop plants are changed every year. That vicious circle has eroded the strength and capital of Vietnamese farmers. How can they get rich with that?
This situation is rampant throughout the country, especially in the South. But the State cannot ban farmers from doing it. It is clear that the state has left everything to farmers in the field, without giving them with market-based planning to organize production, processing and export. Consequently, farmers always have to "swim alone" and suffer from the paradox of incurring losses in good harvest because of the drop of agricultural prices.
Without the state's guidance and support, farmers compete with each others, leading to the falling prices of agricultural products. That's not to mention some of the farmers do not fully understand of the market and the play rules so they use "tricks." They found breeding fish in accordance with standards is expensive, so they break the breeding procedures to cut cost but fish was ill. Instead of treating them with expensive medicines, they used antibiotics. When their products were exported, the importers found antibiotic residues and returned them.
That situation will be ended if we have a planning authority. VietNamNet's Duy Chien talked more with Prof. Vo Tong Xuan on this issue.
How do other countries handle this problem?
In Europe, the farmers must have the government licenses. To be licensed, they must learn through training. Meanwhile a worker just need the acceptance of businesses, the government does not intervene in.
The farmers cultivate on their land, but the cultivation must comply with the government's plan. The farmers also have to obey procedures for planting or breeding each variety of plant or animal species. If they do it wrong, they will be heavy fined, including the use of fertilizer because using so much fertilizer will affect climate change.
How does the government monitor farmers to know whether they comply with the technical process or not? For example, if they use much fertilizer, how does the government know?
Of course they know. The government authorities will check. How much fertilizer do you buy (with bills) for your certain area of field? If you buy too much fertilizer, i.e. you use more fertilizer than provisioned and you are fined.
In our country we are unable to monitor the farmers that way, but we should not let farmers be free on their fields. During my field trips to many places, I saw farmers doing wrong technical processes. The simplest example is they do not fertilizer to the roots of trees. They plant rice very thick and use urea wrongly.
We have to retrain farmers and equip them with technical knowledge. In other words, we need innovative farmers in agricultural production rather than just depending on their experience.
Knowledge, scientific and technical knowledge is a lot. We cannot put it into production in time if the farmers themselves do not understand it. Not only the farmers themselves bear damage, but also the interests of the country in the trend of cooperation and competition in the world today.
Duy Chien
To be continued...