No Vietnamese citizens affected by earthquake in Turkey, Syria so far
There has not been any information confirming Vietnamese citizens are among those affected by a 7.8-magnitude earthquake in Turkey and Syria, the most powerful over the past nearly 100 years.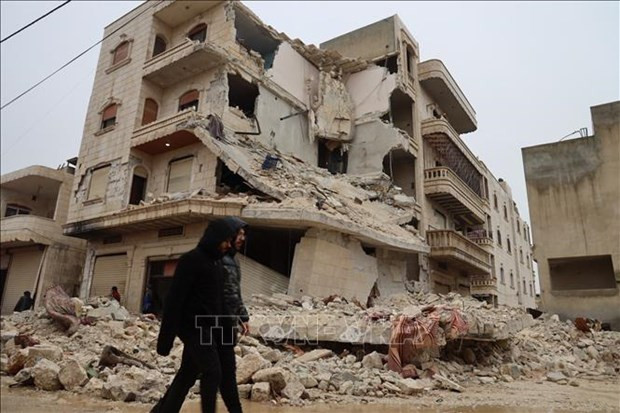 A building is destroyed after the earthquake hits Idlib province, Syria, on February 6.
On February 6, the Ministry of Foreign Affairs directed the Vietnamese embassies in Turkey as well as in Iran and Syria to contact local authorities and the Vietnamese expatriate community to update information and be ready to take citizen protection measures in case there are Vietnamese among victims of the disaster that occurred in the morning of the same day.
Related fatalities have so far neared 1,800, including at least 783 in Syria and 1,014 in Turkey, with many buildings flattened.
According to the US Geological Survey (USGS), the earthquake occurred at about 4:17am (local time) with the epicenter located 17.9 km in depth in Gaziantep province. It also detected another earthquake with a magnitude of 6.7 that occurred about 15 minutes later near the first location.
As one of the world's most active earthquake zones, Turkey experienced several strong earthquakes in the past, including the one with a magnitude of 7.4 in 1999 that was the most severe in decades, resulting in over 17,000 fatalities. The most recent 7-magnitude earthquake occurred in October 2022 in Aegean, causing 114 deaths and over 1,000 injured./. VNA