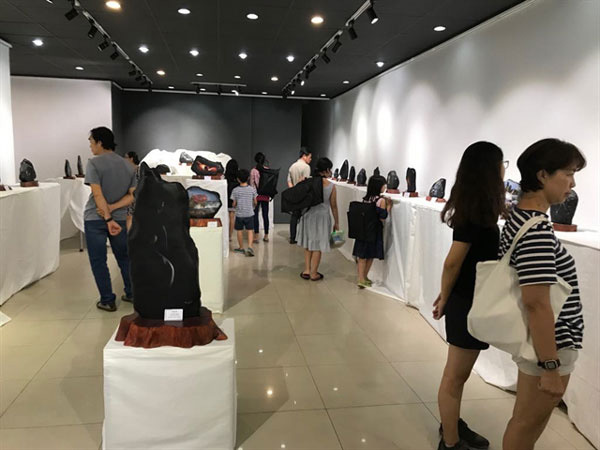 Visitors contemplate the artwork by Thai Phien at the exhibition. — Photo courtesy by the artist
Featuring 102 photos captured by award-winning photographer Thai Phien, who has spent 27 years behind the lens. The exhibition is also the first of its kind in Ho Chi Minh City as it features nudes prints on black rocks.
Just a few years ago, it was hard to imagine that such an exhibition would be possible. Traditionally, nude photos were considered dirty and inappropriate in Vietnam, so Phien's efforts to put his photos on public display were ridiculed. At the end of 2007, he managed to obtain a license for the first-ever nude art photo exhibition in Vietnam, but could not find a venue: no individual or organisation dared to rent a venue to him for the exhibition.

Despite countless challenges, Thai Phien and other nude art photographers did not give up. They tirelessly lobbied to change people's perceptions. In 2017, photographer Hao Nhien was granted permission to display 50 nude photos at an exhibition in HCM City. Since then, the door to nude art has opened a little wider, with Thai Phien holding his solo exhibition of nude art photography, "Xuân Thì" (Springtime), in 2018.
Now at "Hồn đá", women and men can openly admire the nude photos without being judged for being "dirty-minded". They can admire the unique works that showcase the feminine beauty of Vietnamese women, which is elevated by the most stunning spots of natural beauty in Vietnam.
"Hồn đá" features the most famous photos by Thai Phien, including "Trái Cấm" (Forbidden Fruit), "Xuân Thì" (Springtime), "Thiên Sứ" (Angel) and "Bước Thời Gian" (Step in Time), and includes his latest works being presented to the public for the first time, such as "Tinh Khôi" (Purity), "Tự Do" (Freedom) and "Biển Gọi" (The Call of The Sea).
The exhibition is daring as many photos show the full bodies of women, including their faces.
According to Thai Phien, he and his team spent countless hours collecting pieces of rocks to print the photos on. The rocks come different parts of Vietnam, including the streams of Lam Dong and Phu Yen. The printing is a work of art itself, as it was carried out by painter Nguyen Thanh Tinh and his team at Net But Company. Together with Thai Phien, the artists chose which photo went on which piece of rock based on its colour and shape.
Thai Phien's works have been honored with 52 awards in Vietnam and internationally. His photos have been exhibited in more than 60 countries and territories. He is also the author of the first-ever nude art photography book, Xuân Thì (Springtime), published in Vietnam in 2008. His second book of nude art photography, Miền Cổ Tích (Fairytale Land), was published in 2018 and honoured with the National Award for Excellence by the Vietnam Association Of Photographic Artists (VAPA).
The exhibition "Hồn đá" will run daily at the Ho Chi Minh Fine Arts Association, 218A Pasteur, District 3, Ho Chi Minh City until October 26 from 8am-8pm.
Free entry. VNS
Nguyen Phan Que Mai

Nude paintings by Indochinese painters have proved their value on international market. However in Vietnam, this topic is considered as a "sensitive" artistic mode. 

Nude paintings created by different generations of artists are on display at a unique exhibition that opened on Thursday in Hanoi.