Odd and rare banh mi
From traditional banh mi (Vietnamese sandwich), many bakers have created banh mi with unique shapes and excellent quality known in Vietnam snd around the world.
Biggest Vietnamese banh mi in the world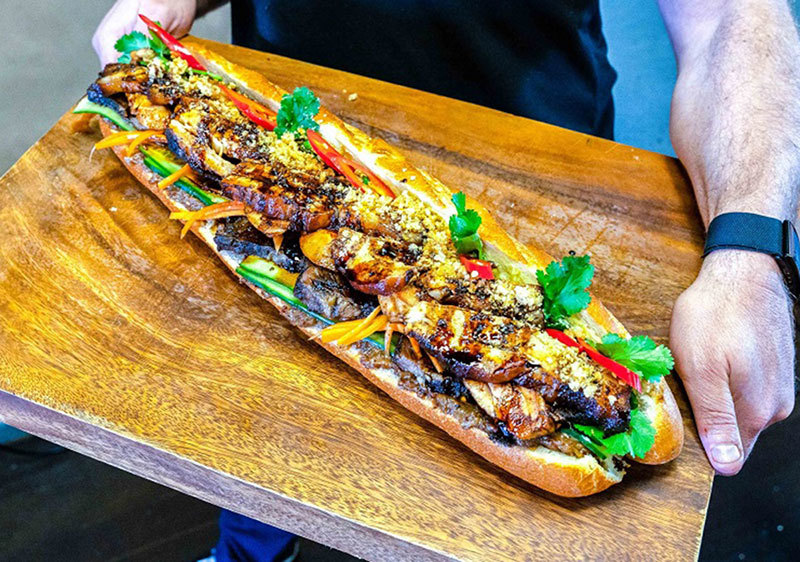 Recently, a cafe in Australia introduced Vietnamese banh mi modified to suit the taste of local people. According to the Daily Mail, with a length of up to 60cm, this banh mi is described as "the largest in the world", priced at 53.9 USD/serving, enough for 2-3 people. (Photo: Third Wave Café)
Each "BBQ bread" is stuffed with a thick layer of pate, smoked chicken, smoked pork belly, smoked beef ribs, pork scratching, a little butter, pickled carrots, cucumbers, coriander, green onions and fresh chili. (Photo: Third Wave Café)
Although the price of this unique banh mi is much higher than the average in the market, diners still flock to the restaurant to wait in long queues to enjoy it. (Photo: Third Wave Café)
'Gold star' banh mi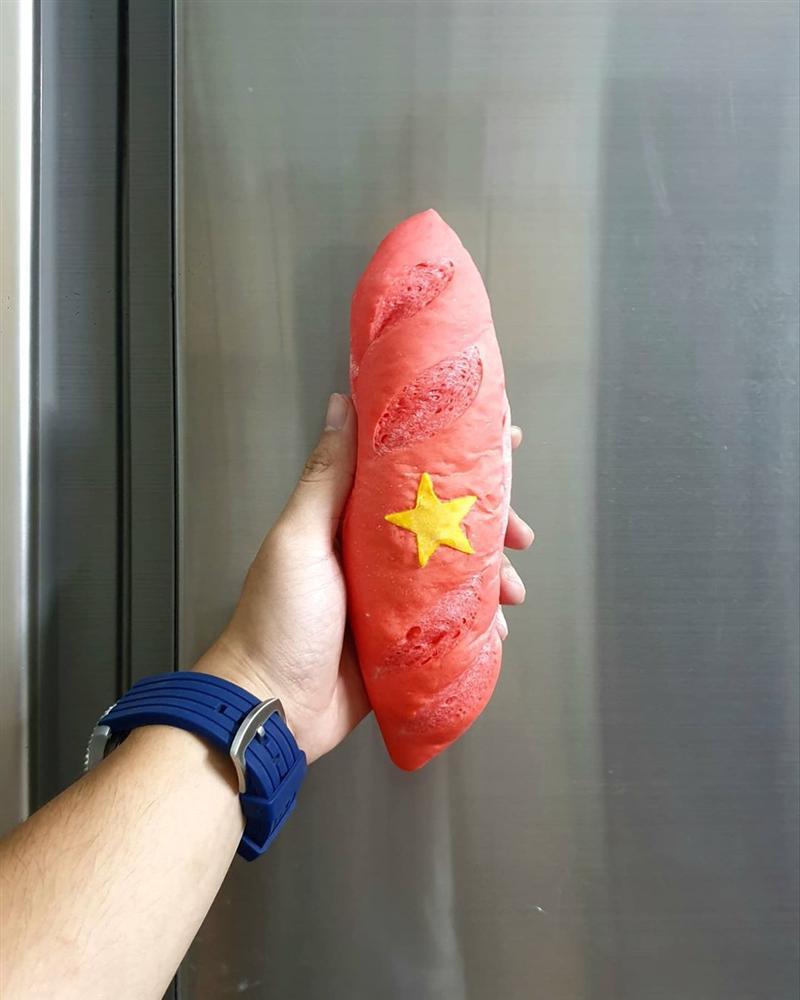 In 2020, the bread in red color with a golden star, symbolizing the Vietnamese national flag, caught public attention. The bread is naturally dyed red with beetroot juice, and the yellow star is made from turmeric powder.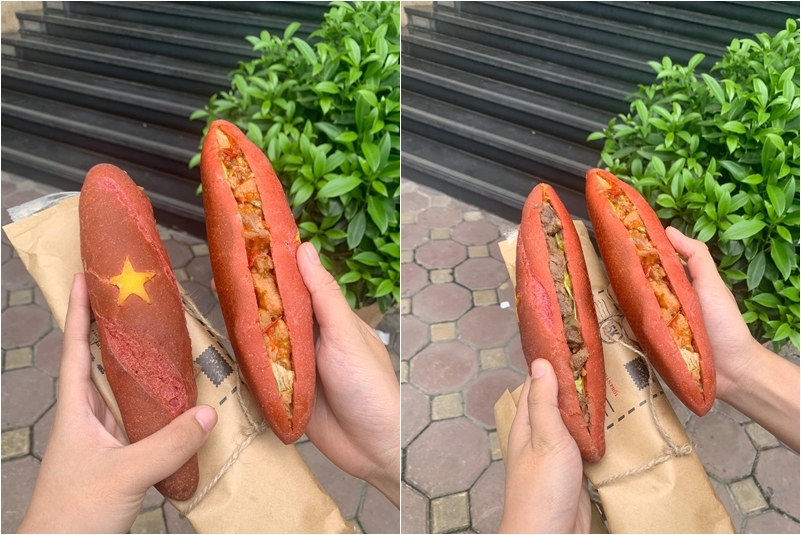 This kind of bread is quite affordable, only 15,000 VND/piece, with 5 different flavors: ginger beef, chicken, fried egg with onions, pate and traditional red sausage.
Dragon fruit banh mi
Originating from the call to help dragon fruit farmers due to the impact of the Covid-19 epidemic, in 2020, a bread shop in Saigon came up with the idea of using dragon fruit as ingredients to make bread. (Photo: Business Insider)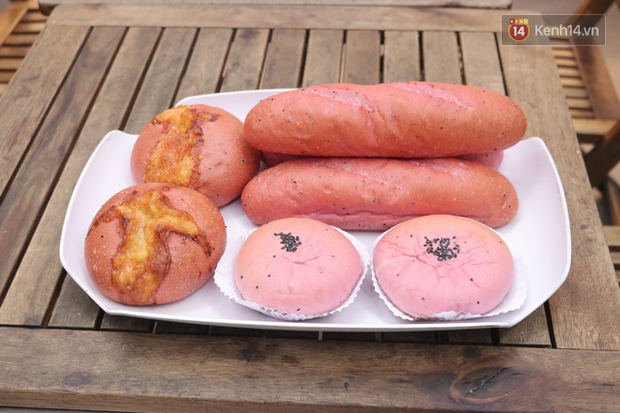 Many versions of dragon fruit bread are also popular with diners such as: garlic butter sauce, durian or cheese. A dragon fruit bread without filling is priced 6,000 VND.
Giant banh mi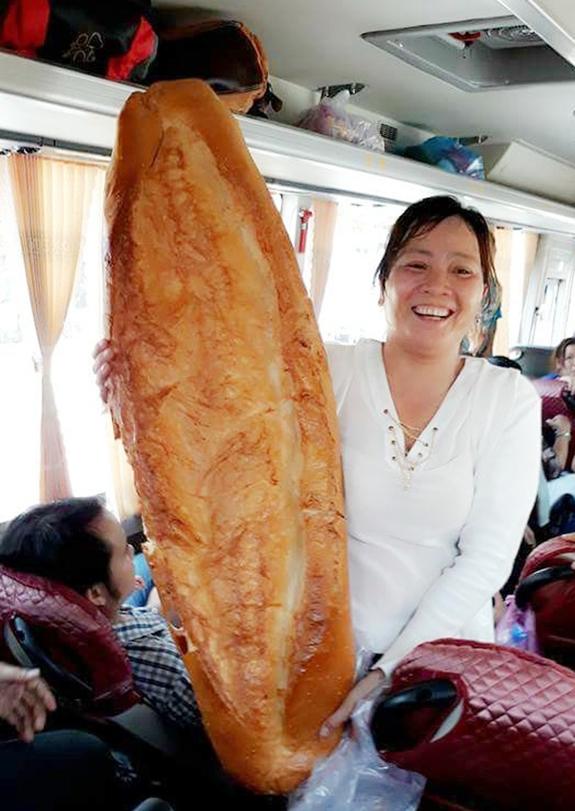 With the creativity of Pfizer bakers in An Giang, Vietnamese cuisine once again became world famous. A bread can be up to 1.5m long and weigh 5kg. To create this special bread, the bakers spent a lot of effort from mixing, kneading powder... to baking.
In 2018, An Giang giant bread was in the top 15 of the world's strangest dishes voted by Brightside. A giant bread is priced 50,000 VND (Photo: petrotimes)
"Dark night" banh mi
The bread with a mysterious black color like coal inside and outside, created by a bread shop in Quang Ninh province in 2020 lured public attention. This bread is made from squid honey combined with bamboo charcoal, mixed with bread flour. (Photo: Dan Tri)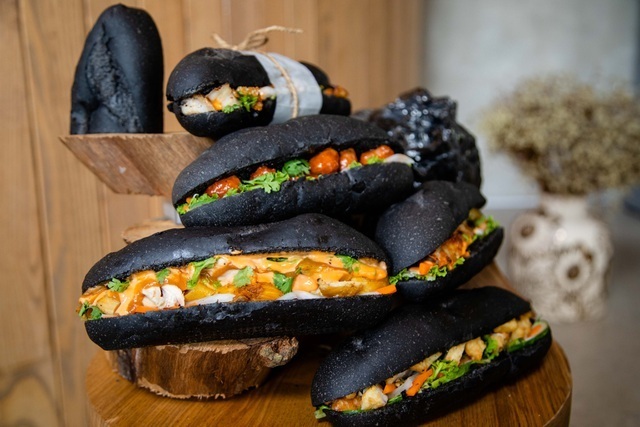 The fillings are traditional stuffing such as roasted pork, grilled beef with cheese, grilled chicken, shrimp shumai, crab cakes, squid pies... The price for each bread is from 25,000 VND to 45,000 VND.
Crocodile banh mi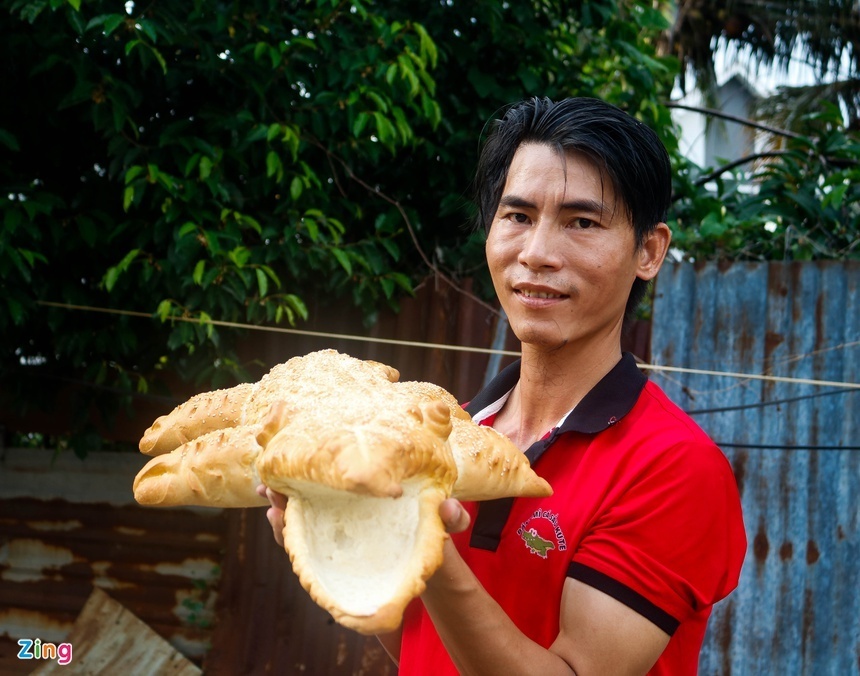 In 2020, the image of a bread with the shape of a crocodile is the focus of the online community's attention because of the creativity that the baker blew into the bread.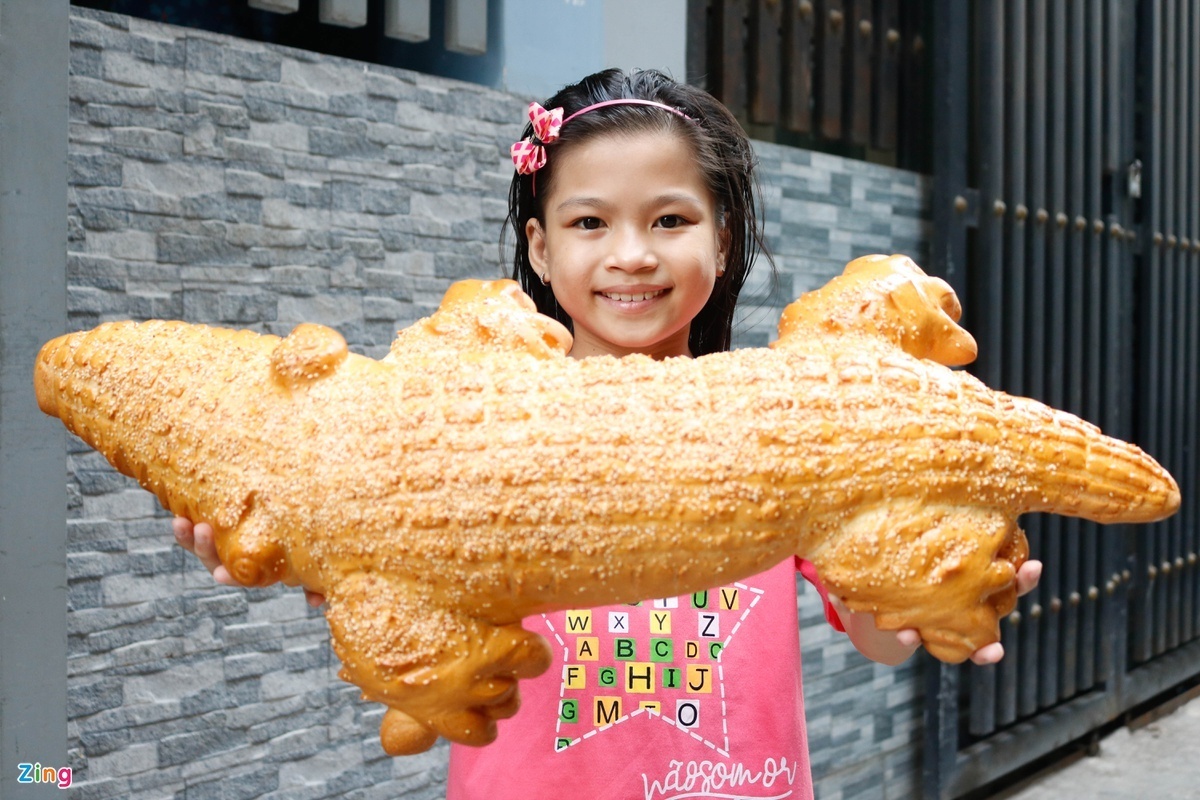 Each super giant bread weighs nearly 2kg, 60-70cm long, and it is sold for 50,000 VND.
Noodle banh mi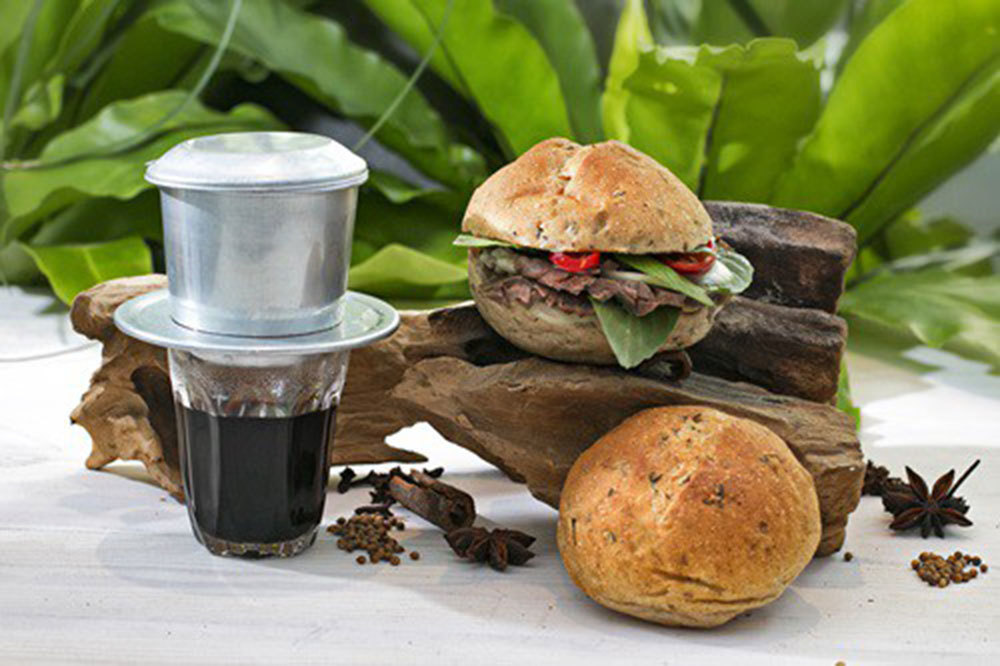 Bread with pho flavor (Vietnamese noodle) is a unique fast food in Saigon, with a combination of bread and pho. This bread looks like a hamburger, but the ingredients and flavors will make diners feel like they're eating a bowl of pho. The flour is mixed with 22 spices that people often use to process pho broth, so the inside of the cake will have a faint taste of traditional pho. (Photo: Channel 14)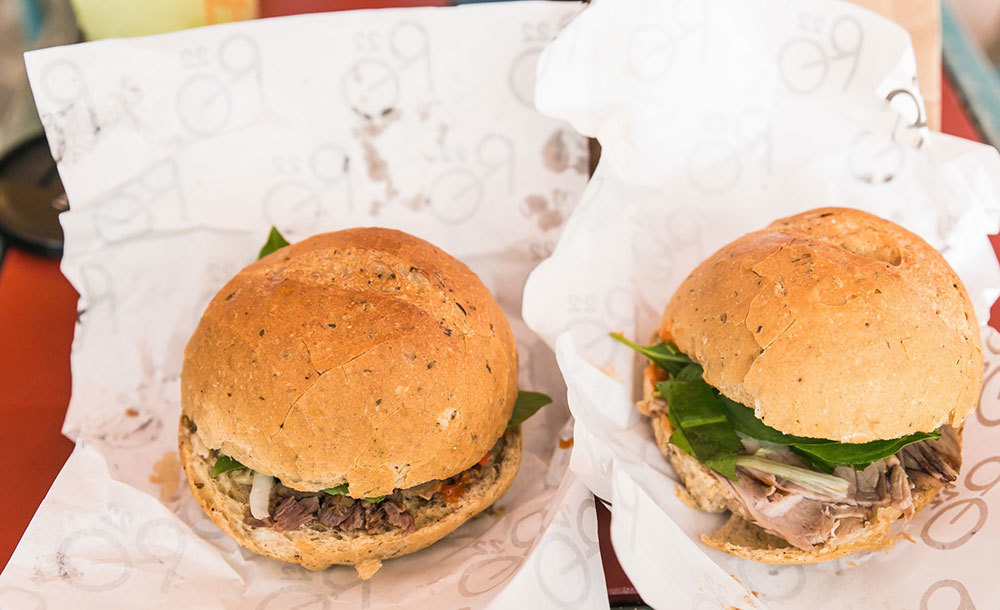 The stuffing is also very unique, with beef cooked and thinly sliced like beef in beef noodle soup, basil, coriander and thick sauce concentrated from the bone broth. Each bread is priced 30,000 VND. (Photo: Channel 14)
Mussel bread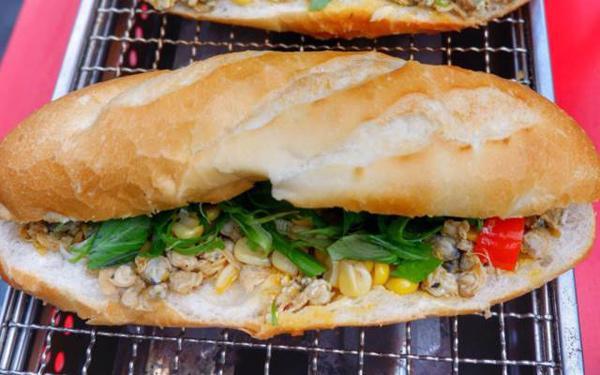 Mussel bread is a novelty dish that has caused fever in Saigon since 2017. If ordinary bread has fillings as pate, meat, eggs... then with mussel bread, the filling is replaced with mussels.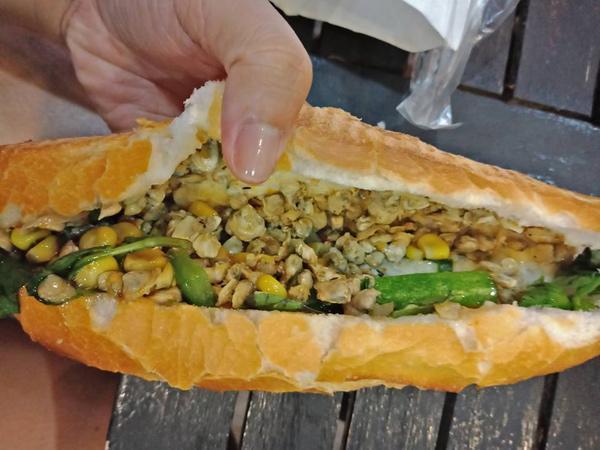 The mussels are stir-fried with butter, onion, garlic, oyster sauce, cashew oil, tamarind sauce, Da Lat peppers... Besides mussels, the bread is stuffed with corn, cucumber, herbs. The price of each mussel bread is only 15,000 VND.
Hanh Nguyen

Banh mi (Vietnamese bread/Vietnamese sandwich) is among the most popular dishes in HCM City. Here are some of the most famous banh my shops in Vietnam's biggest city.

Customers have flooded through the doors of Third Wave Café in Melbourne, Australia after it released what it claims to be "the world's largest Vietnamese banh mi".