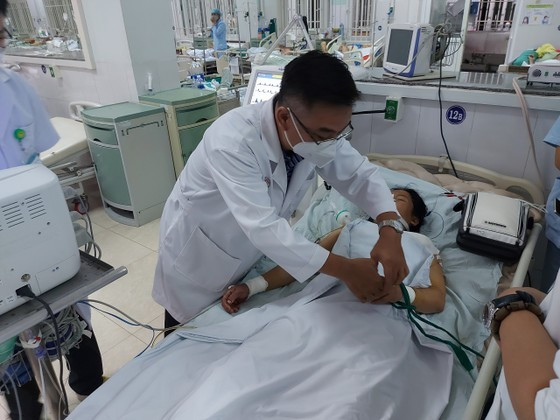 A Cho Ray doctor examine a poisoned patient
Ten people in a mountainous district of the Central Province of Quang Nam were hospitalized for Botulinum poisoning, with one of them dead after eating pickled carp on March 7.
Three seriously ill patients including one female and two male adults requiring mechanical ventilation were given Botulism Antitoxin Heptavalent (BAT) to treat Clostridium Botulinum poisoning. Up to now, 2/3 of patients have had good improvement after antidote infusion, a good prognosis; however, one patient is in critical condition.
Previously, the SGGP Newspaper released that after eating pickled carp at a house of a local inhabitant, four people experienced poisonous symptoms. They were rushed to the local infirmary for treatment. On the morning of March 18, physicians of the General Hospital in Phuoc Duc Commune of Phuoc Son District connected with Cho Ray Hospital in Ho Chi Minh City for consultation. Soon, doctors of Cho Ray Hospital flew to Quang Nam Province with five antidotes vitals to the General Hospital of the Northern mountainous region of Quang Nam for the treatment of the patients with botulinum poisoning.
Yesterday, Director of the Quang Nam Department of Health Mai Van Muoi said that the unit has just sent a dispatch on strengthening measures to prevent and control food poisoning when people like eating traditional foods such as fermented foods.
Thereby, the Department of Health of Quang Nam province suggested localities, especially highland areas, strengthen communication about food safety to local inhabitants to raise their awareness.
Source: SGGP