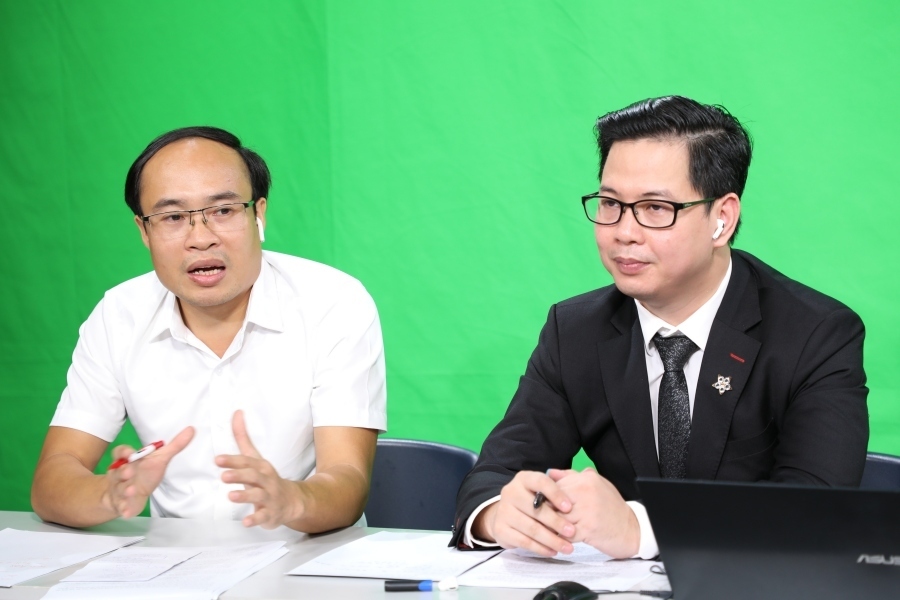 Nguyen Quang Tiep (left) and Tran Thanh Nam (right)
Tran Thanh Nam, Dean of Education Sciences, and Nguyen Quang Tiep, Head of the Primary Education Division at Hanoi National University, warned that teaching online to first graders will be a great challenge for teachers this year, because unlike other students, first graders are not yet acquainted with teachers and friends.
Schools and teachers need to prepare thoroughly to organize online teaching in an effective way. There are still many difficulties in organizing online teaching, especially for first graders who still don't have a sense of self-study
Teachers need to restructure the curriculum and draw up long-term scenarios for the new academic year with many different plans, including online teaching.
During in-person classes, teachers can easily interact with students to give support, but in online classes, this is more difficult.
Therefore, online lessons need to be structured well. Teachers need to select the most important knowledge suitable to the online teaching mode that is visual and attractive to children.
Tiep said that, for first graders, lessons in Vietnamese need to be designed to form the four basic skills of listening, speaking reading and writing, while lessons in mathematics should be designed to help students learn skills in basic operations.
Experts believe the timetable for online teaching should be rearranged. Students should have lessons on only half a day and there should be no more than two online learning hours a day. This will help prevent children from working too much on computers.
Tiep said that when designing online lesson plans, teachers should convey the most important content in 10-15 minute segments when the children's attention is at its highest level during the lesson.
Nam agreed, saying that first graders' concentration doesn't last more than 15 minutes.
He suggested that it would be better to restrict the time for each learning session. Each session should last 15 minutes, then students would have a 5 minute break. After that, another session would begin. After four such 30-minute sessions, the school day will end.
"I think this method would be more effective. We also need to change our viewpoint, striving to have higher-quality learning hours than a higher number of learning hours," Nam said.
Teachers have been advised to use technology and easy-to-use games for all learning activities to keep children's attention, interest and concentration. 
Thuy Nga

According to the HCMC Department of Education and Training's statistics on September 3, tens of thousands of students don't have laptops or smartphones for online learning as the new school year is going to begin in the next few days.  

At 8 am May 16, Hai Phong, a 12th grader at a Hanoi high school was sitting in front of his laptop, checking the internet, camera and headphone, waiting for his turn to be interviewed for admission to the Hanoi University of Science and Technology.