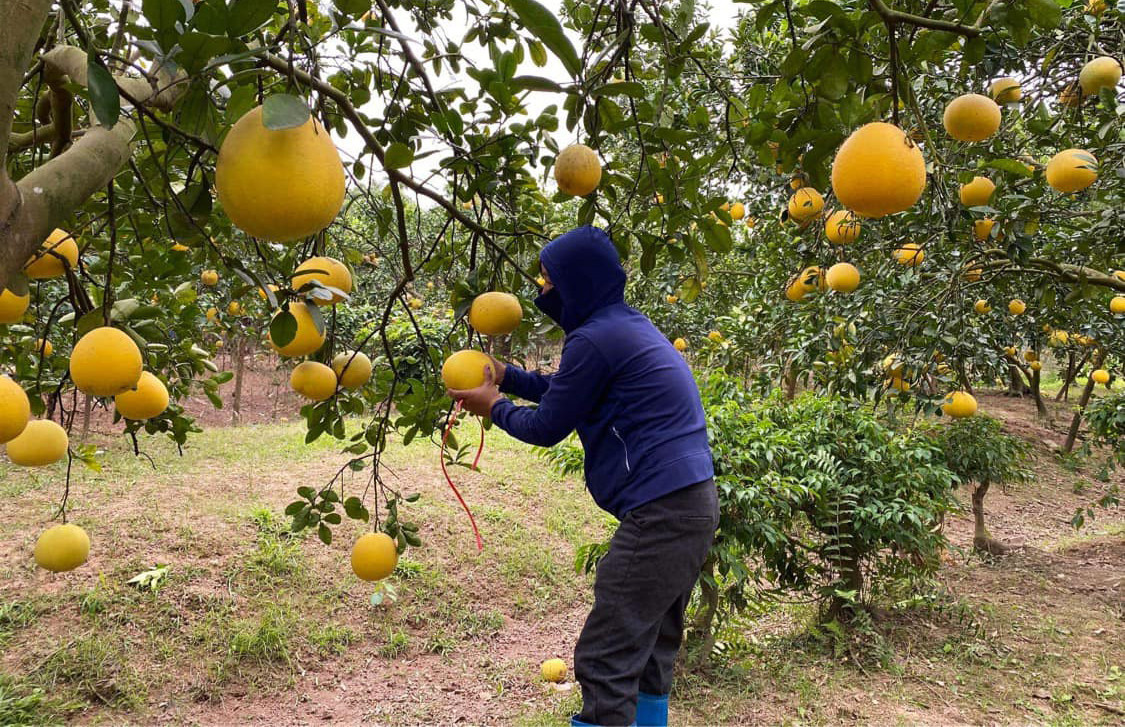 In Vinh Long province, oranges are collected by merchants for just VND1,000-3,000 per kilogram. Farmers are worried as tens of hectares of oranges are due to be harvested. If oranges remain unsold, farmers will have to chop down trees, or oranges will fall off trees, affecting output and quality of the next crop.
Individual buyers, institutions, supermarkets and e-commerce platforms have tried to rescue farmers.
Oranges are displayed on streets, at traditional markets and supermarkets. At WinMart and WinMart+, Vinh Long oranges are being displayed at the center of the fruit stall for VND12,900-19,900 per kilogram.
Meanwhile, GO! and Big C are selling oranges at VND10,900-12,900 per kilogram, which don't bring a profit. At Co-opmart and Co.opXtra in HCM City, and parts of the southern region, oranges are just VND10,500 per kilogram.
The price of pomelos of different kinds has also been sliding. Dien pomelo is considered a specialty and sells at very high prices of VND30,000-50,000 per pomelo. First-class Dien pomelo has even sold for VND100,000. But now, as the pomelos are grown in many localities, they are selling for just VND3,000-8,000, the lowest ever price.
Hoang Thi Ngoc, a fruit wholesaler in Hoang Mai district in Hanoi, said she is selling Dien pomelos grown in Hoa Binh for VND200,000 per bag of 60 pomelos. She sells 60-80 bags a day.
Hanoi's once-famous specialty fruit has become so cheap that they are selling bags of 30 or 60 pomelos.
Red flesh pomelos are also as cheap as vegetables. At fruit shops, these pomelos are priced at VND16,000-19,000 (one pomelo weighs 0.9-1 kilogram). Meanwhile, during pre-Tet days, they sold for VND23,000-30,000 per pomelo.
Causes
Dang Phuc Nguyen, secretary general of the Vietnam Veggie and Fruit Association, confirmed that citrus fruits are increasingly cheap, saying this is the result of the rush to farm oranges which has led to oversupply.
"The oversupply has been a problem for a few years, but the citrus fruit farming area has been expanding year after year," he said.
A report found that there are 267,000 hectares of citrus fruit farming area in Vietnam, including 105,400 hectares of pomelo which gives output of 905,000 tons; 94,000 hectares of oranges (1.6 million tons); and mandarins and lemons.
Meanwhile, the figures were much lower six years ago – 772,600 tons of oranges and 571,300 tons of pomelos.
According to the Ministry of Agriculture and Rural Development (MARD), in 2009-2019, citrus fruit farming areas grew by 10 percent per annum (7,300 hectares per annum), an increase of 12.5 percent in output (69,400 tons per annum).
The citrus fruit area soared because farming brought high profits in 2008-2018.
At that time, one hectare could bring revenue of VND300-600 million, and many people became wealthy thanks to farming. So people rushed to grow fruits. Oranges and pomelos are now grown in nearly all provinces.
According to the Vinh Long Department of Agriculture and Rural Development, orange production in the locality has been developing spontaneously. Farmers rush to grow oranges because the price of the fruit once climbed to VND35,000-40,000 per kilogram. As a result, the real orange farming area has exceeded the total area planned by the provincial authorities.
Nguyen Nhu Cuong, director of the Crop Production Department, said there is no detailed programming of farming areas for different crops. MARD can only give warnings or advice to farmers through projects and strategies.
It always happens that farmers rush to grow certain types of fruits if they see the fruits go for good prices. However, as the prices fall down in next crops, they have to sell products at a loss and chop down the trees.
The orange and pomelo price decreases are the results of the massive expansion of farming area, despite the warnings from appropriate agencies.
Tam An