Over 650,000 Vietnamese labourers working abroad

About 650,000 Vietnamese are working in more than 40 countries and territories worldwide, according to statistics of the Department of Overseas Labour under the Ministry of Labour, Invalids and Social Affairs (MoLISA).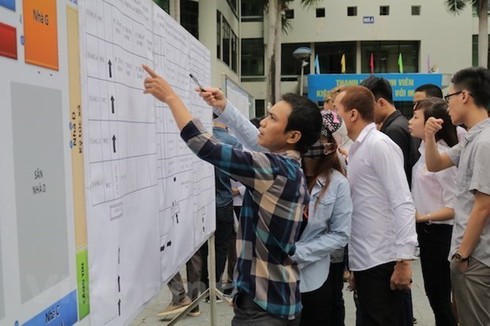 Vietnamese workers check job offers
In 2019, the country sent a total of 152,530 labourers abroad, surpassing the year's plan by 27.1 percent. Japan was the biggest recipient with 82,703 labourers, followed by Taiwan (China) 54,480, the Republic of Korea (RoK) 7,215, Romania 3,478, and Saudi Arabia 1,375, among others.

2019 was the fourth consecutive year that Vietnam sent more than 120,000 workers aboard a year, said Director of Overseas Labour Department Tong Hai Nam.

To date, as many as 421 businesses have gained licences in providing overseas employment services.

Nam added that some traditional markets still have high demand for workers, including Japan, Taiwan and the RoK, along with those in Europe like Russia, Romania, Germany, Poland, Latvia and Austria.

As of the end of 2019, more than 1,000 Vietnamese nurses went to study and work in Germany. The Skilled Workers' Immigration Act of Germany, which will take effect this March, allows local firms to receive non-EU workers in the fields of construction, electricity, mechanics, agriculture, health care and nursing.

This year, the MoLISA expects to sign a cooperation deal with Germany's employment agency on the reception of Vietnamese skilled workers in spheres that the country has high demand for.

Vietnam sets a target to send 130,000 guests workers in the year to markets promising high and stable income, said MoLISA Minister Dao Ngoc Dung.

He has ordered the Overseas Labour Department to keep a close watch on situations in the Middle East and asked firms to take protective measures for labourers when needed. VNA

After 10 months since compulsory social insurance collection applied, as many as 62,000 foreign labourers have joined social insurance in Vietnam.

Vietnam's Ministry of Labour, Invalids and Social Affairs and the Japan International Training Cooperation Organisation yesterday signed a record of discussions on a specified skilled workers programme and technical intern programme.