Painter-art critic opens new exhibition

An exhibition of paintings and sculptures by People's Teacher, art critic and painter Uyen Huy is opening at the HCM City Fine Arts Museum.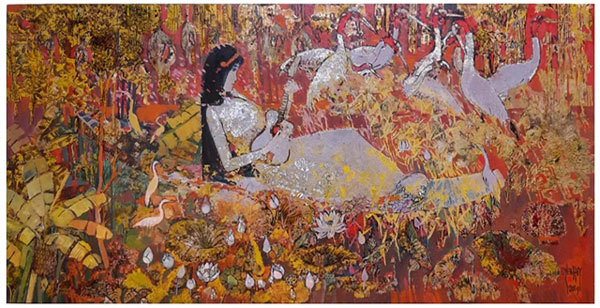 A painting by People's Artist, painter and art critic Uyên Huy. — Photo courtesy of HCM City Fine Arts Museum
The event, called Một Thoáng 49, Chào 70 (Goodbye 49, Hello 70), features 54 works in lacquer, oil, acrylic, mixed media, metal, ceramic and poly paint.
Half of the works came from the artist's latest collections, which were created in the last three years.
"My showcase shows my love and passion for the country and life," said the 70-year-old Huy.
Huy, whose real name is Huynh Van Muoi, was born in 1950 in Sai Gon. His love for painting began at an early age after he began studying art on his own before enrolling in the Gia Dinh Fine Arts School in 1964.
In 1973, he won the Esso Art Prize for his work Nhạc Chiều (Afternoon Music). He then worked as a lecturer in painting at the Gia Dinh School in 1974.
He has worked for several prestigious art schools, including the HCM City University of Fine Arts, HCM City University of Architecture and Dong Nai College of Decorative Fine Arts.
He has organised more than 70 group exhibitions in VIệt Nam and many other countries.
Huy has also won several top prizes for painting and criticism presented by local and foreign fine arts associations and organisations.
In 2016, he released Mỹ Thuật Thành Phố Hồ Chí Minh-Một Thoáng Hôm Nay Một Chút Xưa (HCM City Fine Arts during the 20th Century), a book about trends in 20th century arts in the south, with more than 200 black-and-white and colour images.
His 650-page book features documents and photos of contemporary paintings and sculptures by artists living in the south, particularly in HCM City.
The role of fine arts in Sai Gon (now HCM City) between 1975 and 2015 is also included, as well as new trends created by young artists.
His book is a valuable resource about Vietnamese fine arts in the đổi mới (renovation) and international integration period.
His book Mỹ Thuật Đô Thị Sài Gòn-Gia Định Từ Năm 1900 Đến 1975 (Urban Fine Arts of Sài Gòn-Gia Định from 1900 to 1975) was released in 2014 and received the Critics' Award presented by the Viet Nam Fine Arts Association.
It includes information and visuals of the ancient cultures of Champa, Oc Eo and Khmer which influenced the southern city.
Information about specific events, artworks, characters are also featured.
In the book, Huy highlights the role of three French schools: in Binh Duong in 1901, Dong Nai in 1903, and Gia Dinh in 1913, which offered training for students in handicraft and decorative arts.
These schools laid the foundation for the famous Indochina Fine Arts College in Hanoi in 1925.
Both books were published by the Fine Arts Publishing House.
"I have for several decades worked in painting and teaching. For me, teaching is a duty that a veteran artist like me should be involved in. I want to impart my love for art and experience to younger generations," said Huy, chairman of the HCM City Association of Fine Arts.
Huy's exhibition, Một Thoáng 49, Chào 70, will be open from 9am to 6pm at the HCM City Fine Arts Museum at 97A Pho Duc Chinh Street in District 1, and will close on Tuesday.
By Thu Anh
VNS