Transport ministry ordered inspection into pothole-riddled central expressway as repairs finished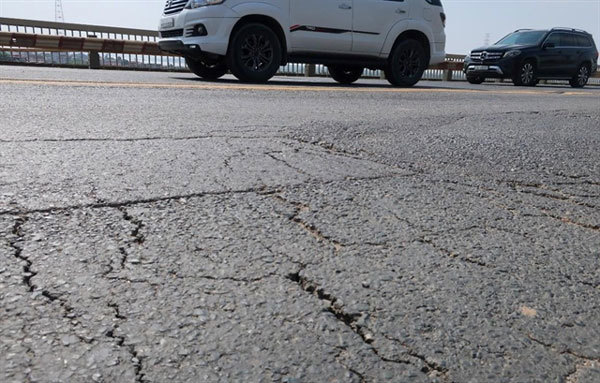 The uneven road surface on Thang Long Bridge. VNA/VNS Photo Viet Hung
In recent years, incidents relating to transportation projects have raised concerns over the quality of infrastructure.
A newly-built bypass in the Central Highlands province of Gia Lai, which cost VND250 billion (US$10.8 million) and runs through Chu Se District and connects to the Ho Chi Minh Road, was found to be in a state of disrepair with cracks and subsidence last week, even though construction was recently completed.
The 139km highway in the central region crossing Quang Ngai and Quang Nam provinces and Da Nang City kicked off in 2013 with total investment of VND34.5 trillion (US$1.5 billion). Soon after it was put into use in August 2017, potholes and other defects were detected on the expressway's Tam Ky-Quang Ngai section.
Similar situations happened with the 1,440km National Highway 1 from Thanh Hoa to Can Tho, the Ben Luc – Long Thanh Expressway project, the Noi Bai – Lao Cai Highway, and the Thang Long Bridge in Hanoi.
Notably, after many repair efforts which cost up to hundreds of billions of dong, cracks and potholes were still found in June on the surface of the Thang Long Bridge.
Speaking at a National Assembly meeting in June, Minister of Transport Nguyen Van The admitted there were transportation projects with low quality due to contractors' lack of capacity.
He also blamed overloaded trucks, rain, climate change and traffic density for the degrading quality of transportation projects.
But economist Ngo Tri Long told Vietnamplus that every contractor had to conduct feasibility studies with every project, including evaluations to ensure compliance with approved construction standards.
"So I don't think it's rational to blame natural conditions for the degrading situations of transportation projects," he said.
Dr Tran Chung, former head of the State's Construction Work Evaluation agreed and said there was weak justification for blaming natural conditions.
"First and foremost, defects at transportation projects are caused by poor design and consultancy – the feasibility studies for these projects must have been done poorly as well," he said.
Major factors affecting performance quality of construction were often related to the use of unskilled and incompetent commercial contractors, poor on-site supervision and a lack of commitment by supervising teams, Chung said.

Government supervision
According to transportation experts, some projects are divided into many component contracts and assigned to different contractors, including incompetent ones. This creates many difficulties for project quality management.
The experts suggested contractors shoulder the responsibility for ensuring project quality, especially the consultancy and supervising teams.
Minister The said the ministry would continue to improve its instruction documents relating to transportation projects quality, increase survey and design quality and strictly select competent contractors.
Dr Tran Chung said technical criteria systems and legal documents on transport construction are available and sufficient, yet it's largely up to contractors to live up to these requirements, making the Government's supervising role critical.
Strict punishments for individuals and organisations who violate laws on transportation project quality must be enforced to gain the trust of the public and ensure economic efficiency, he said.
VNS