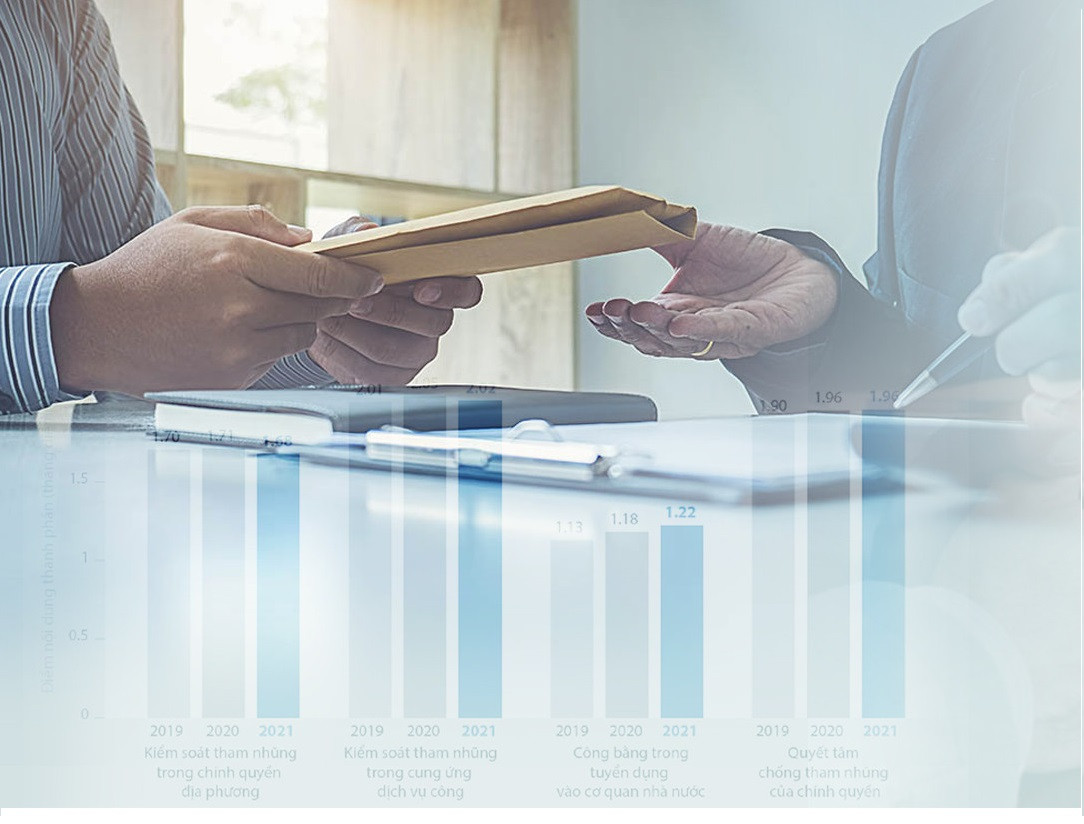 "In the service sector, we have to work with many stakeholders such as local police, fire prevention, food safety and hygiene control agencies... Every time they visit our company for periodic inspections, they ask for everything, and they are not even shy about directly asking for money for 'tea and cigarettes," an owner of a small Hanoi business said.
This is not uncommon in today's society. Many individuals and businesses, when performing administrative procedures, have to "add" envelopes of money to their documents. This is the "petty corruption" that is common in Vietnam's society.
The report "Vietnam Provincial Governance and Public Administration Performance Index (PAPI) 2021" released by UNDP Vietnam on May 5 shows that, in cases dealing with administrative procedures related to land-use rights, 40%- 90% of them in more than 40 provinces and cities involved people and businesses having to give "envelopes".
According to the "Provincial Competitiveness Index (PCI) 2021", announced by the Vietnam Chamber of Commerce and Industry (VCCI) on April 27, the phenomenon of public employees creating difficulties and asking for money when handling administrative procedures for enterprises in 2021 was 57.4%, compared to 54.1% in the 2019-2020 period.
More than 67% of enterprises paid "unofficial" costs in construction inspection activities and 61.36% for conditional business licenses.
For foreign-invested enterprises in 2021, 5% said they had to spend 5-10% of revenue on unofficial expenses, while the previous year was 2.1%.
Some areas had high informal expenses, such as import and export procedures 38.9%; inspections 5.4%, and land procedures 21.1%.
Notably, the informal cost of settling land procedures for FDI enterprises in 2021 increased sharply compared to 10.3% in 2020.
This figure is consistent with the increase in the proportion of enterprises reporting problems in land administrative procedures in the PCI report.
Considering the nature of interactions between enterprises and state agencies, small-scale informal charges, also known as "petty corruption", are still common in two forms.
The first form is the cost of "lubrication" in essential public services for activities such as business registration or land access.
The second form is unofficial costs in procedures or operations such as market management, environmental inspections, taxes, fire prevention and fighting inspections, land inspections, and business registrations, according to the VCCI report.
Breaking the bad habit
On April 22, 2019, the Prime Minister issued Directive No. 10/CT-TTG on "handling and effectively preventing harassment and trouble for people and businesses in dealing with administrative work".
With its anti-corruption efforts, Vietnam was recognized by Transparency International in the "Corruption Perception Index (CPI) 2021". Vietnam achieved 39 out of 100 points, an increase of three points compared to 2020, ranking 87th out of 180 countries and territories.
This was the highest CPI of Vietnam in the 2012-2021 period. However, petty corruption still exists and is difficult to get rid of.
The petty corruption has adversely affected the results achieved in the field of governance and public administration. To perform the act of "squeezing" small envelopes, civil servants and officials have mastered the "maze" of handling processes. Individuals and businesses, whether they want to or not, must participate in this process to get their work done.
Mr. Dau Anh Tuan, Deputy Secretary General of VCCI, said the weak quality of the legal and institutional system is the main cause of this phenomenon.
The system of legal regulations and administrative procedures is unclear, unreasonable, complicated and unpredictable. This has created opportunities for agencies and officials to harass people and businesses.
Meanwhile, others say the reason is also because of the poor salary of civil servants.
As petty corruption is still rampant, there is still a lot of room for reform. Reducing corruption is still a "long journey" for the government.
To eliminate petty corruption, different fields need to create a prevention mechanism before this kind of behavior becomes normalized, or worse, becomes a culture and custom that is difficult to break.
State agencies need to make all procedures public and transparent, and put e-government into operation soon.
In fact, the areas of administrative procedures that have made significant progress in recent years were due to the application of information technology, and are being carried out in an electronic environment.
Many procedures are now much faster and more transparent, not because people changed but because technology has replaced people.
Tran Thuy