Phuong My Bridal nominated for UK fashion awards

Fashion designer Phuong My's brandname, Phuong My Bridal, has been nominated for the Best Emerging Bridal Fashion Brand presented by the UK-based Bridelux Industry Awards 2019.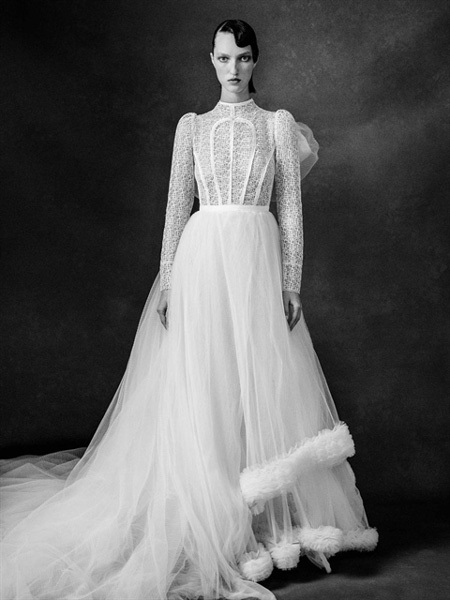 A design from the Phuong My Bridal by award-winning fashion designer Phuong My. Photo courtesy of Phuong My Bridal
Phuong My Bridal will compete with four international brands, including Dana Harel, Danielle Frankel Studio, Inbal Doror and Victoria Sanders Studio.
Designer My, who presented her first bridal collection "Espoir" (Hope) at the New York Fashion Week in the US in April, was the first Vietnamese representative at the event.
The collection includes 12 gowns and suits in white and red colours inspired by the strength of women.
Structured coats and layered dresses in shapes especially suited for Asian women are also included.
Some of the clothes are decorated with 3D flowers and petals, and crystals. All of them are made of luxury fabrics of silk cotton, silk tulle and organza silk.
Espoir was highlighted in The New York Times along with world-known fashion houses like Vera Wang and Reem Arca.
The collection also appeared in popular fashion magazines WWD.com, Brides.com, L'Officiel Baltics and Harper's Bazaars Vietnam.
My's bridal collection is available at prestigious bridal salons such as Mark Ingram Atelier in New York, The Wedding Club in London, and SoYoo Bridal and Elisabeth in Seoul.
Born in HCM City, My moved to live in the US when she was 13 years old. She graduated from the Academy of Art University in California and Academy of Art University in San Francisco.
She began her career after winning top prizes at two prestigious contests, Are You Runway Ready and Discarded to Divine Project, launched in New York and San Francisco in 2010.
She has worked for key fashion magazines such as Elle, Harper's Bazaar and Vogue.
In 2013, My returned to her home city to develop her business by launching her own brand Phuong My.
She quickly rose to fame after her brand Phuong My was invited to collaborate with Bulgari at its store opening in March 2013 in Hanoi.
She later opened her flagship store in HCM City.
"Being a part of the global fashion scene, I don't create fashion, I create dreams," said 31-year-old My.
My has attended leading fashion events at home and abroad, including Viet Nam Fashion Week, Tokyo Fashion Fuse, Vancouver Fashion Week and New York Fashion Week.
She has collaborated with dozens of boutiques stores, stylists and magazines in the Americas and Europe, such as My Beautiful Dressing from Paris, Club Magazine in Venezuela, Vogue-UK and Vogue-Italia to expand her brand.
She has 30 stores in 20 countries and territories, including France, Italy, Taiwan, China, South Korea, Dubai, Kuwait and the United Arab Emirates.
My has also worked as a stylist for key fashion magazines in Vietnam such as Elle, Harper's Bazaar and Vogue.
Her shops in HCM City offer more than a hundred eye-catching designs and accessories for women and have been well received by both Vietnamese and foreign customers.
Bridelux Industry Awards 2019 will also present the awards for Best Venue, Best Wedding Planner, Best Photographer/Film Maker and Best Cakemaker.
The winners will be honoured on November 1. People are encouraged to vote for the prizes via the website https://bridelux.com/awards/ before October 15.
VNS