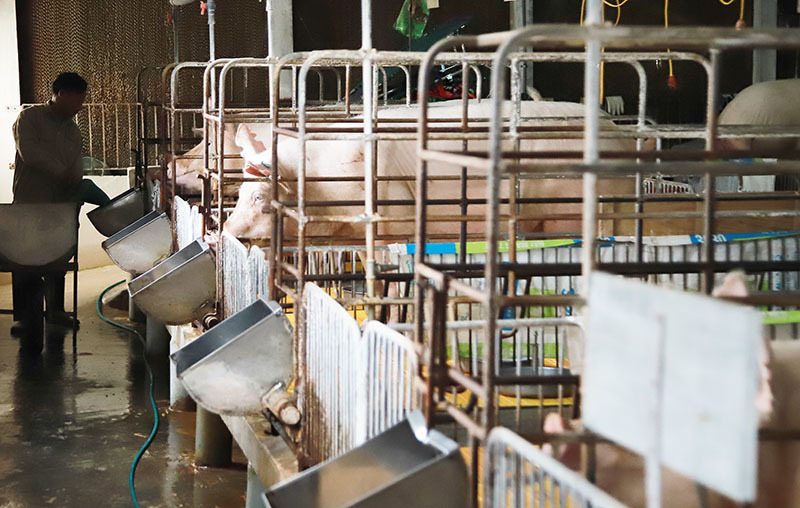 Dreaming of getting rich from agricultural production, Tran Van Chinh in Nhu Hao commune decided to give up a job as a civil servant in Bien Hoa City and returned to his home village to start a business.
There was not much land in the village. With the money he saved after many years, he bought a truck to provide transport service to farms in the district.
After a period of working with large farms, realizing the great potential of the market, he decided to sell the truck and leased land in Nhu Hoa commune to set up a pig farm.
In late 2012, he built a farm which specialized in raising super-lean pigs. In the first years of farming, the pork market was stable which allowed him to earn big money from pig sales.
But trouble came in 2017 when the pork prices dropped dramatically because of the epidemic and seriously affected Chinh's farm.
The farmer decided that he needed to apply a closed and safe production process. Breeding stock was sourced from prestigious companies with clear origin and vaccinated, and the farming process was closed with ensured hygiene and sterilization. The strict measures helped him overcome difficulties.
Chinh now has a farm covering an area of 4 mau (1 mau=3,600 square meters), where he raises 250 sows and 1,200 porkers, along with fish breeding and perennial crops. His farm provides 250-300 tons of pork each year to the market and has the revenue of VND22-24 billion.
Chinh said he has an ambitious plan to run a farm specializing in providing clean pork.
"In the past, people wanted to eat to their fill, while they now want to eat clean. I want to build a pig farm which provides products meeting market demand for clean food," he said.
In Ninh Binh, Nguyen Van Thanh has a farm that brings revenue of tens of billions of dong a year.
Thanh started his business in 2003 with four hectares of leased land which he used for rice cultivation, pig raising and aquaculture.
Because of the lack of experience, natural disasters and epidemics, he experienced failures in the first days. But he did not think of giving up, believing that he will be able to get rich in his homeland.
With support from policies and capital, Thanh developed a 15 hectare rice, pig and fish farm. The most revenue, VND30 billion, comes from pig breeding. 
Tam An

Party Central Committee member Le Minh Hoan was elected as Minister of Agriculture and Rural Development at the 11th session of the 14th National Assembly on April 8, 2021.

Presenting policies to effectively support agricultural businesses is one of central tasks set in the 13th Party Congress Resolution.